Brought to you by 10 Barrel Brewing
Report from January 19, 2021
Pinball Alley…
I've been staring at this line for a few years now and never had any inclination to ski it at all.
Then, we had this dry spell and I wanted to try some new lines and I decided to go for it today.
This was my 3rd trip up on Mt. Superior in the past 4 days (see previous reports below under "Recent Backcountry Reports").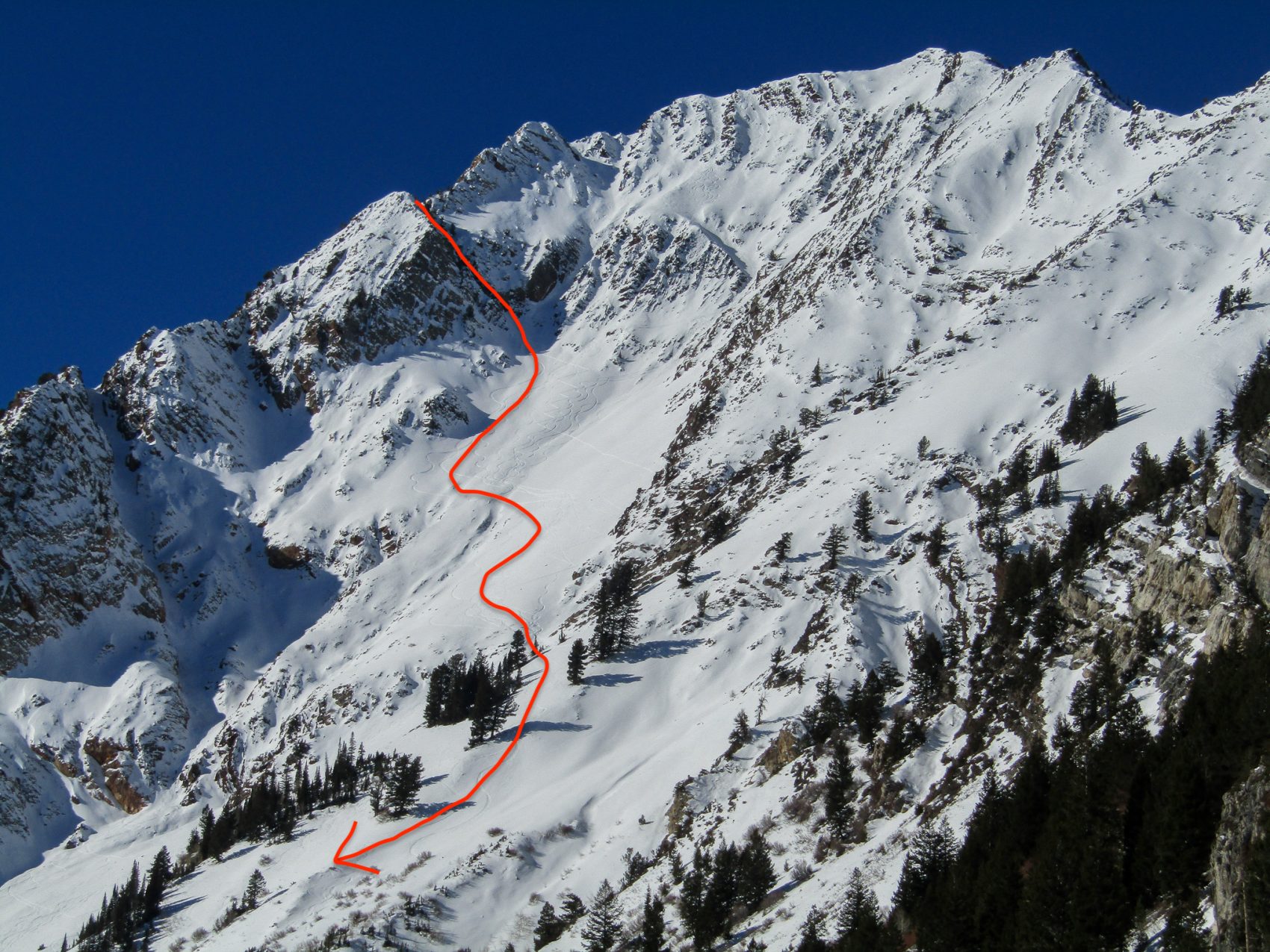 Andrew McLean's "Chuting Gallery," says this about Pinball Alley:
50º steep – "You'd be lucky to live through a fall"
750′ long
"Straight & continually steep, but unless it's very filled in, too narrow to really be fun (180cm-400cm) unless you feel like going straight.  Alternate between sideslipping and hop turning like a wounded rabbit."
Despite all this, I wanted to give it a go.
I'd looked into Pinball Alley from Superior's east ridge 2-days ago and it looked like it might go and that it might be fun.
I texted Andrew this morning asking if he thought it was a good idea to go for it or if I should just pass and he wrote me this:
"Go forth and conquer."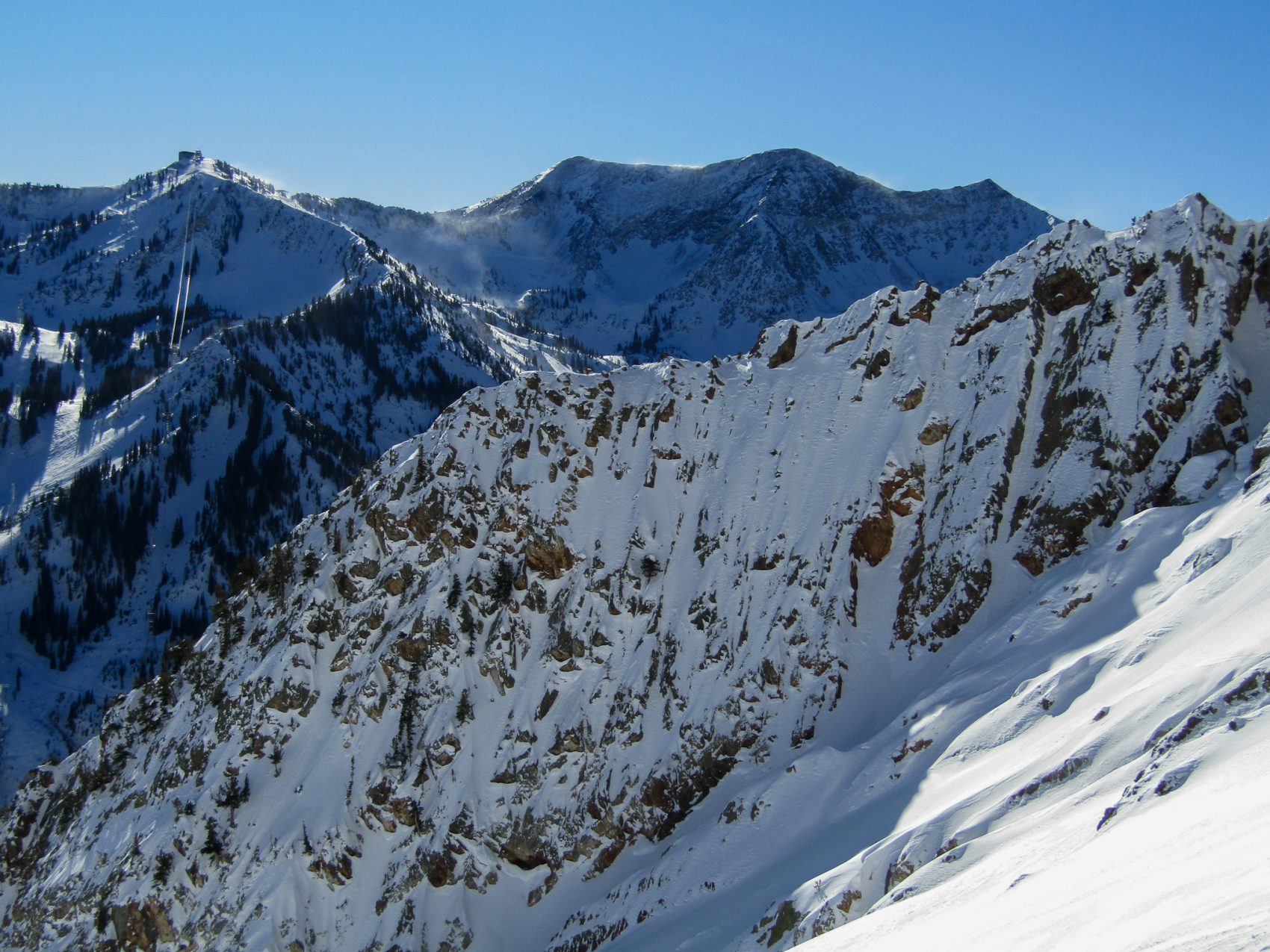 I took that as an affirmative and started skinning up the south face of Mt. Superior.
Once it got steep, the skiing was a bit tough with an inch or so of new snow on top of hard snow/ice and I repeatedly slipped out.
I eventually got to Pinball Alley and took a look up.
It was tight…
Real tight.
"Well, I'm here," I thought, and started booting up.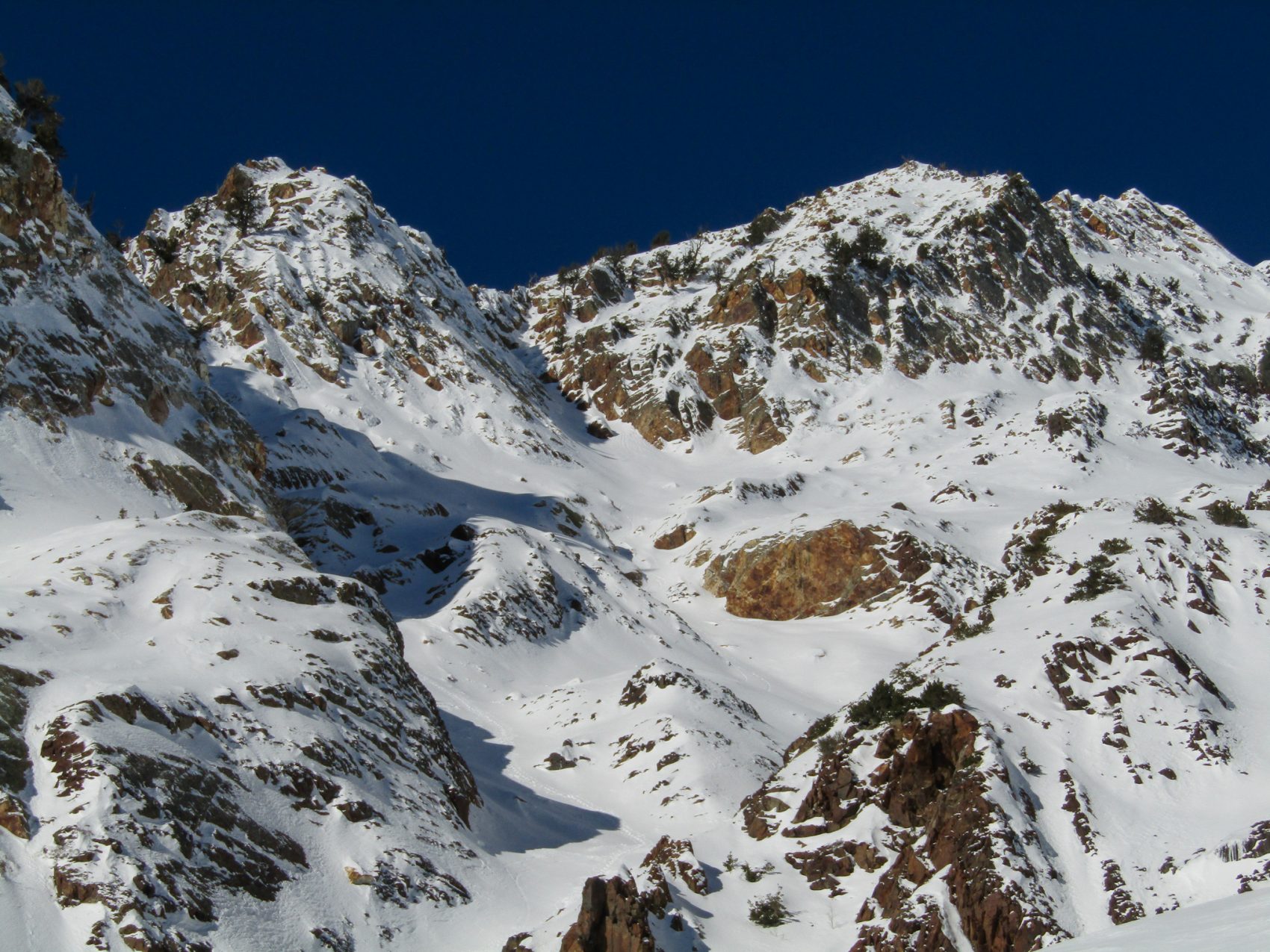 After a very short distance, it became clear that this was going to be more of a sideslip than a ski.
Then, I came to a narrow spot in the chute that was only about 3′ wide.
I was so close to the top…
I could see the sun hitting the ridge just above me.
I wanted to complete the climb, so I pressed on but I was spinning my wheels.
The old, rotten, faceted snow gave way with every step and I repeatedly sank down into holes in the rocks.
I called it right there.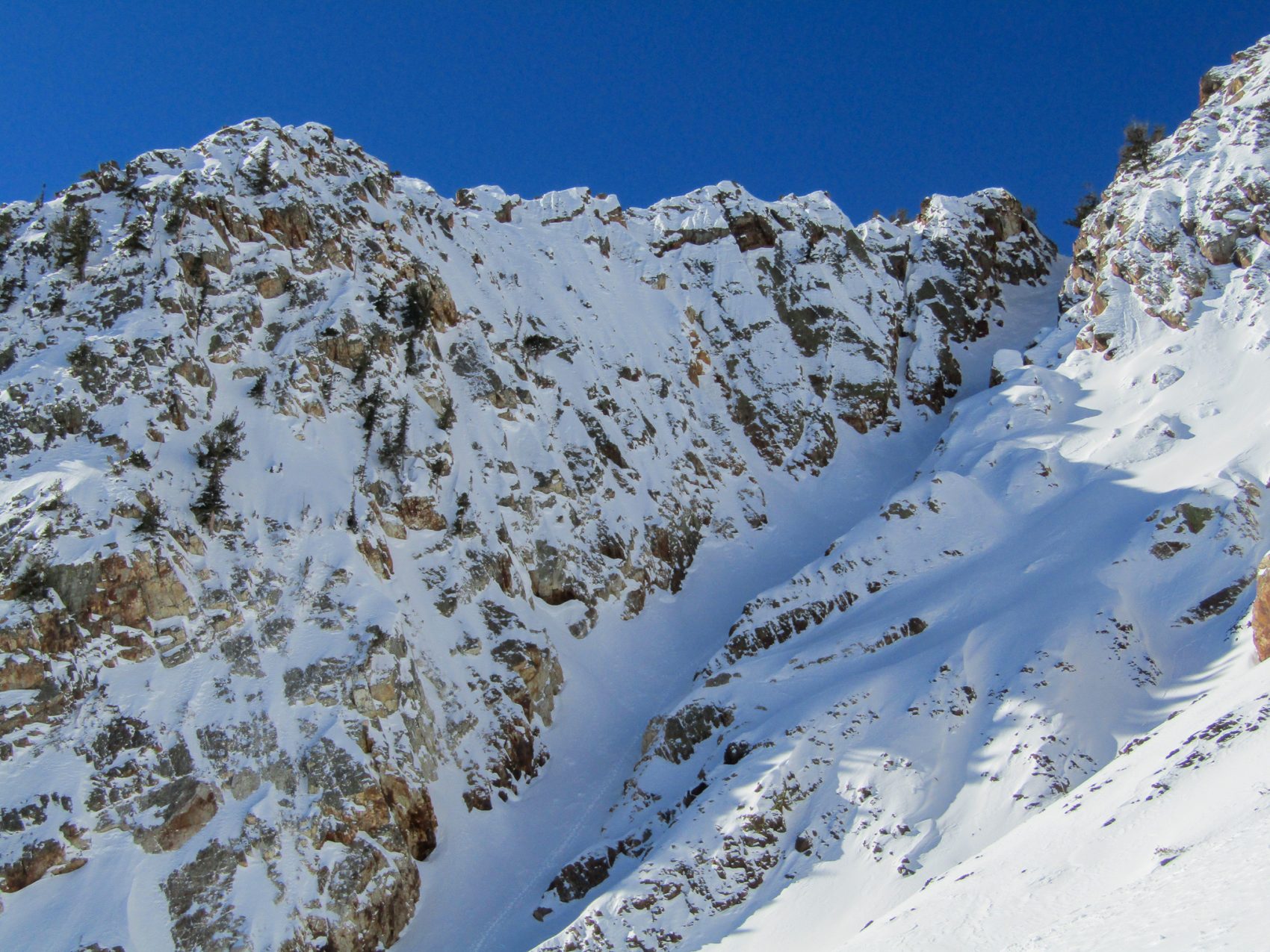 I kicked in a platform, put my skis on, and definitely did not "go forth & conquer," but I gave it a good shot.
I was about 2/3rds up the chute or so.
After clicking into my skis, I started side-slipping.
To be honest, it was more just side-stepping down the chute – for quite a ways.
Eventually, I got brave enough to just point it and blast out of the chute.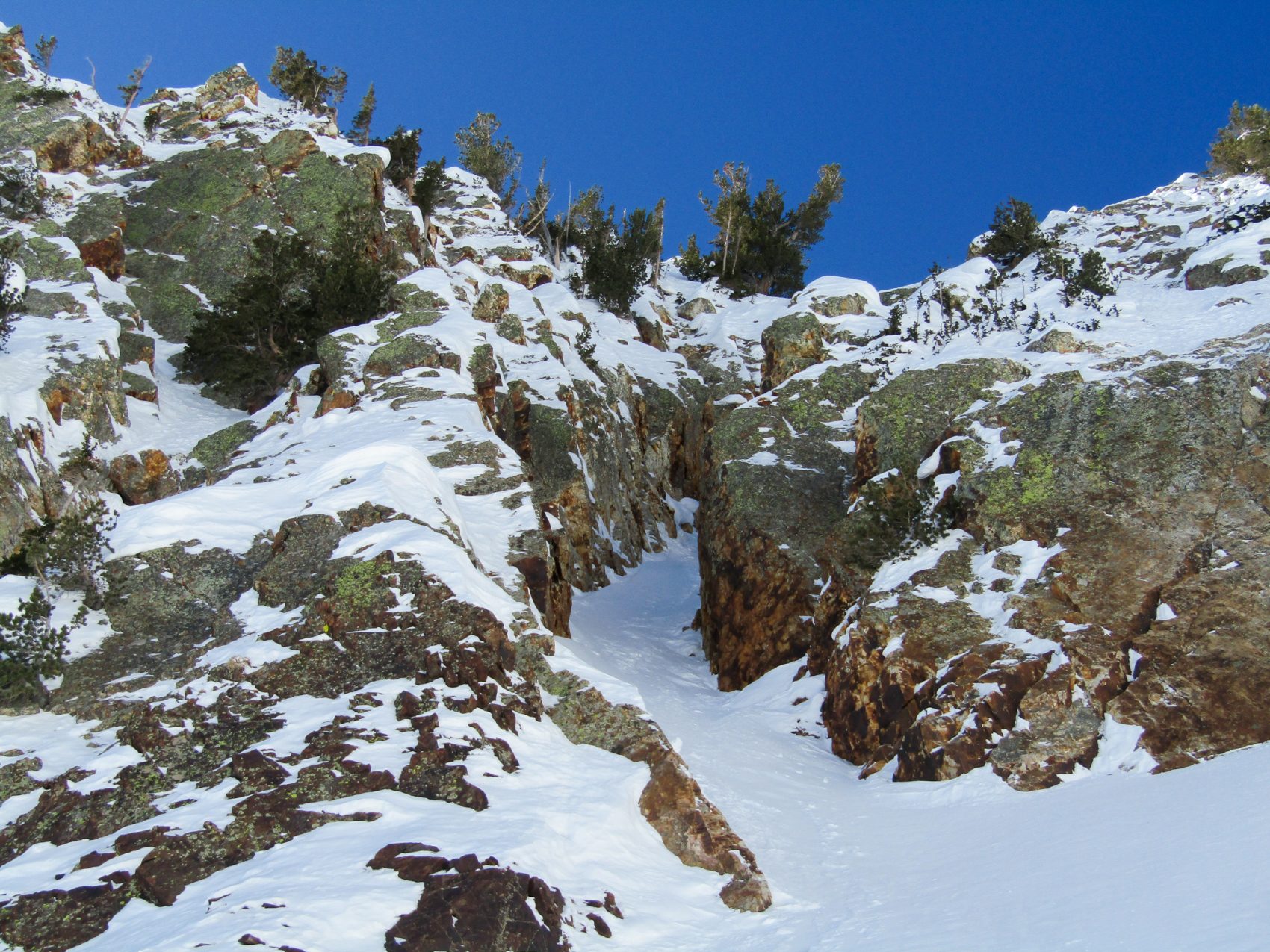 In reality, I ended up doing a snowplow for quite a ways because I was scared and the snow was funky.
I eventually got it back into french fries and came out of the chute with some real heat.
The snow was punchy but my speed check turns held and I came out onto the apron into better snow, lower angles, and bright sunshine.
I took a deep breath and enjoyed the ride.
Mt. Superior is a very special place.
It's been a great 3 days up on Mt. Superior this week and as of now, I plan on heading back up there tomorrow for one more go while the sunshine still holds.
After Pinball Alley today I zipped over to Alta for a few laps and it was a very cool juxtaposition to cruise happy groomers and chalky Hi-Boy laps after the adventure in Pinball Alley.
I didn't see any signs of avalanches nor instability today.
Recent Backcountry Reports:
Avalanche Forecast:

Weather Forecast: