Report from Monday, November 14, 2022
Hissssss…Hissssss…
The snow sounded like a serpent, hissing at me with every turn I made in the soft, recycled powder. 
The avalanche danger was low yesterday, and any solar aspect with an 'S' in it was firm and crusted over, so I went searching for some leftover goods on something protected and out of the way of the sun. 
The north-facing line on the backside of Little Superior dropping into Cardiff Fork was perfect for this. 
I started from central Alta around 2 pm—the clouds were nuts. 
A sun dog greeted me upon my arrival, and the clouds were low-hanging and ominous. 
It was freezing; I toured in a Mountain Hardware Goretex jacket and two pairs of Mountain Hardware gloves. 
All of upper Little Cottonwood Canyon was covered in clouds and I wasn't sure how good visibility would be at the top of the ridge. 
To my amazement, when I got to Cardiff Pass I found that the clouds were only lingering on the Little Cottonwood side of the ridge and Big Cottonwood was completely cloud-free with blue skies above. 
I kept on gaining the ridge towards Superior proper. 
The clouds swirled and danced around me as I climbed up the ridge dividing blue skies from ominous murk. 
There wasn't a soul in sight—I was completely alone.
The entire afternoon I only saw one other skier ascending a forlorn skin track way across the fork. 
It was just me and the mystic mountains; I was cold but alive. 
After a solid faceplant on the skin track there, I dropped into the north-facing shot behind Little Superior.
The sparkly, deteriorating snow was starting to facet, making it ski soft and smooth.
The snow was better than I expected here, so I relaxed and made long, surfy turns. 
I then traversed skier's right back towards Cardiff Pass and dropped another soft powder shot on a northeast aspect. 
Money.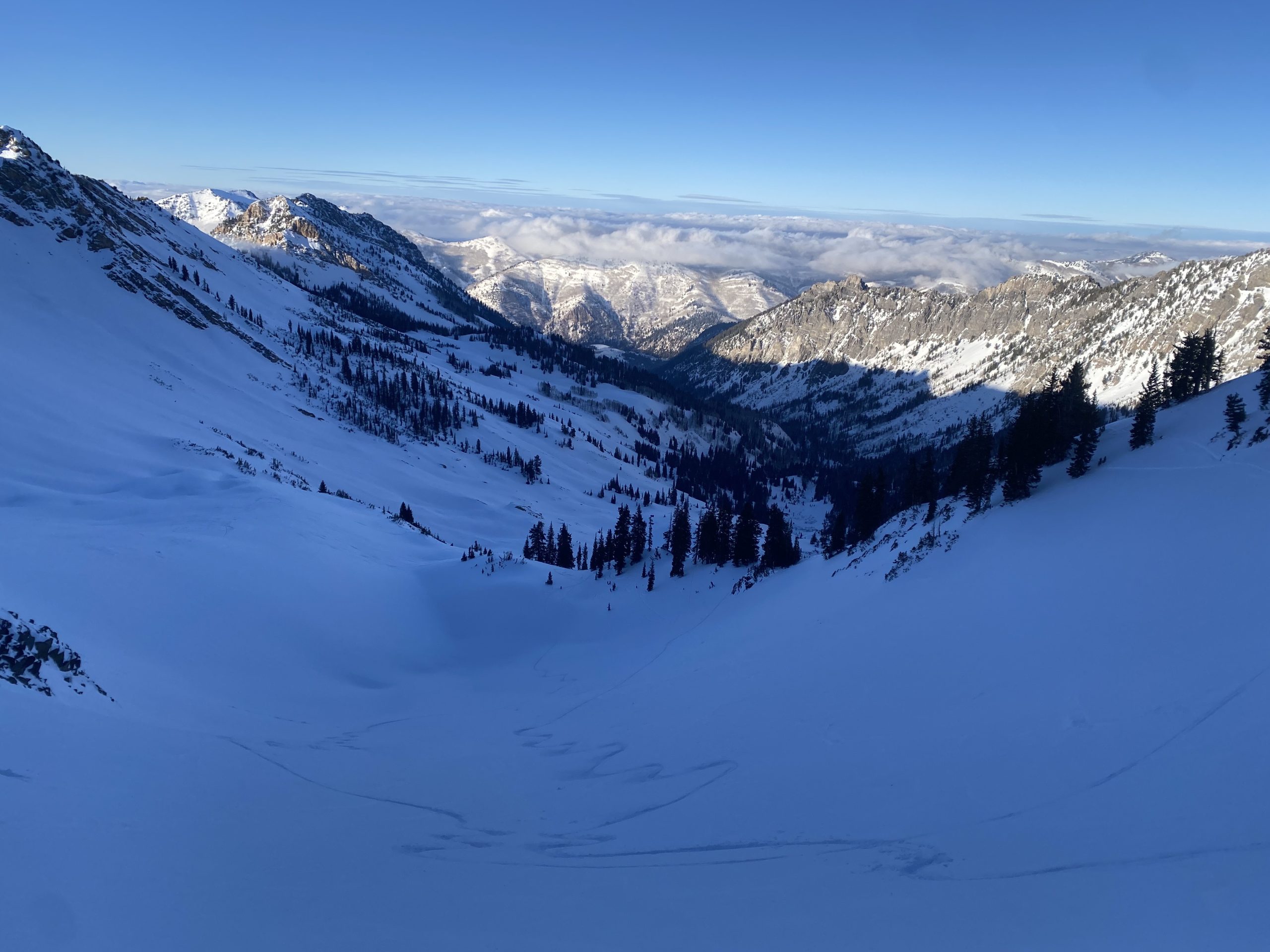 As the sun was setting, the clouds incinerated in a pinkish-orange blaze. 
The mountains were putting on a spectacular show.
On the skin track back to Little Cottonwood, I couldn't resist dropping one more north-facing powder shot off the skin track before taking the return run back to the car. 
It was soft and good—worth the quick detour. 
By around 5 pm, I made it back to Cardiff Pass, stood and enjoyed the brilliant display of pulsating colors for a moment, and then dropped into the hard, crusty south-facing bowl to get home. 
It was getting dark when I finally got back; the clouds were now harsh and gray. 
I threw my icy gear in the back of my car and sailed the dimming highway home to warm my bones by the fireplace. 
Avalanche Forecast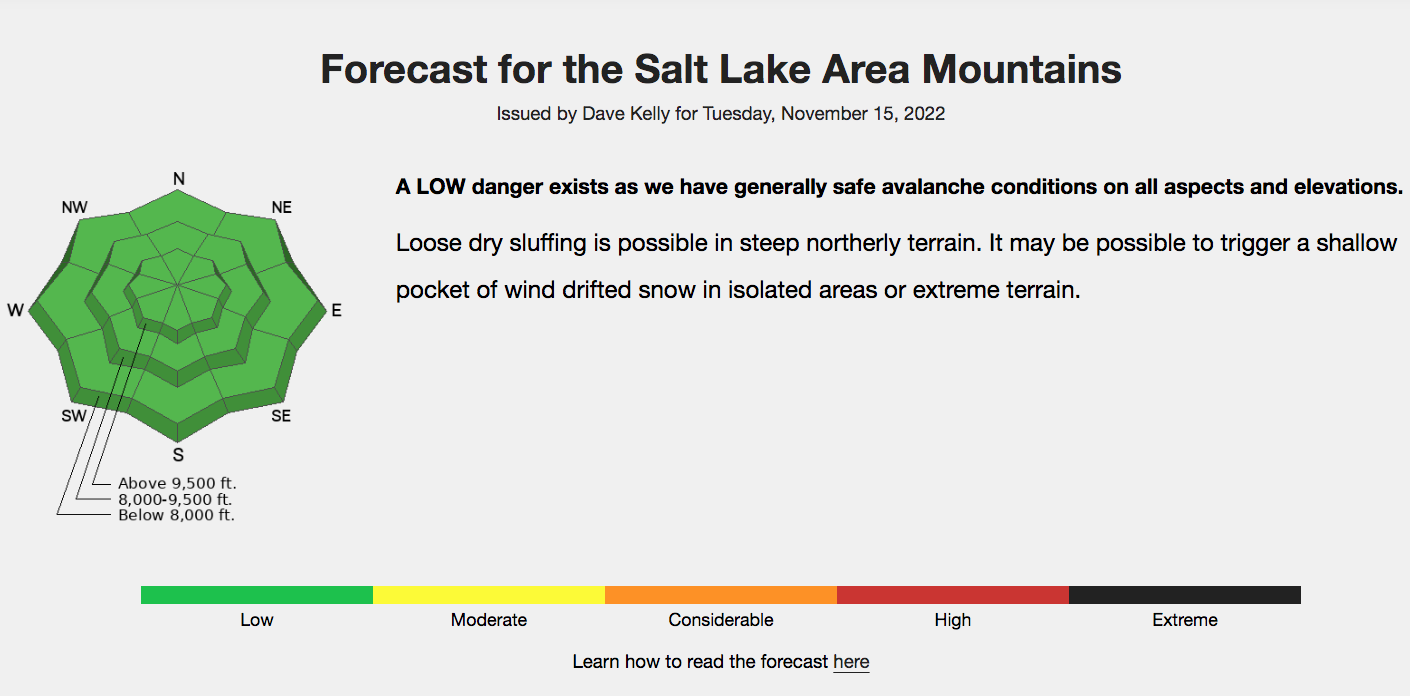 Weather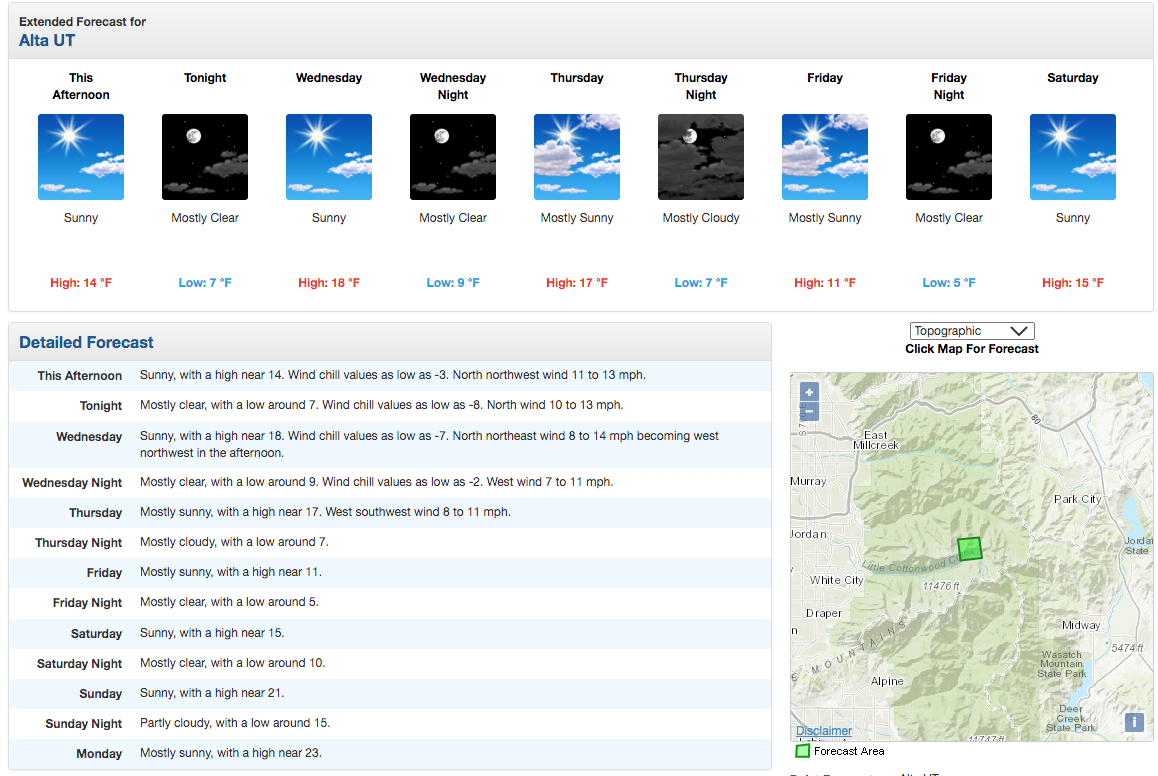 Photos