The avalanche compass turned black in the Wasatch Mountains of Utah today. 
Black on the avalanche compass means 'Extreme' avalanche danger—the highest danger rating there is. 
The Utah Avalanche Center wrote in the Tuesday, February 16 avalanche forecast:
"Today the avalanche danger is EXTREME at mid and upper elevations. The avalanche danger is HIGH at low elevations. Avoid being under or near any steep slope. Even very small slopes can bury a person.

Heavy snowfall, strong westerly winds, and a weak faceted snowpack have created very dangerous avalanche conditions. Natural and human-triggered avalanches are certain. Even unusual avalanches are possible in atypical terrain on atypical aspects and elevations."
The UAC advised that "anybody going into or near the mountains today should avoid being near or under any steep slope—this includes skiing, snowshoeing, running, sledding, dog walking, etc." 
Extreme danger is very rare, too: the avalanche conditions present have to be extraordinarily reactive and dangerous for an extreme danger rating to be issued. Under an extreme avalanche danger rating, the probability that a large, destructive slide will be triggered is considered to be certain.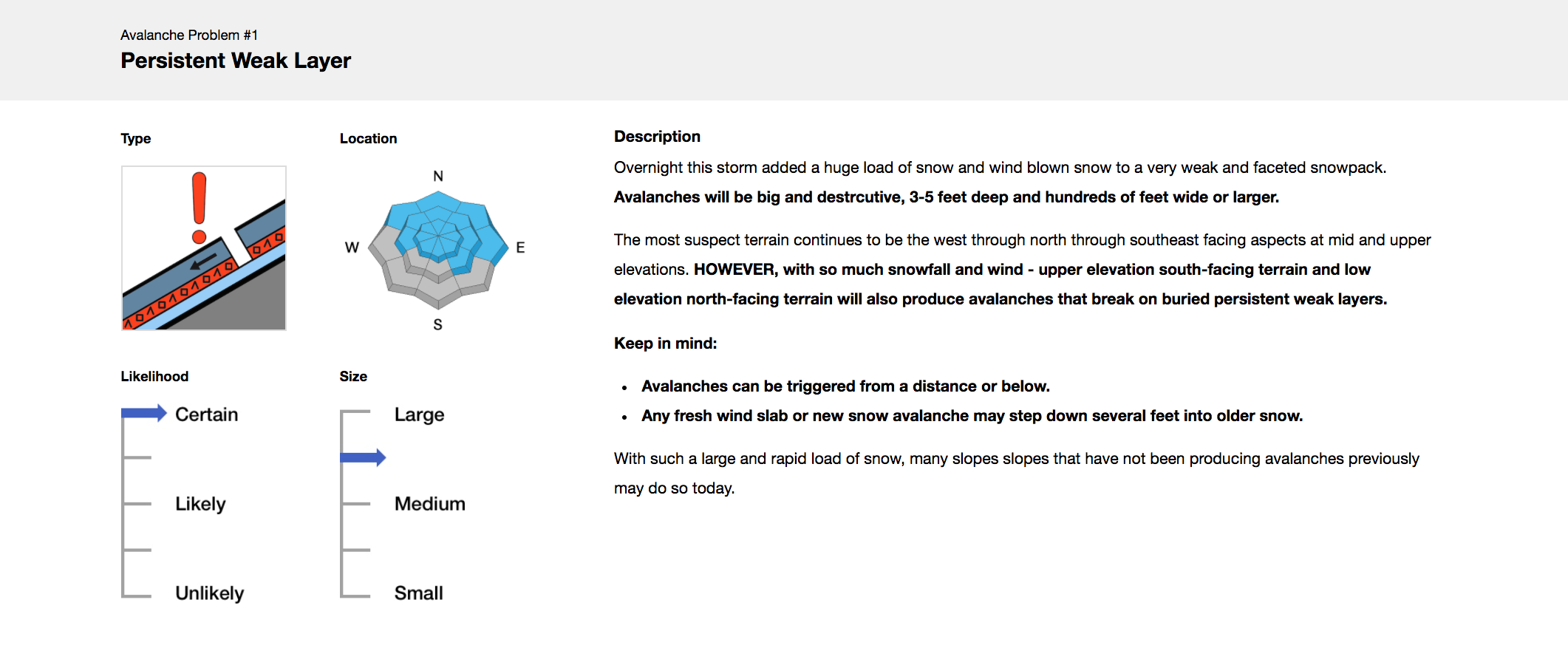 An 'Avalanche Warning' has been issued by the UAC as well. 
Avalanche Warning

WARNING ISSUED

THE AVALANCHE DANGER RANGES FROM HIGH TO EXTREME ACROSS THE WARNING AREA

IN EFFECT FROM 6 AM MST THIS MORNING TO 6 AM MST WEDNESDAY

FOR THE MOUNTAINS OF MUCH OF THE STATE OF UTAH, INCLUDING THE WASATCH RANGE…BEAR RIVER RANGE…UINTA MOUNTAINS…MANTI-SKYLINE…THE FISH LAKE REGION…PAHVANTS…TUSHARS…AND THE CEDAR CITY AREA MOUNTAINS.

VERY DANGEROUS AVALANCHE CONDITIONS EXIST. NATURAL AND HUMAN TRIGGERED AVALANCHES ARE CERTAIN OVER THE NEXT SEVERAL DAYS. STAY OFF OF AND OUT FROM UNDER SLOPES STEEPER THAN 30 DEGREES
Neither Alta Ski Area nor Snowbird opened for skiing today, and SR 210—the highway running up Little Cottonwood Canyon—is currently closed for avalanche mitigation work. As of right now, there is no definite time as to when the road will reopen.
🚧 #RoadClosureUpdate 🚧 #SR210 will remain CLOSED to the public for the day due to avalanche hazard.

Control work is ongoing & snowfall rates/wind high. Significant results are occurring. @UDOTTRAFFIC @AltaSkiArea @AltaCentral @Snowbird pic.twitter.com/bQl0kJ6MHy

— UDOT Cottonwood Canyons (@UDOTcottonwoods) February 16, 2021
Both Snowbird and the Town of Alta have been placed under an interlodge ordinance, which is rare, usually only happening once or twice per season.  
Last season it only happened once, but for 54-hours.
2/16 12:03PM The Town of Alta will remain on INTERLODGE until further notice. More avalanche mitigation expected.

— Alta Central (@AltaCentral) February 16, 2021
Alta just saw 27″ of new snow in 24-hours and it's still dumping. 
Utah's snowpack has been extremely dangerous this season having already taken 6 lives this season.
The USA just saw its deadliest avalanche cycle history with 19 avalanche deaths in 16-days and it's not over yet.