National Fire News
as of September 16 at 7:00 a.m. MDT (on a scale from 1 to 5)
Current hours for the National Fire Information Center are
(MST) 8:00 am – 4:30pm, Monday – Friday
208-387-5050
This report will be updated Monday through Friday.
Please check the IMSR for more information.
September 16, 2022
With significant fire activity decreasing in multiple geographic areas and an increase in the availability of many national resources, the National Multi-Agency Coordinating Group decreased to national preparedness level 3 this morning.
Currently, 97 large fires and complexes have burned 900,282 acres in 9 states. More than 18,000 wildland firefighters are assigned to incidents in the West. Seven new large fires were reported yesterday, five in Idaho and two in Montana.
Predictive Services specialists at the National Interagency Coordination Center closely analyze weather, vegetation, and other factors that affect fire activity. Visit their website for more information about current weather conditions and listen to the weekly fuels and fire danger podcast.
Weather
Upper-level troughing will deepen along the West Coast as an upper low approaches and moves into southern British Columbia, and an associated cold front is forecast to move through the Pacific Northwest into the northern Rockies, northern Great Basin, and northern California.
Breezy west winds are likely in northeast California where fire potential remains elevated, with breezy winds also expected across the eastern slopes of the Cascades and Columbia Basin.
Isolated to scattered showers and thunderstorms are expected across portions of Idaho, Montana, Wyoming, and into the central Great Basin and Colorado Rockies. Additionally, showers are likely in western Washington and northwest Oregon.
Thunderstorms are expected on portions of the central and northern Plains into the Midwest, including some severe storms, with potentially heavy rain in the northern Great Lakes. Downslope flow off the southern Rockies will likely result in dry and breezy conditions in southeast Colorado and eastern New Mexico, and dry and breezy conditions are possible in portions of Kansas into Nebraska, Missouri, and Iowa. Thunderstorms are also likely along portions of the Gulf Coast.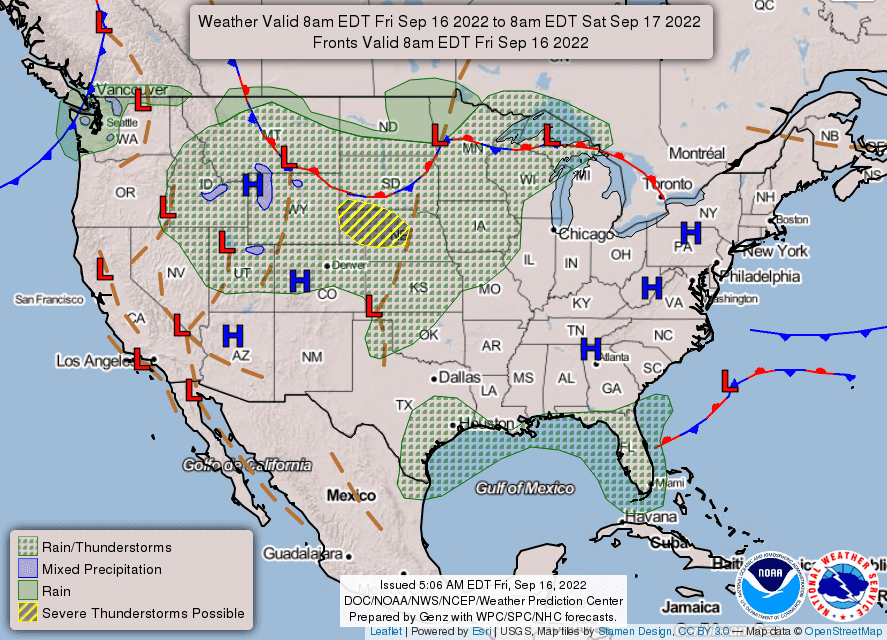 More Info: