National Fire News
as of September 6 at 7:00 a.m. MDT (on a scale from 1 to 5)
Current hours for the National Fire Information Center are
(MST) 8:00 am – 4:30pm, Monday – Friday
208-387-5050
This report will be updated Monday through Friday.
Please check the IMSR for more information.
September 9, 2022
Currently, 96 large fires and complexes have burned 690,030 acres in eight states. Most of the fires are in the Northwest, Great Basin, and Northern Rockies areas. Twenty-five new large fires were reported, ten in Idaho, six in Montana, four in Washington, two in California, and one each in Florida, Nevada, and Oregon. More than 17,000 wildland firefighters and support personnel are assigned to incidents.
Strong winds will continue in parts of Oregon, Washington, and California. Dry thunderstorms are possible in California and the north central Sierras today. Excessive heat warnings remain in effect for much of California and Oregon. A fuels and fire behavior advisory has been issued for northern California due to dry fuels and the potential for extreme fire behavior with the hot, dry, and windy weather pattern. Active fuels and fire behavior advisories are posted on the Predictive Services fuels and fire danger webpage.
Our forests and rangelands are a natural treasure so please do your part in protecting the open spaces we all value. Enjoy your public lands and protect them by doing your part in fire prevention. Make sure your campfires are dead out by using dirt and water when stirring the coals. Use a shovel to help properly extinguish your campfire and keep it nearby, just in case. Be careful with matches and lighters and carefully extinguish all smoking materials. Please recreate responsibly this weekend.
Weather
Offshore northeast to easterly flow is expected to strengthen across the Pacific Northwest and into portions of northern California, with warm to hot temperatures.
Elevated to critical conditions are likely as east to northeast winds 10-25 mph with gusts 30-50 mph develop amid relative humidity of 6-20% for the Okanogan Valley, Columbia Basin, and near and west of the Cascades in Oregon and Washington, with gusty offshore winds in portions of northern California as well. Winds are forecast to peak during the evening, with poor overnight humidity recovery of 15-35%. Breezy and dry northerly winds are also likely across the remainder of the northern Intermountain West but with cooler temperatures. Hurricane Kay will approach the southern California coast, with strong east winds and low relative humidity possible, especially for the Transverse Ranges, before the arrival of increased moisture. Isolated mixed wet and dry thunderstorms are possible across the southern Sierra to the central coast as well.
Good relative humidity recovery is likely tonight for much of southern California as Kay nears, with heavy rain and flooding, especially near recent burn scars, for far southern California into southwest Arizona.
Showers with scattered thunderstorms and cool temperatures are likely to continue along and east of the Divide in Montana and Wyoming through the central Plains and into the western Great Lakes. Isolated mixed wet and dry thunderstorms are likely in the greater Four Corners area, with a surge of Gulf of Mexico moisture bringing widespread showers and thunderstorms to the Southeast, including possible flooding.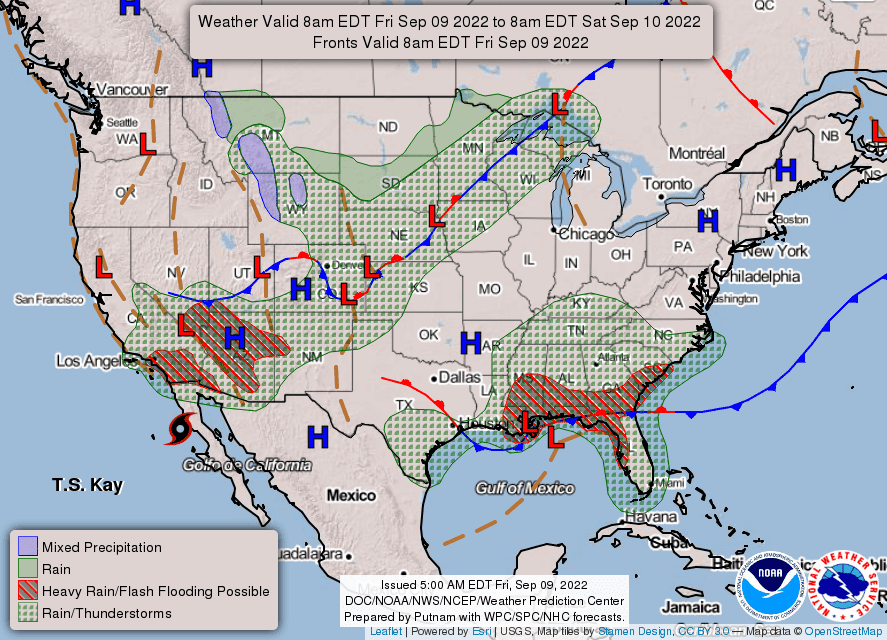 More Info: