National Fire News
As of July 12 at 5:00 a.m. MDT (on a scale from 1 to 5)
Current hours for the National Fire Information Center are
(MST) 8:00 am – 4:30pm, Monday – Friday
208-387-5050
This report will be updated Monday through Friday.
Please check the IMSR for more information.
September 1, 2022
Forty-six large fires and complexes have burned 302,460 acres. More than 10,700 wildland firefighters and support personnel are assigned to incidents across the country. Fifteen new large fires were reported yesterday, 11 in Idaho, two in Oregon, and one each in Montana and Washington.
The national significant wildland fire potential outlook for September, October, November, and December was released yesterday. Above normal potential is possible in parts of the Northwest, Great Basin, Northern Rockies, Northern California, Oklahoma, and the northeastern states. Learn more about the Predictive Services outlook and listen to the current podcast.
Are you heading out to enjoy our public lands for the Labor Day weekend? Remember there are thousands of firefighting resources working on existing wildfires and they need you to do your part to prevent additional wildfires. Check for local fire restrictions before you head out. If campfires are allowed,  only light one in designated areas. Make sure the fire is completely out when you leave, it must be cold to the touch. Please recreate responsibly this weekend.
Weather
Isolated mainly dry thunderstorms are likely to be ongoing across north-central Montana in the morning. Well above normal, near record-setting, temperatures are expected again, with most areas in the 90s to low 100s across the West.
Very low relative humidity of 6-20% will continue across much of the West, with the lowest values in northern California into central Oregon and across portions of the Great Basin into the Northern Rockies. Poor overnight relative humidity of 15-35% will continue for mid slopes and ridges across the northwestern US as well.
Breezy west to northwest winds of 15-25 mph with gusts 25-35 mph will develop across portions of central Idaho and central and eastern Montana this afternoon creating elevated to locally critical conditions.
High fire activity is expected to continue across the northwestern US, especially on existing large fires. Scattered to numerous thunderstorms are expected across much of Texas, with isolated to scattered thunderstorms along the Gulf Coast and Florida. Isolated thunderstorms are likely over the higher terrain of New Mexico and southern Colorado, with isolated to scattered thunderstorms developing over portions of Nebraska and Kansas.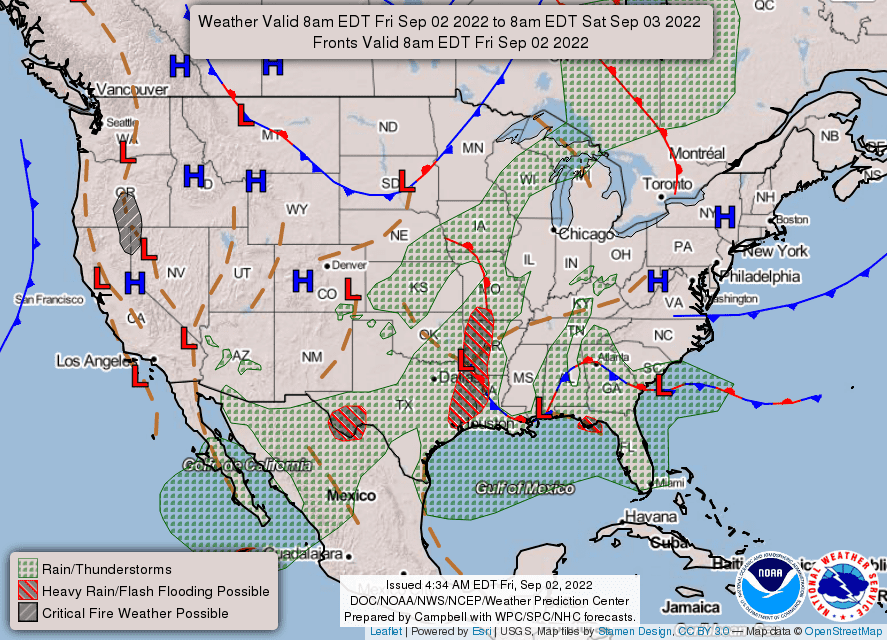 More Info: