Winter is coming, time to plan some trips!
When's the best time to ski Montana you ask? Off the top of my head I'd say February, but lets look at the numbers.
I compiled average monthly snowfall data at 5 popular Montana ski resorts.  Big Sky and Bridger Bowl are in southwest Montana near Bozeman, Red Lodge is a bit further east near Billings, and Snowbowl and Whitefish are more Northwest. There's tons of awesome local ski options scattered all over the western half of the state, but these are a good sample.
Looking at the graph below, the general snowfall trend around the state is a strong December, followed by a January lull. Things pick up again for February and March before tapering off a the end of the season. Big Sky, Bridger Bowl, and Whitefish are the 3 big winners when it comes to total snowfall.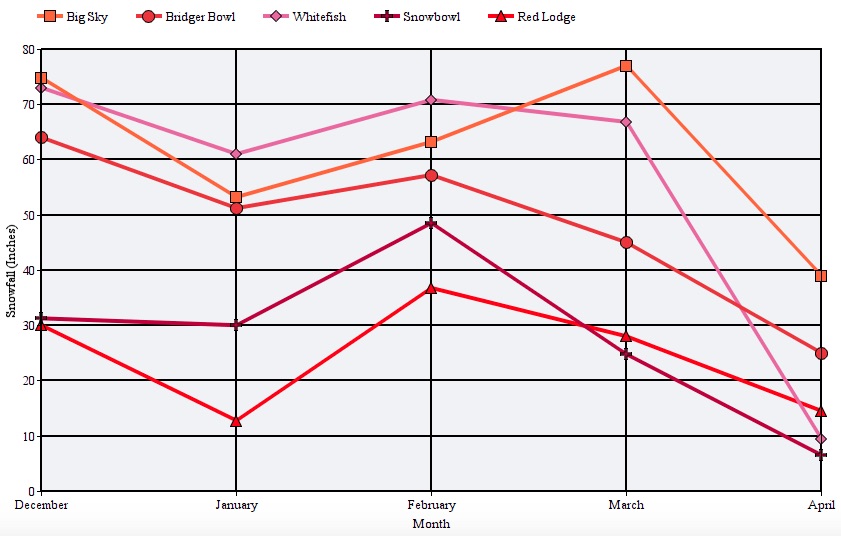 December can be a great time to ski Montana, but base depths and temperatures can be an issue. Our cold smoke continental snow that's so fun to ski doesn't add up to much once it is tracked or settled. Whitefish is your best bet for the deepest base in December while Big Sky wins on average snowfall. Bridger Bowl is a fairly grassy mountain and skis quite well even with low snow coverage. The end of the month has a habit of being quite chilly. If you don't mind frostbite or a few base scratches though, it's a great time for powder skiing. Holiday crowds are usually minimal.
The white stuff diminishes a bit in January, which is usually due to a week or two of cold dry weather. There's still plenty of powder days to be had, but if you're just visiting, there's a better than decent chance you'll get skunked. Whitefish Resort averages slightly more than the others, while Red Lodge looks pretty bleak. Overall, my enthusiasm for skiing usually hits a low point sometime in January.
February is Montana's month, in my opinion, and the numbers back that up. Snowfall returns and temperatures are cool enough for cold smoke powder skiing. It's a good time to ski statewide. Base depths by this point in the year are usually deep enough that rocks are less of an issue, and the big mountain lines you came in search of are filling it. If you're headed into the backcountry, be aware, the January cold snap often breeds some nice facets that be problematic with big February storms.
Towards the end of the season in March and April snowfall generally diminishes a bit, but temperatures warm, the sun is shining, and all the big lines are filled in. If you're less concerned about neck deep powder days and more into great weather and good snow, the end of the season can't be beat. Big Sky and Bridger Bowl are the higher elevation resorts and will generally hold the best snow late into the season, but snow depths at all 5 resorts usually peak in April.
Montana skiing doesn't end once the lifts close! Late April into early June can be fantastic for couloir skiing and May usually holds at least one good powder day. Beartooth Pass opens around memorial day which is the gateway to Beartooth Basin Summer Ski Area and high elevation backcountry skiing for most of the summer.
December: Whitefish, Big Sky, Bridger
January: Stay home
February: Anywhere is good
March: Still pretty good just about anywhere
April: Big Sky, Bridger
May, June, July: Beartooth Pass
Big Sky Resort is one of 44 iconic destinations available on the Ikon Pass.