[Sponsored by Taos Ski Valley]
Taos Ski Valley is nestled in the mountains of northern New Mexico. It's a unique blend of cultures and heritage that sets Taos apart from the ordinary. In the midst of a $300 million revitalization campaign, it's only getting better. Many areas of the resort are benefiting, but perhaps none more so than the Ernie Blake Snowsports School.
Snowsports at Taos Ski Valley is approached with the intention of preparing every skier/rider to tackle almost any type of terrain along with an appreciation for the mountain lifestyle. From the never-ever to the expert looking to hone their skills, they have a program to suit every ability level.
There is a saying here that "you don't have to be an expert to ski/ride Taos but there is no better place to become one."
" …bone-dry powder shots, steep chutes, big bumps, cornices, and glades- it is all here. If heart-stopping terrain is not your thing, you will find miles of well-manicured slopes and gradual groomers to carve up all season long."
History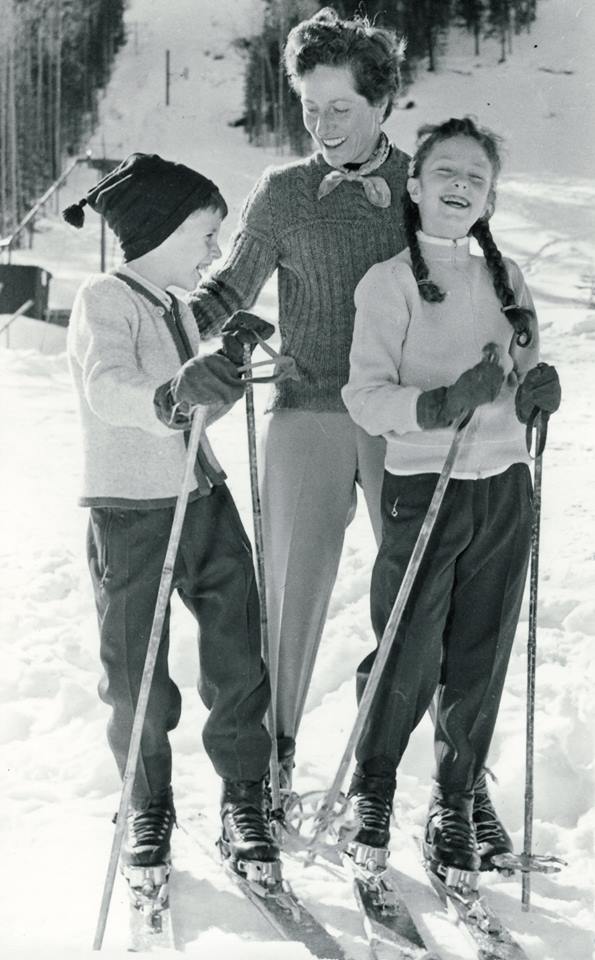 In the early 1950s, from the cockpit window of his Cessna 170,  Swiss German skier Ernie Blake spied the perfect location to build his ski resort. Together with his wife Rhoda Blake, and a little help from a mule named Lightning, they dedicated their lives to building the mountain village and resort of Taos Ski Valley. They wove together their European heritage and love of the Southwest culture, creating a ski destination with a distinctly unique vibe.
The Legendary Ernie Blake Snowsports School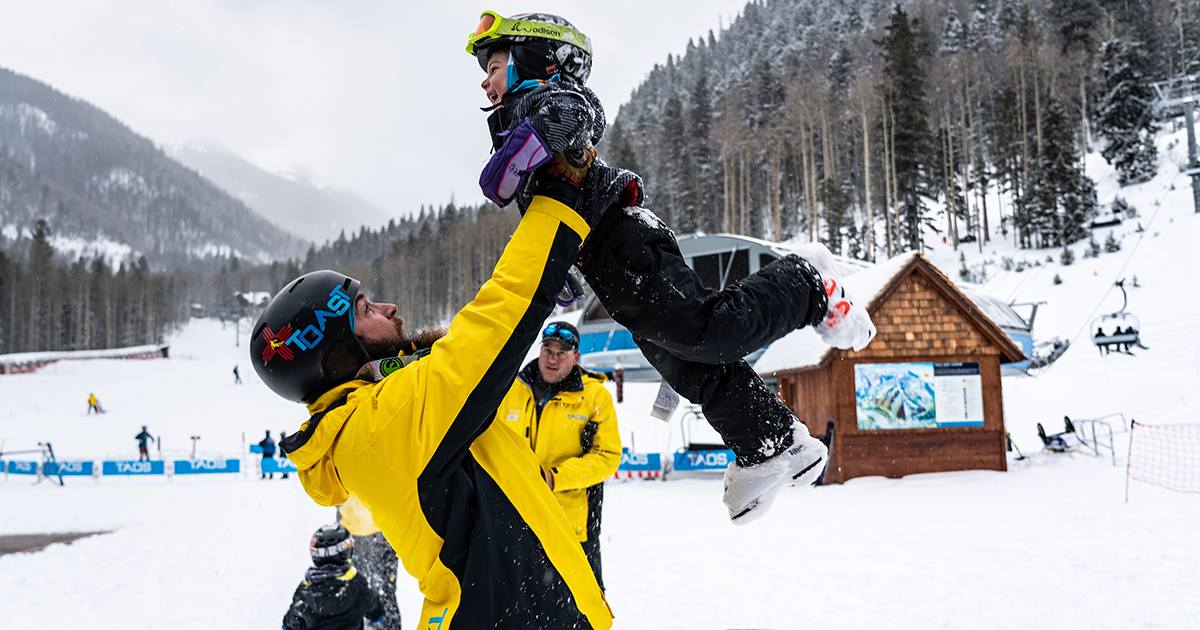 First and foremost, Ernie Blake had a passion for the sport of skiing. That passion translated into the development of Taos Ski Valley as a pure mountain experience. He shared his love for the sport with all who came to visit Taos Ski Valley and "he focused his vision on developing the best Snowsports instructors and technique so that the mountain could be accessible to everyone." And so started the Ernie Blake Snowsports School.
The Ernie Blake Snowsports School has a ski/ride program to match a diversity of needs and talents.
"Their Ski Week, the only 6-day program in North America offering all levels, every week of the season,has been a staple of the program from the very beginning, mixing lessons with a friendly group dynamic, resulting in returning enthusiasts year after year."
Other Multi-Day Programs include Women's Week, Race Week, Classic Ski Week, and Power Weekend, to name just a few. Advanced skiers/riders can check out the Mountain Experience or Sunrise Tracks programs, for a guided expeience. The Ernie Blake Snowsports School also offers an Adaptive Program for both children and adults, run by a dedicated team of certified and experienced instructors.
"The purpose of the Ernie Blake Snowsports School is to prepare every skier/rider to tackle any type of terrain as well as instill an appreciation for the big mountain environment.  From never-ever to double black diamond experts honing their skills, there is an instructor and program for everyone."

Burt Skall, Ernie Blake Snowsports School Director
The Perfect Progression
The Ernie Blake Snowsports School at Taos Ski Valley offers the Perfect Progression to draw beginner skiers/riders into the sport. The program is broken down into six clearly defined "steps." Skiers and snowboarders hone their newly developed skills on gradually increasing slopes where the emphasis is on helping people new to the sport "go" as opposed to having to worry about how to "stop".
Beginners start out on zero percent grade to practice getting a feel for the equipment on the snow. The next steps move up to the Magic Carpets, the first at a 5% grade, the second at an 8% grade, letting the skiers/riders experience the flow over the snow. Step four,  hop on the Gondolita for a nice long groomed 10% grade. Step five introduces the chairlift and varying degrees of pitch from 5% to 20%. The final step, six, caps off on the Oslo Trail with a respectable 25% aspect.
"Skiing and riding is all about the go and flow,"

Burt Skall, Snowsports Director at Taos Ski Valley
The lessons take place at Taos' Strawberry Hill beginner area, recently re-shaped to accommodate the Perfect Progression steps. Taos has partnered SNOW Operating to build out their Terrain Based Learning, which helps skiers and riders check their speed naturally. This method allows for maximum enjoyment while cultivating a lifelong joy for the sport.
Children's Center Revitalization
The new state-of-the-art Children's Center, part of the Ernie Blake Snowsports School, has benefited from an $8 million revitalization. The upgrades include a more streamlined check-in facility that gets parents in and out of the building as quickly as possible while their kids are engaged by indoor climbing walls, slacklines, play areas, and an array of modernized amenities. The Children's Center also offers daily child-care as well as après fun and games for the kids.
Snowmaking Capabilities
A part of the $300 million revitalization, Taos Ski Valley has gone into a comprehensive overhaul of the snowmaking capabilities at the mountain. With the addition of new pumps, 30 new tower guns, and 50 additional towers, 100% coverage of the beginner and intermediate terrain is now obtainable.
"As Taos is the first, and to-date only, certified B Corp ski resort, developing an efficient snowmaking system was and continues to be a top priority."

Burt Skall, Snowsports Director at Taos Ski Valley
Snowboarding
Back in 1954 when Taos Ski Valley opened to the public for the first time, nobody was snowboarding. Around 1964, a surfer named Sherman Poppen wanted to figure out a way to 'surf' the snow. He designed the 'snurfer' and so began the movement. Around 1977, Jake Burton Carpenter added bindings and the modern day snowboard was born. Originally met with resistance, by the 1990's snowboarding gained access to most ski resorts. There were, and still remain, some hold-outs. Taos Ski Valley was formally in the hold-out camp.
Thanks to a core group of snowboarding advocates, Taos Ski Valley opened the lifts to them for the very first time on March 19, 2008. Today, riders are enthusiastically welcomed and the terrain at Taos Ski Valley sets itself up perfectly to be ridden by snowboarders of all ability levels.
"The snowboard instructors at The Ernie Blake Snowsports School make exploring all aspects of the mountain fun and exciting.  Upper level snowboard lessons often include the famous inbounds hiking, steeps, and tree shots that make up so much of Taos' black diamond terrain."

Burt Skall, Snowsports Director at Taos Ski Valley
Avalanche Dogs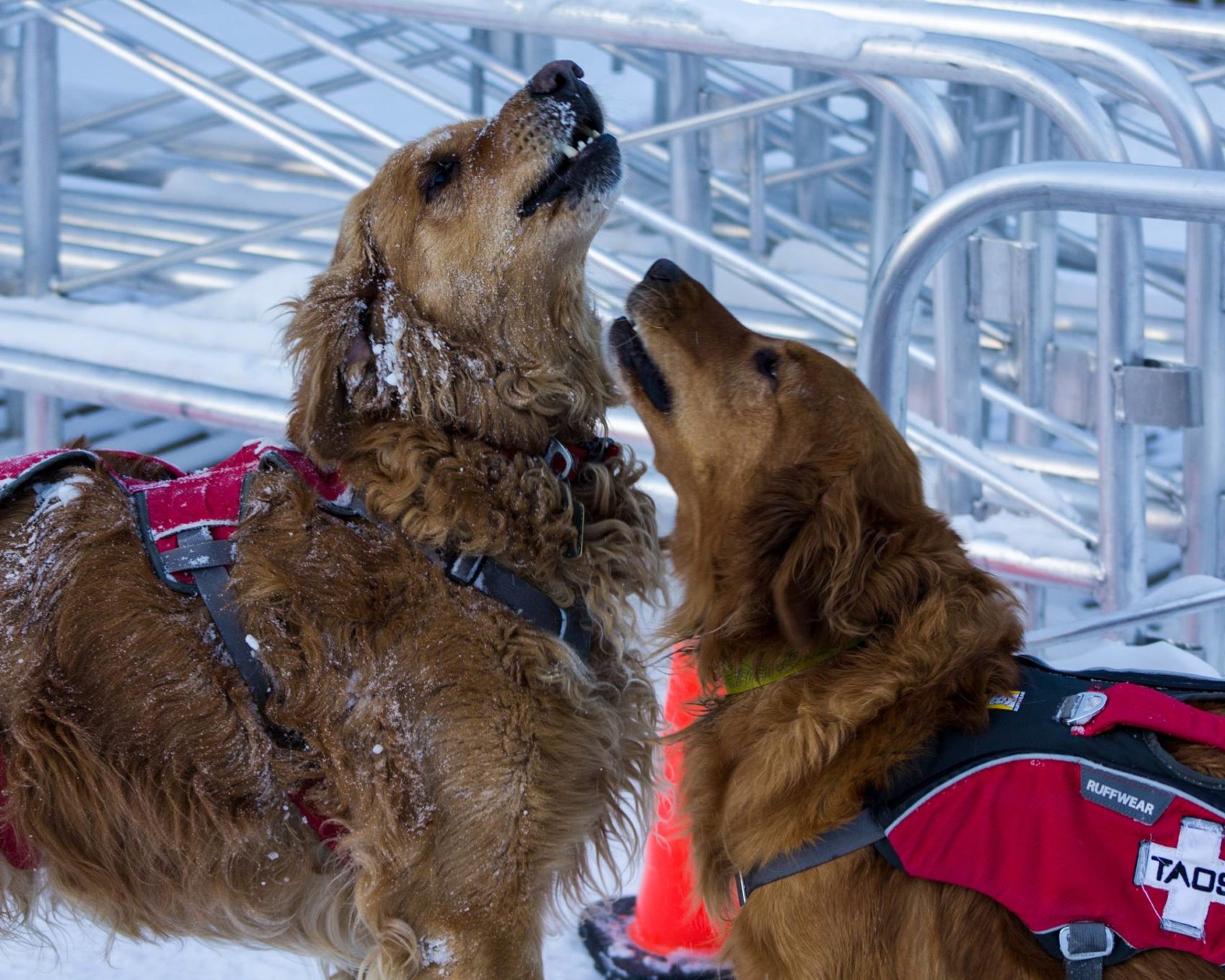 Safety is a top priority at Taos. The professional ski patrol team is busy safeguarding the mountain with help from the avalanche dogs. Don't let their cuteness fool you, these dogs are highly trained in search and rescue.
"If you're taking a lesson, don't be surprised if your instructor stops in the Patrol Shack to introduce you to Hattie, Oslo, or the other pups that are real life savers!"

Burt Skall, Snowsports Director at Taos Ski Valley
Whether you are just thinking of taking up skiing or a seasoned pro, Taos Ski Valley and the Ernie Blake Snowsports School are ready to help you make the most of your mountain experience.
Mountain Stats:
Average annual snowfall

– 300 inches

Average Days Of Sunshine

– 300+ days

Total Acreage

– 1,294 acres

Number of Trails

– 110 total: 24% beginner, 25% intermediate, 51% expert

Number of Lifts

– 14 Total Lifts / 1 gondola, 1 double chair, 4 quads, 1 high-speed quad, 3 triples, 4 surface lifts

Base Elevation

– 9,200 feet / 2,805 meters

Summit Elevation

– 12,481 feet / 3,804 meters

Vertical Drop

– 3,281 feet / 997 meters