As the western United States burns, thousands of men and women battle the flames on foot, with trucks, and by air. While all aspects of wildland fire fighting are crucial to the overall mission, air attack plays a key role in beating back the flames. So what types of planes are available for fighting fires?
Cal Fire
Cal Fire, California's wildlands fire fighting agency, operates the largest fleet of fire fighting aircraft in the world. The US Forest Service (USFS) and the Bureau of Land Management (BLM) also operate aircraft for battling fires as well.
Cal Fire has its own fleet of aircraft operating from 12 airfields and 10 helicopter bases across the state that can reach most fires within about 20 minutes. The three main components of the fleet are tactical planes, air tankers, and helicopters. The same is true for the USFS and BLM with the addition of skydiving firefighters known as Smokejumpers.
Tactical Planes
Tactical planes are mainly used for reconnaissance or as lead planes. When running reconnaissance a tactical plane will make many flights over and around a fire in a day. Their job is to keep the Incident Command up-to-date on the movements and perimeters of the fire. At night they can map a fire's perimeter and hot spots using infrared cameras. As a lead aircraft, a tactical plane guides an air tanker into a zone where retardant will be dropped.
Airtankers
Airtankers are broken down into three subcategories; single-engine airtankers (SEATs), large airtankers (LATs), and very large air tankers (VLATs). SEATs are cropduster planes that can drop small amounts (800 gallons or less) of retardant but are more maneuverable and can land on smaller runways. LATs can drop 2,000 to 8,000 gallons per flight and can still land on fairly short runways. VLATs can drop significantly more liquid therefore they typically operate on larger fires such as those currently burning in California and Oregon. The largest air tanker in the world is the Boeing 747 Supertanker, which can hold 17,990 gallons of retardant per flight.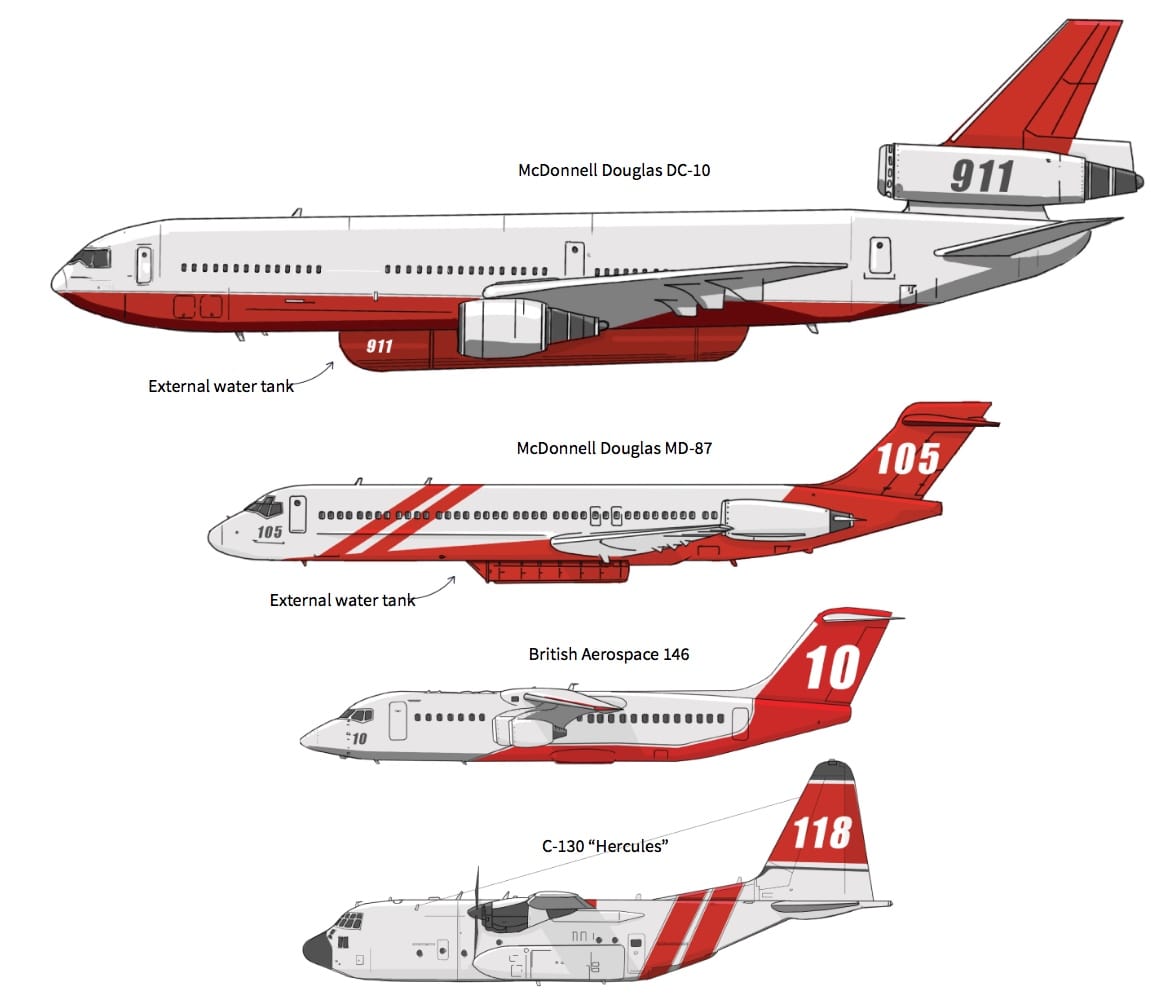 Helicopters
Helicopters are an extremely useful tool for fighting wildfires and there many different types used. Three of the largest helicopters for aerial firefighting are the Sikorsky S-64 Skycrane, Bell Super Huey, and Boeing CH-47 Chinook. While some models are equipped with tanks on the belly of the aircraft others have buckets that hang beneath them. In addition to dropping water, the Helitorch can fight fire with fire. Instead of a bucket hanging beneath the helicopter, the Helitorch carries a flamethrower-like device to burn fuels ahead of a fire.
Smokejumpers
Smokejumpers are an elite group of firefighters employed by the USFS and BLM. They skydive from DH-6 300 series Twin Otters and Shorts C-23 Sherpas. The Sherpa also can drop gear caches which often include chainsaws, camping gear, and other firefighting equipment. Smokejumpers are mainly deployed on remote fires that are only accessible by air.
While air attack is not the only aspect of wildlands firefighting it is inherently the most expensive. With fires getting worse every year the price of air attack will keep increasing. However, air attack is still a crucial aspect of fighting wildland blazes.