There's no getting away from it; skiing's expensive. Lift passes, equipment, food on the mountain, traveling, and clothing. But it doesn't have to be that way; there are ways to cut costs without sacrificing.
High-quality skiwear can cost hundreds. A head-to-toe outfit could set you back north of a thousand bucks. Wildhorn Outfitters, out of Salt Lake City, UT, aims to address this by focussing on high-end performance gear at low-end prices.
Wildhorn Outfitters wants you stoked out of your mind, not just merely satisfied. They aim not just to please, but to amaze and not stop until they get a "WOW"! I had the opportunity to test an outfit from them to see if their claims of high-end performance at low-end prices hold up.
Dover Men's Jacket – $129
The Dover jacket sells for less than half the price of the well-known brands yet offers twice the features. Most importantly, the jacket looked good (although it was sized a little big, in my opinion) and didn't feel cheap or compromised, despite its $129 price tag. The high-grade insulation kept me extremely warm on a cold Colorado day, kept the wind and moisture out, but was breathable; I wasn't sweating. If I did get too warm, pit zips opened for a bit of ventilation. The hood was large enough to extend over my helmet for the extra windy days. The jacket had so many pockets I kept forgetting where I'd put stuff! Dedicated pockets for your pass and phone, and several others for storing whatever you need to.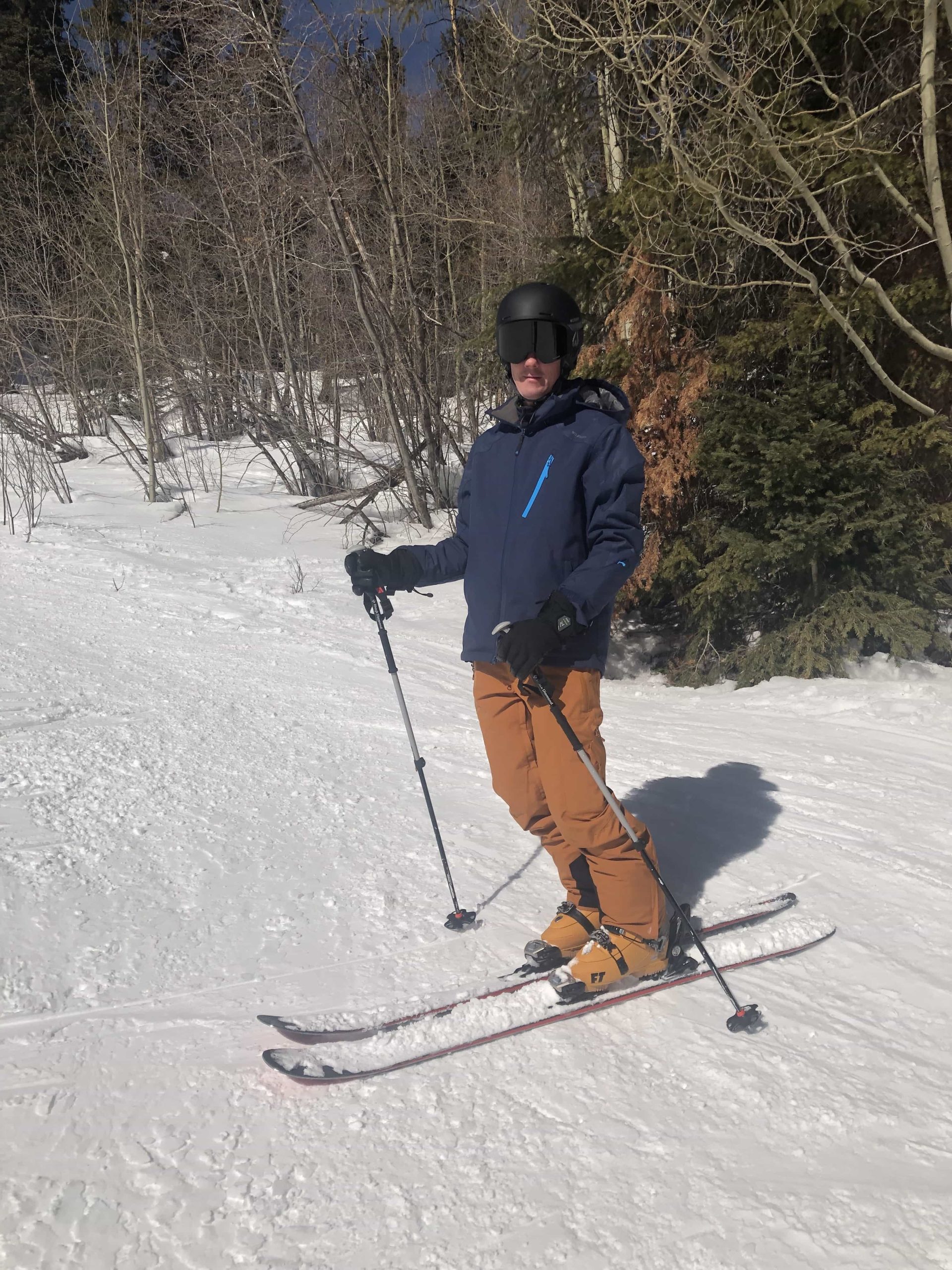 Bowman Ski and Snowboard Pants – $120
The pants were my favorite piece of equipment from Wildhorn Outfitters. I loved the Moab color, which seems to be en-vogue at the moment. These too fit a little big, but they were super comfortable, offering plenty of movement and stretch. Also insulated, they were warm and dry. The addition of a scuff guard on the inner lower leg will help protect them and keep them in good shape for longer. Several pockets are included for the rare chance that the jacket didn't have enough for all your stuff.
Ravean Heated Gloves – $120
The item I was most looking forward to trying and using, but the item I was most disappointed with. Colorado ski days can get cold, really cold, and my fingers are always the worst affected. With their three heat settings, these gloves promised to keep my digits toasty. In reality, on the worst days, they only took the edge off. The heated area was on the back of the hand; there was no direct warming in the fingers.
I struggled to change the heat setting while I had the gloves on. The finger pressing the button covered up the colored indicator light that told you what setting you were on. Aesthetically, I'm not a fan of cuffs on gloves; I like my gloves to go under my jacket, which due to the battery pack, these didn't. Talking of batteries, they lived up to the advertised battery times during my testing.
The gloves were excellent for days where the temperatures didn't drop into single digits; they did keep me warm and often too warm. For the occasional skier, these gloves are an excellent choice; they will keep your fingers warm. As regular gloves, for days when you don't need the additional heating, the mix of leather and insulation worked exceptionally well. The gloves were warm and comfy.
Highline Helmet ($130) and Pipeline Goggles ($100)
The main feature of a helmet is the one feature I never want to test—does it protect your head in the event of a crash. For half the price of similar helmets, the Highline offers MIPS and has been tested to the most stringent certifications, so we'll assume it does. The helmet fits well, can be finely adjusted, and is light and comfortable. Adjustable vents offer the extra ventilation often needed on those spring days, the ear covers are compatible with audio pucks, and it looks good. The two-tone matt and gloss finish looks great.
Don't just take my word for it. Gold medal-winning Olympian Ashley Caldwell has a long-standing relationship with Wildhorn and was even wearing their helmet during the gold-winning Mixed Team Aerials event at the Beijing 2022 Winter Olympics last month.
The Pipeline goggles are made to fit the helmet; no gaper gap here. The wide view offers maximum visibility, while the quick magnetic clips allow quick lens changing for those variable light days.
If you're in the market for a new ski outfit, you should check out Wildhorn Outfitters. They're not just aimed at the budget-conscious buyer; the gear has the quality of much higher-end brands at much higher prices, but for a fraction of the cost. And for a limited time only, they are offering money off selected bundles.