NOAA has issued Winter Advisories in 7 Western US States this weekend.
California, Nevada, Oregon, Washington, Idaho, Montana, & Wyoming all have Winter Advisories that are active for Saturday and Sunday.
In Glacier National Park, Montana, up to 60″ (5-Feet) of snow is forecast to fall and NOAA has repeatedly called this weekend's storm in Montana "Historic".
Humans in East Glacier, MT are already reporting 17″ of snowfall already this morning (see photo below).
* WHAT...Heavy snow occurring. Additional snow accumulations of 15
  to 36 inches at lower elevations, and 3 to 5 feet in the
  mountains. Winds gusting as high as 50 mph.

- NOAA, Great Falls MT, 9/28/19

The historic winter storm is still on track to
impact the Northern Rockies through the weekend and on into the
first part of the work week. 

- NOAA, Great Falls MT, 9/28/19
SKI AREA FORECAST THIS WEEKEND:
Glacier National Park, MT:  36-60″
Schweitzer, ID:  10-18″
Jackson Hole, WY:  4-18″
Grand Targhee, WY: 4-18″
Ruby Mountain Heli, NV: 6-12″
Big Sky, MT:  4-12″
Timberline, OR: 1-10″
Sun Valley, ID:  3-7″
Mt. Bachelor, OR:  3-6″
Squaw Alpine, CA: 1-4″
SNOWFALL FORECASTS FOR THE 7 WESTERN US STATES WITH CURRENT WINTER ADVISORIES:
***
MONTANA
***
Big Sky ski resort is forecast to see 4-12″ of snow this weekend and there are rumors that this snow may be the beginning of their 2019/20 snowpack.
* WHAT...Snow expected. Total snow accumulations of 1 to 4 inches
  at most lower elevations, and 4 to 12 inches in the mountains.
  Winds gusting as high as 40 mph.

- NOAA, Great Falls MT, 9/28/19
Glacier National Park is forecast to see up to 60″ of snow this weekend:
.DISCUSSION...The historic winter storm is still on track to 
  impact the Northern Rockies through the weekend and on into the  
  first part of the work week. The impacts from this storm have been 
  discussed numerous times over the past several days and should  
  continue to be heeded.  

- NOAA, Great Falls MT, 9/28/19

* WHAT...Heavy snow occurring. Additional snow accumulations of 15
  to 36 inches at lower elevations, and 3 to 5 feet in the
  mountains. Winds gusting as high as 50 mph. 

- NOAA, Great Falls MT, 9/28/19
* IMPACTS...

Extreme impacts are possible.

 Widespread tree damage
  is possible due to the heavy, wet snow falling onto trees with
  foliage. Downed power lines are also possible, resulting in
  widespread power outages. Agricultural interests; outdoor
  recreational interests, including camping and hunting
  activities; and travel will also be negatively impacted. 

- NOAA, Great Falls MT, 9/28/19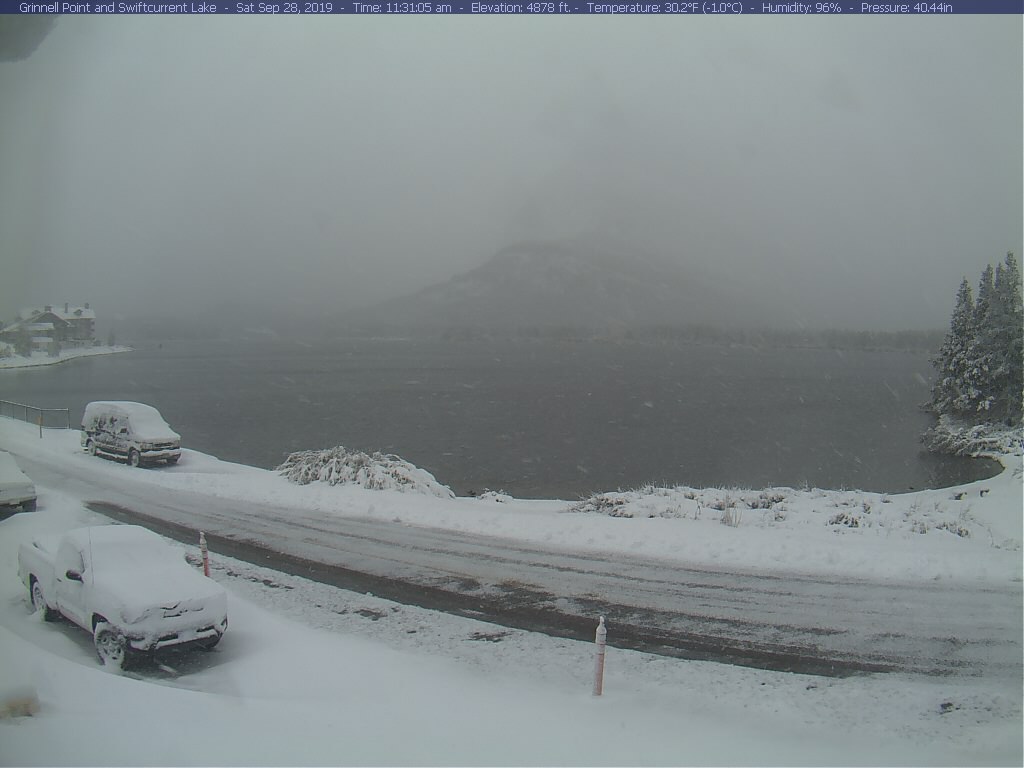 ***
WYOMING
***
Jackson Hole ski resort is forecast to see 4-18″ of snow this weekend:
* WHAT...Heavy snow expected. 

4 to 8 inches of snow between 8500
  and 10000 feet, and up to 18 inches above 10000 feet.

 Isolated
  higher amounts on peaks. 

- NOAA, Riverton WY, 9/28/19
Grand Targhee ski resort is forecast to see 4-18″ of snow this weekend:
* WHAT...Heavy snow expected. 4 to 8 inches of snow between 8500 
and 10000 feet, and up to 18 inches above 10000 feet. Isolated 
higher amounts on peaks. 

- NOAA, Riverton WY, 9/28/19
***
IDAHO
***
Schweitzer ski resort is forecast to see 10-18″ of snow this weekend:
* WHAT...Heavy snow expected. Total snow accumulations of 10 to 18
  inches. Winds gusting as high as 55 to 60 mph. Wind chills in
  the teens to lower 20s. 

- NOAA, Spokane WA, 9/28/19


Sun Valley ski resort is forecast to see 3-8″ of snow this weekend:
* WHAT...A mix of rain and snow is likely. Snow accumulations of 3
  to 8 inches are expected above about 7,000 feet across the
  Central Mountains and Montana border region including Banner,
  Galena, and Willow Creek Summits, and Monida, Raynolds, and
  Targhee Passes, with 1 to 3 inches down to valley floors
  including Stanley, Ketchum, Sun Valley, Challis, Mackay, and
  Island Park. A dusting to 1 inch of snow is possible in Dubois
  and Arco.

- NOAA, Spokane WA, 9/28/19
***
WASHINGTON
***
Some areas of northern Washington are forecast to see 8-18″ of snow this weekend:
.A cold storm system will bring the potential for heavy snow in
the mountains this weekend. The most significant accumulations
will occur above 3000 feet, however snow levels will lower to
valley floors by Saturday morning with accumulating valley snow
expected overnight Saturday. 

* WHAT...Heavy snow expected. Total snow accumulations of 8 to
18 inches. Winds gusting as high as 45 mph. Wind chills in the
teens to lower 20s. 

- NOAA, Spokane WA, 9/28/19
***
OREGON
***
Timberline Lodge ski resort is forecast to see 1-10″ of snow this weekend:
* WHAT...Snow showers today through Sunday. Total accumulations of
1 to 4 inches possible on the major passes. However, 5 to 10
inches of snow are likely on the higher ridges and peaks.

* WHERE...elevations above 4000 feet in the Cascades of South
Washington, the North Oregon Cascades, and Cascades in Lane
County. 

- NOAA, Portland OR, 9/28/19
Timberline Lodge ski resort is forecast to see 3-6″ of snow this weekend:
* WHAT...Snow expected above 3500 feet. Total snow accumulations
  of 3 to 6 inches with heavier amounts near the crest. 

- NOAA,Pendleton OR, 9/28/19
***
NEVADA
***
Ruby Mountain Heli  is forecast to see 6-12″ of snow this weekend:
* WHAT...Snow expected. 

Total snow accumulations of up to 6 inches
  expected.

 Above 8000 feet...amounts will range from 6 to 12
  inches. 

- NOAA, Elko NV, 9/28/19
***
CALIFORNIA
***
Squaw Alpine ski resort is forecast to see 1-4″ of snow this weekend:
* WHAT...Snow expected above 7000 feet. Total snow accumulations
  of 1 to 4 inches. Generally up to an inch or so below 7000
  feet. Winds gusting as high as 60 mph. 

- NOAA, Reno NV, 9/28/19