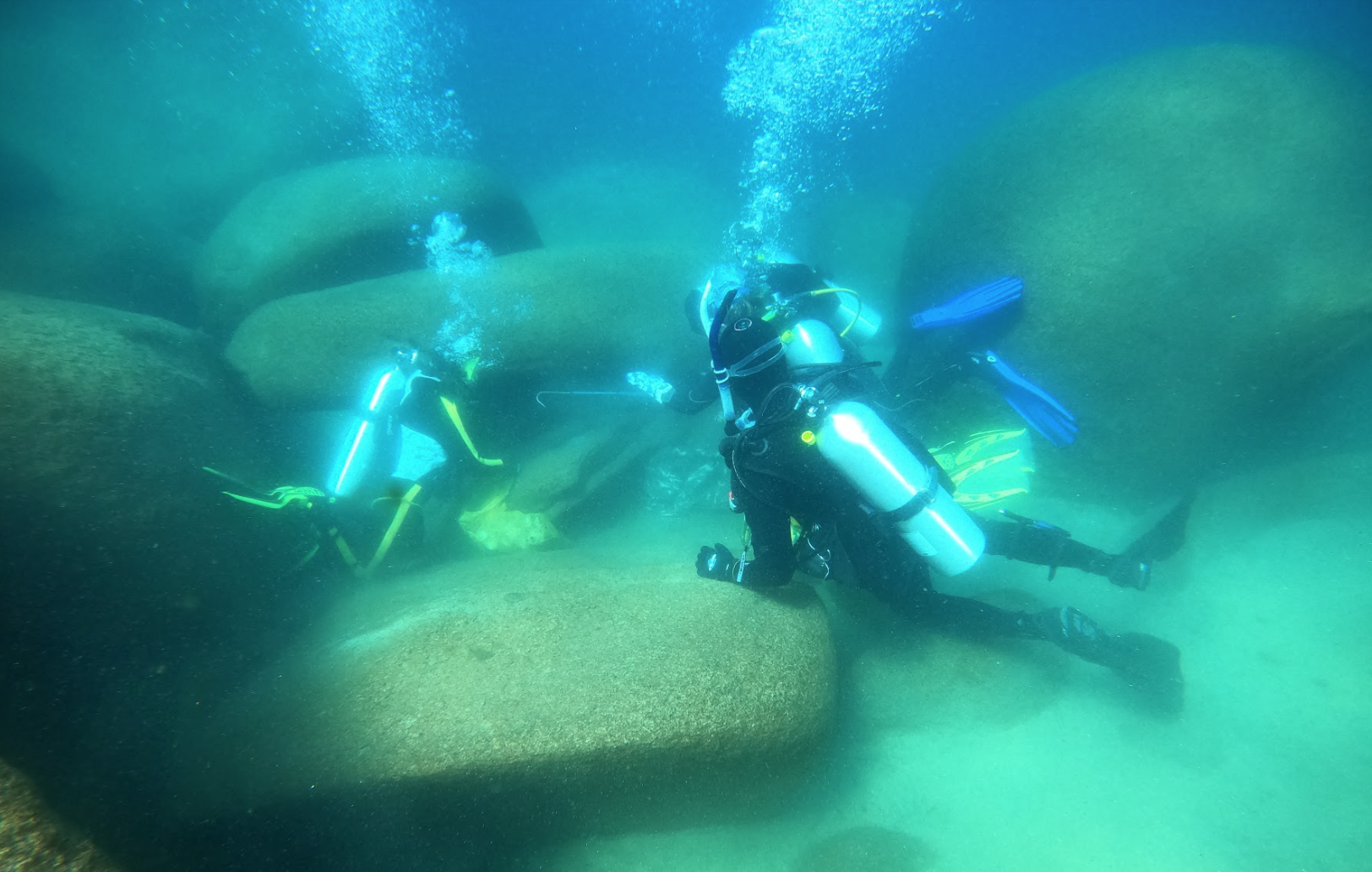 Brought to you by the Tahoe Fund 
TAHOE CITY, Calif. (Nov. 10, 2021) – Despite a summer dive season filled with challenges, the SCUBA dive team that embarked on the effort to clean up Lake Tahoe is now well past the halfway point, having reached the west shore. The team has covered over 43.5 miles of shoreline since the clean-up effort began at Edgewood on Lake Tahoe's south shore on May 14, and is bracing for a cold winter of diving with just over 28 miles to go until they reach the finish line. Led by the nonprofit Clean Up The Lake, the effort was made possible by a $100,000 matching donation from Tahoe Blue Vodka, contributions from more than 135 Tahoe Fund donors including Vail Resorts, and the Nevada Division of State Lands' Lake Tahoe License Plate program and other local grant giving foundations.
Over the past six months, divers have recovered 21,091 pieces of trash, bringing the total weight removed to 18,215 pounds. Clean Up The Lake intends to collaborate with scientific institutions and environmental consultants to study the submerged litter to develop a better understanding of its impact on Lake Tahoe. Along the north and west shores, divers have recovered not only plastic bottles, cans and other "typical" trash, but a variety of unique items such as an engagement ring, a toy BB gun, a BBQ, poker chips, lawn chair, and an international drivers license.
"Since this effort began, our team of professional and volunteer divers have been in the water as much as possible. We've faced significant challenges including heavy winds, wildfire smoke, divers being evacuated from their homes due to the Caldor Fire, and record snowfall in October, yet we're still ambitiously focused on the finish line," said Colin West, Clean Up The Lake founder and executive director. "Although this effort has successfully removed a tremendous amount of trash from Lake Tahoe, all of us who have been diving to recover it hope the message it sends is louder–that we all need to do everything we can to prevent trash from getting into the lake to begin with."
"At Tahoe Blue Vodka, we're proud and honored to be the presenting sponsor of this unprecedented and meaningful underwater scuba clean-up of the entire 72-miles of Lake Tahoe," said Matt Levitt, founder of Tahoe Blue Vodka. "With the finish line now in sight, we also want to share how incredibly impressed we are with the perseverance of the dedicated team of divers and volunteers determined to see the project through. Tahoe Blue is the only vodka in the world inspired by and crafted from waters of Lake Tahoe so we are thrilled to support efforts to keep the water pure and pristine."
Divers will continue the clean-up throughout the winter as conditions allow, and expect to complete the effort in early 2022, weather and conditions permitting.
"When we agreed to support this project, we knew it was a unique opportunity to contribute to the health of Lake Tahoe. It continues to be amazing how much and what type of trash has been recovered," said Allen Biaggi, Tahoe Fund board chair. "The importance of this work and the value it has to those who love Lake Tahoe was evident when so many individual and corporate donors stepped up to help. It wouldn't have happened without them."
The project was funded by contributions raised by the Tahoe Fund from more than 135 businesses and people who donated to the cause, including an initial $100,000 match offered by Tahoe Blue Vodka. Additional funding support came from Vail Resorts, the Nevada Division of State Lands Lake Tahoe License Plate program and other grant-giving foundations.
Other Clean Up The Lake fun facts (updated Nov 9):
49 dive days to date; 128 separate clean up dives

448 cylinders of air used

106 trained volunteers have participated; 3,856 volunteer hours to date
Learn more about the project at www.tahoefund.org.