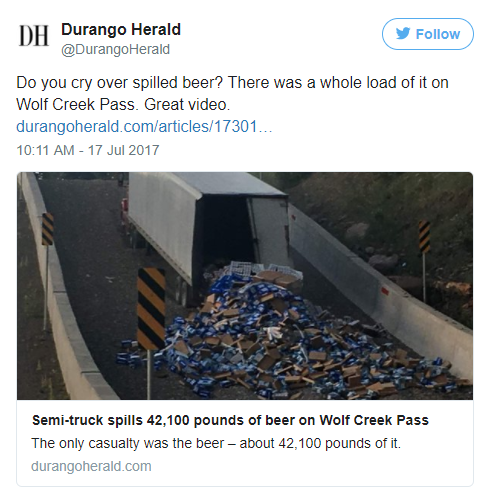 "It was an absolute fountain of beer…"

"The beer was just absolutely everywhere. It was pretty hilarious." – said Rachel Smith, witness to the truck crash and resident of Durango, Colorado in an interview with the Durango Herald
Highway 160 – A semi-truck drivers brakes went out just over the top of  Wolf Creek Pass Colorado
on June 12, 2017, Beer was lost:
Colorado State Patrol estimated the loss at 42,100 pounds of Bud Light & Energy Drinks
Rachel Smith estimated the truck to have reached 60- 65 miles an hour.
The truck missed the first runaway truck ramp and took the second (the last one before a set of dangerous switchbacks)
The driver was not injured
"I was about a quarter of the way down the pass when I started smelling that smoke," Smith told The Durango Herald on Monday. "When I got closer, I could see smoke in the road."

"He was coming up on that first ramp, and I thought, 'No problem, he'll hit that,'" Smith said. "But he went right on by it."

"He handled that truck like an absolute champ," she said in an article by the Durango Herald
Highway 160 is located just East of the Continental Divide and accesses Wolf Creek Ski Area which has an annual snow fall average of 430″ and has "The Most Snow in Colorado". 
"Beware The Wolf"
Colorado Department of Transportation released a campaign this June to warn truck drivers of the extreme nature of the road. The campaign called "Beware the Wolf" lays out statistics of crashes and safety guidelines for motorists:
 "What is the speed limit? The posted speed limit for traffic traveling westbound, downhill from the summit varies from 25 to 45 MPH. Commercial trucks must maintain the lower 25 MPH speed." Colorado Department of Transportation "Beware the Wolf" Campaign, started in June 2017

"From 2011 to 2015, there have been 49 semi-truck crashes on the west side of Wolf Creek Pass. Two of those crashes resulted in needless fatalities."- Bill Pentek, CDOT Deputy Superintendent of Maintenance

"Beware The Wolf" campaign Image: Colorado Department of Transportation
Colorado State Patrol Trooper Nate Reid identified the driver as 25-year-old Adam Catic, of Missouri. Adam was fortunately not harmed in the crash.