No doubt the day had been marvelous.  So far it had all come together.  The snow, the sun, the snow.  It was epic, it was sick, it was radtastic, it was probably the best you've ever skied.  That was until…
Yard Sale!!!
The yard sale is likely to strike at any time. 
In the Backcountry – preferable: fewer people around to see it.
In the Park – moderately undesirable:  not really shameful but everyone has to wait and get annoyed.
On a Groomer Under the Lift – highly undesirable:  maximum shame and certainty of heckling
There is something to the presence of a lift that seems to push skiers to their limits.  To ride the fine line that resides between control and a massive explosion of limbs and equipment.  At a local ski hill growing up the run directly under the main chair was, in fact, called "Showcase."  There is something about that allure of an audience that can and will swallow you up and spit you out on to the slope like some kind of inebriated hobo bereft of his shopping cart.
Yard Sale!!!
Now not just any mega-beater yields itself a yard sale designation.  It may be funny and it still may be appropriate to heckle, but it might not actually be a yard sale.  What exactly constitutes a yard sale?  
Yard Sale – |ˈjɑrd ˌseɪl|
– noun
– a garage sale.
Ok… Thanks for being smug New Oxford American Dictionary… I get it, go Fu*@k myself,  sure thing…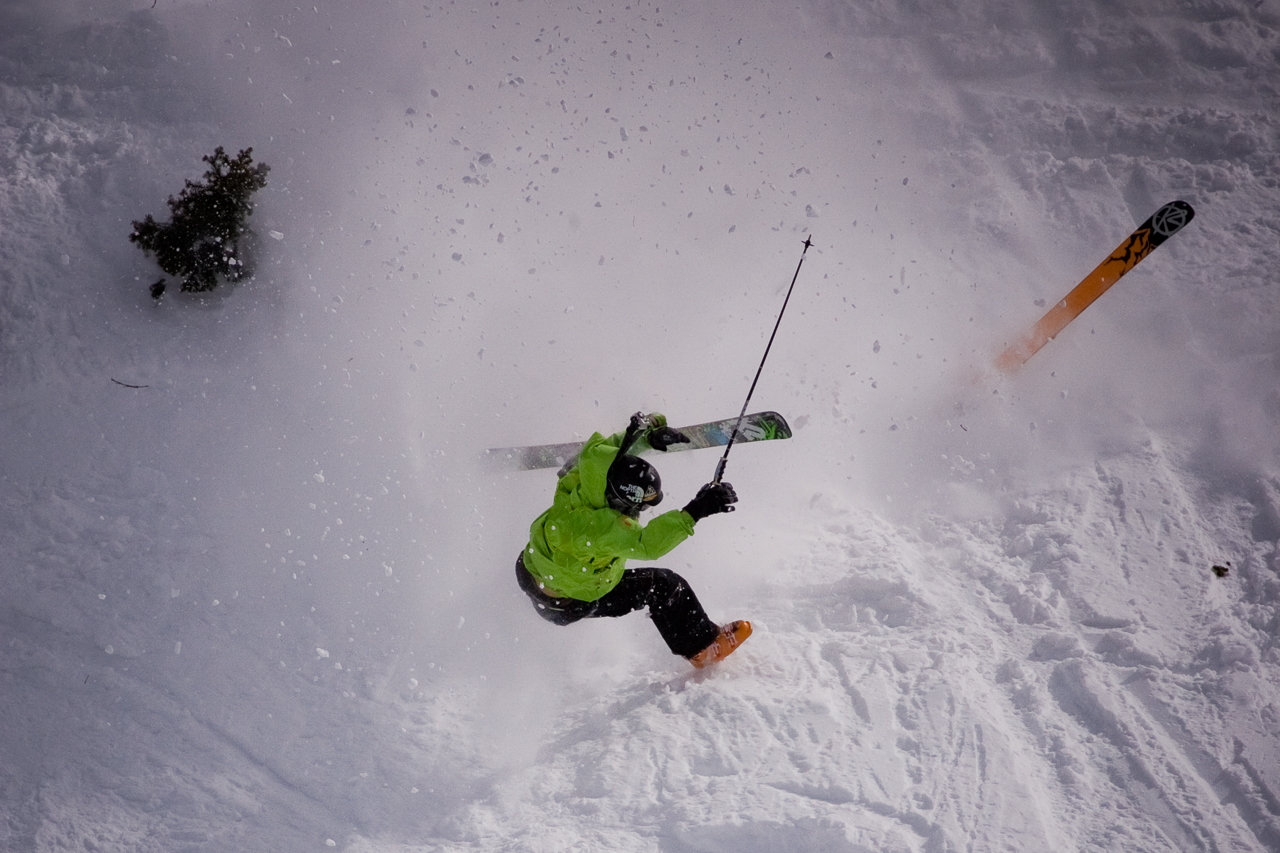 Garage Sale – |ɡəˈrɑʒ seɪl|
– noun
– a sale of miscellaneous household goods, often held in the garage or front yard of someone's house.
Well, that sort of settles it, a scattering of goods.  It has always been my understanding that yard sale status is achieved with the loss of at least but not limited to (3) three items of equipment. I say this by some authority… because… well, I'm the one writing this piece.
By this calculation, the propensity of risk should fall on skiers as they have more potential equipment to lose.  Even if boarder bro loses his boonie hat and shades he still has to really shellack himself to lose the required third item.  Many emo boarder types don't wear gloves, perhaps to make their misery more authentic.  However, it must be noted, with the addition of steeze, comes the addition of risk.  There is no strong consensus on whether headphones may be individually removed or the entire electronic apparatus must be extracted.
I am of the belief that if the headphones are removed from the electronic device and removed from the person it constitutes an independent piece of equipment.  Earmuffs count.  Other assorted pieces of steeze ensemble or superfluous flair including but not exclusive to, bandanas, ribbons, bows, feathers, fake gold chains, real gold chains, fake real chains, go pros (head-mounted and stick), PBR tallboys, etc., etc., etc., can be considered as necessary equipment when determining yard sale status.
Yard Sale!!!
Yard sale, was it the original heckle?  I don't know…  Is it the best?  Most likely yes…  In the event of a yard sale it is always appropriate to heckle.  If the yard sale is particularly heinous sometimes it is better to establish that the individual is not seriously injured first.  However, if there is doubt, air on the side of caution and heckle.  A good heckling is an effective way of testing the victim's senses.  If possible, consider hitting them with a snowball.  This is a good method of testing reflexes and overall disposition.  Be on the lookout for signs of aggressiveness as it can be a symptom of serious head trauma.
Yard Sale!!!
What makes a good yard sale?  Most chair riders are satisfied with any good crash, let alone one that achieves full yard sale status.  For an extraordinary yard sale, however, you want to see speed and scatter.  A solid out of control phase just before implosion can increase the scatter, that is the distance between the furthest item and closest item to wherever the skier comes to rest.  In an ideal scenario, there will be equipment that has stopped both above the victim and some that has slid far below.  This will optimize the time to heckle.  In some very rare cases, in which conditions are particularly icy,  the skier is acutely overmatched by the terrain, or the powder is quite deep the possibility exists for the deux heckle.  Thought to be pioneered by French Canadians, it consists of heckling a victim as you pass over them on the chair a second time.  This is extremely rare and maybe only experienced once or twice over a heckler's lifetime.
It is advisable to spend some time during the offseason workshopping pithy heckles for such rare moments.  The kind of heckle that will not only leave him questioning his abilities as a skier, but also his effectiveness as a human being.
Yard Sale!!!
There is a fine line.  It is a knife's edge.  It is an AK spine with total failure on one side and utter catastrophe on the other.  It follows you wherever you go.  It is the inches of separation between glory and total defeat.  Pack it up, move it out, it's time for a… yard sale.