For many, a week of heli-skiing is the ideal ski trip. When you add doing it in Greenland, staying on a luxury yacht, and rubbing elbows with Bode Miller and Chris Davenport, it becomes the ultimate trip.
That's exactly what EYOS, a private superyacht charter company is offering. Highlights of the trip include staying onboard a former Arctic Research Vessel MV Nansen Explorer while accessing some of the best deep powder heli-skiing there is. You can do it all with the most decorated male alpine skier in U.S. history in Miller and a World Extreme Skiing Champion in Davenport.
Why Greenland?
Heli-skiing in Greenland cannot be overhyped. Greenland's protected fjords offer unparalleled access to prime heli-ski terrain. The runs can run from the summit to the sea and be over a mile long. They have wide, treeless snowfields as well as steep couloirs flanking glacier-sculpted peaks. Nearly 80% of the terrain has never even been skied before. The area is also home to some of the biggest icebergs in the world.
See the video below to understand the hype:
The trip runs from April 23-30, 2023. The cost for the all-inclusive dream week is €30,000-€60,000 depending on your cabin choice. This is approximately $29,250-$58,500 at the time of this writing.
The MV Nansen Explorer is the perfect vessel for this excursion. Since it was originally designed as an Arctic research vessel, it is specifically equipped for polar waters, with a strengthened hull to break through the ice and a commercial helideck that makes for the ideal launch pad for heli-skiing adventures.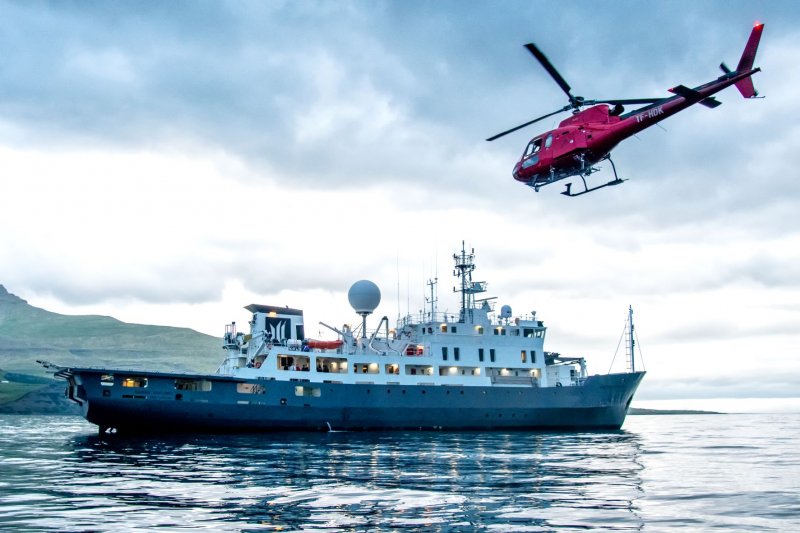 Why in April?
The ice in the Arctic is just breaking up around this time in the early spring and the days are getting longer. With its ice-breaking power, the vessel can be one of the first to reach the amazing coastline of Greenland. It will just be you and the crew in the true arctic wilderness. EYOS has an expert team of internationally certified mountain guides who will navigate the vast land to make sure guests find the best lines and the best snow conditions.
Other activities available on the journey are sled dog excursions, visiting colorful small towns, and interacting with the locals and fishermen.
This is truly a unique opportunity. Usually, heli-skiing is offered at prominent resorts or backcountry lodges. Given the mode of transportation and the location being in the farthest reaches of the polar regions, this will be a trip of a lifetime.