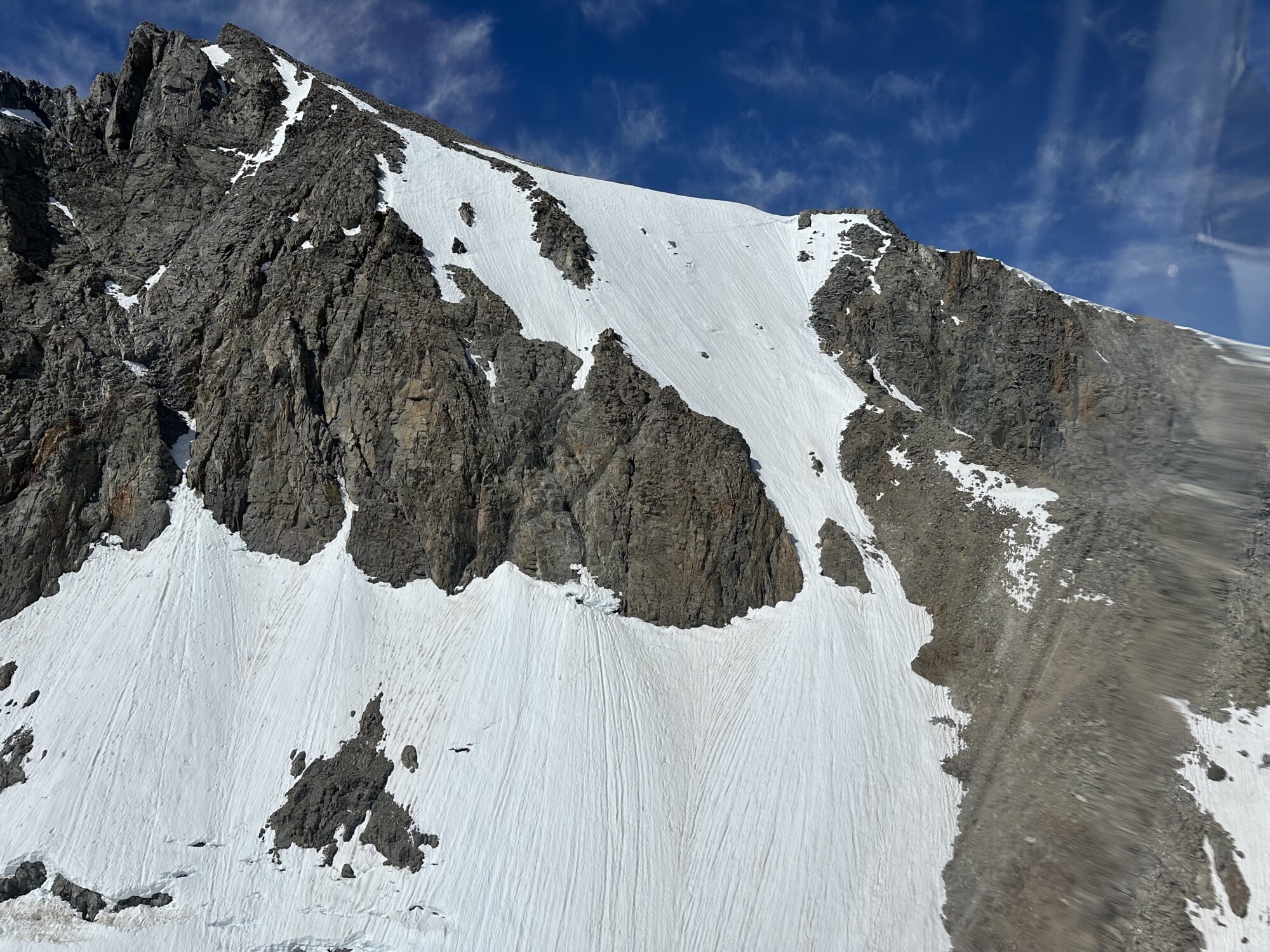 Low avalanche danger doesn't mean no avalanche danger. 
On the afternoon of July 2, three hikers were caught and carried by a wet-loose avalanche on Split Mountain near Big Pine, California. The Eastern Sierra Avalanche Center reports that two of the hikers sustained mild to moderate injuries from the slide while the third sustained severe injuries before ultimately succumbing to the trauma and dying. The ESAC shared a preliminary report in a social post regarding the incident, writing:
On the afternoon of July 2, 2023, A party of three hikers were caught and carried in a wet loose avalanche while descending above Red Lake, on Split Mountain near Big Pine, CA.  While no one was buried in this avalanche, two individuals sustained minor to moderate injuries. One sustained major injuries which ultimately lead to their death. The surviving parties contacted the Inyo County Sheriffs office and Search and Rescue was initiated. Details are scarce regarding the circumstances of this incident and the specifics of the avalanche. However, initial reports suggest this was a very small wet loose avalanche that was large enough to cause all three parties to fall in steep and rocky terrain.

This marks the second avalanche-related fatality in the Sierra in the last month. During a time that is often thought of as more "safe." Our productive winter season has led to much more significant coverage than we have become accustomed to for this time of year. The snowpack continues to be stressed by intense solar radiation, summer rains, and warm overnight temperatures making wet avalanches, cornice failures, and glide avalanches more likely. Loose, unconsolidated snow on the surface and the lack of a refreeze overnight mean that wet loose avalanches may be very easy to initiate, and arresting a fall in steep terrain may be very difficult. Furthermore, there are several objective hazards to consider. Snow bridges are melting out and may be prone to fail under your weight and creeks continue to flow at very high levels making some difficult if not impossible to cross. If you decide to venture into the backcountry keep in mind that avalanches are not reserved for the winter season, if there is snow on the ground avalanche activity is possible.
Any amount of snow coverage can prove dangerous—no matter the time of year. The incident investigation by the ESAC is ongoing and a full report is forthcoming.
About Split Mountain
Split Mountain is one of the 50 Classic Ski Descents of North America (The Split Couloir to be specific) located in the Eastern Sierra Nevada range of California. The peak is renowned among skiers for its challenging and exciting terrain. The mountain offers a variety of steep chutes, couloirs, and open bowls, providing an exhilarating experience for advanced skiers and snowboarders. Its gnarly reputation stems from the steepness, technicality, and variable snow conditions that can be encountered on the descent. The mountain claimed the lives of Kip Garre, 38, an accomplished skier, guide, and mountaineer, as well as his girlfriend, Allison Kreutzen, in April of 2011.