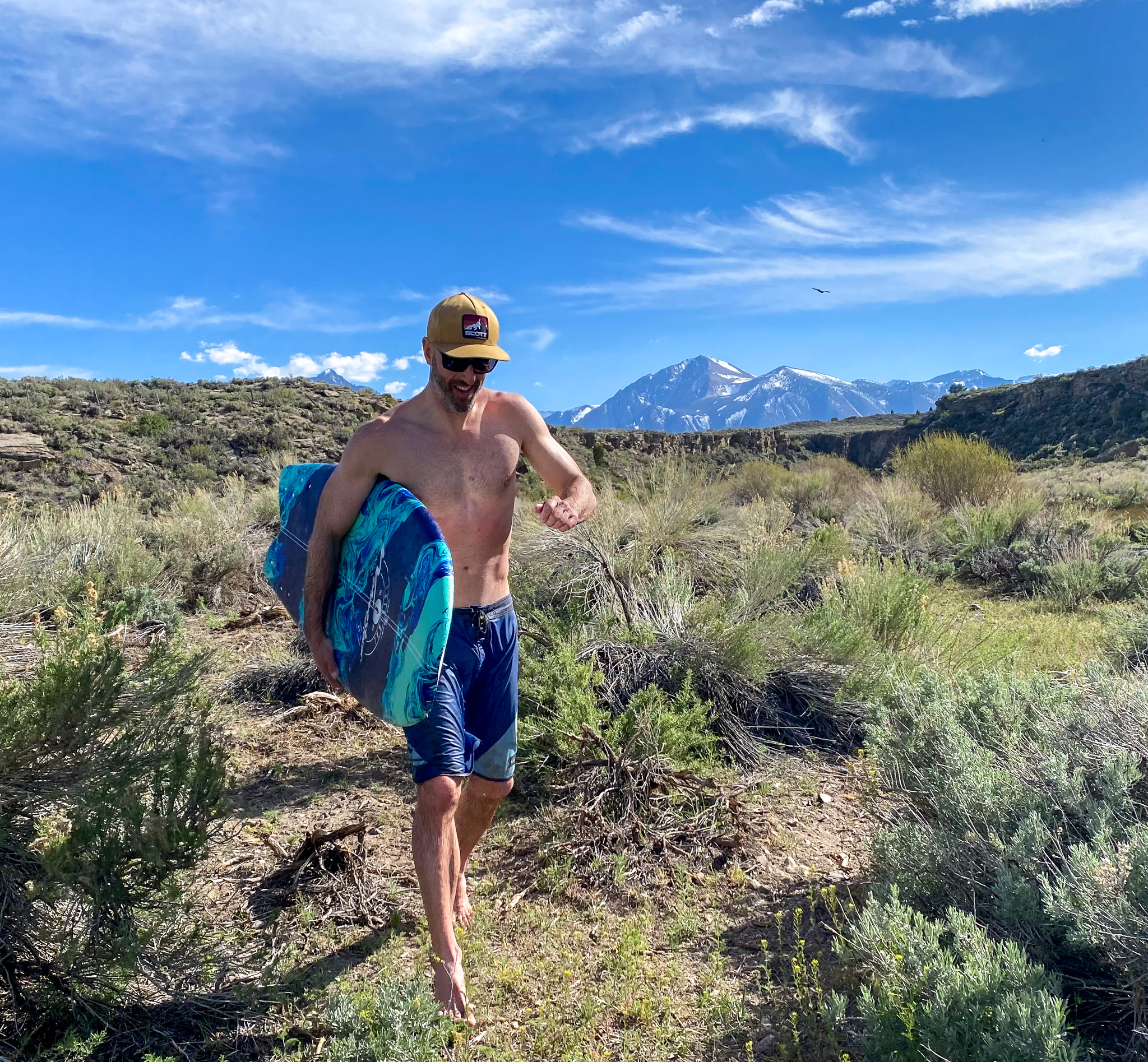 There are few things that can combine to create the perfect day, but skiing and surfing are definitely among the activities that can. Below are 5 places around the world that can create this perfect storm:
Ben Lomond National Park, Tasmania, Australia
Ski resort: Ben Lomond Ski Resort 
Ben Lomond is the largest ski resort in Tasmania with 7 lifts and a peak elevation of 1525 m (5,003.3 ft). The resort even has a terrain park, along with gorgeous views of the expansive  National Park.
Surf Break: Bicheno 
Just over 2 hours away from the ski resort, you'll find an amazing surf break on the edge of a picturesque town. While summer surfing in Australia is idyllic with warm water and seemingly never-ending days (major "Endless Summer" vibes), the winter brings the fun with bigger swells and better waves. This creates the perfect storm for a dreamy ski and surf day.
Big Bear, California
Ski Resort: Big Bear Mountain Resort
Big Bear is one of the best ski resorts within a short driving distance of the coast. They have 2 different peaks, Bear Mountain (8,805 ft) and Snow Summit (8,200 ft). Combined, there are 19 lifts, 60 trails, and 11 terrain parks. Not only is it one of the largest coastal resorts, but it is also close to an astonishing amount of surf breaks.
Surf Breaks: several
The accessibility to surf from Big Bear is thrilling. After packing up the car with your ski gear, you can check the surf forecast in Los Angeles and plug in directions to your top pick. All of the surf breaks are a 3-hour or less drive from the mountain, of course, it will be longer if you hit the infamous LA traffic. Some of the best spots to hit include El Porto (Manhattan Beach), Redondo Beach, Hermosa Beach, Ocean Park, Venice beach, Sunset Point Beach, Topanga Beach, Surfrider Beach, Zuma Beach, Leo Carrillo, and County Line. To make it more enticing, wintertime is the best time to surf in California.
Cape Breton Island, in the province of Novia Scotia, Canada 
Ski Resort: Cape Smokey
A quaint, picturesque ski resort consisting of 1 gondola, 1 ski lift, and 15 ski runs. The views at the top of the 320 m (754.6 ft) mountain are hard to beat. However, the most astonishing part of all… only ten minutes away lies a worthy surf break.
Surf Break: Ingonish Beach
After skiing at Cape Smokey, you can hop in the car and travel a whopping ten minutes to hit the waves. Unfortunately, the best season for consistent waves is in the summer, especially in August. However, the winter still provides occasional fun and surfable swells.
Carrabassett Valley, Maine
Ski Resort: Sugarloaf
Another ski and surf day gem… Sugarloaf has an astounding 14 lifts servicing 162 trails, as the second tallest mountain in the state it soars 4,237 ft high. Similar to Big Bear, it is close to many worthwhile surf breaks. 
Surf Breaks: several
You'll have your pick of several surf breaks to drive to from the mountain, all under a 3-hour travel time. Winter offers chilly waters, amazing waves, and less crowded breaks than the West Coast of America. Some of the best breaks nearby include Crescent Beach, Reid State Park, Popham Beach, Higgins Beach, Scarborough Beach, Fortunes Rocks, Gooch's Beach, Wells Beach, Ogunquit Beach (don't miss the Rivermouth just south), and Long Sands Beach.
Atlas Mountains in Marrakesh, Morocco 
Ski Resort: Oukaïmeden
Oukaïmeden is said to have the best skiing in Morroco, and it is the highest ski resort in Africa sitting atop an impressive 3268 m (10,721.8 ft). On this massive mountain, the small resort consists of  7 ski lifts to carry you to its 10 km (6.2 mi) of skiable terrain. It is noteworthy to remember you are skiing in Africa, meaning you won't have the fluffy powdery snow you could get on a European vacation. There will be a variation of conditions and a similarity to off-piste skiing; however, it will be less crowded and an unforgettable cultural experience. 
Surf Break: Essaouira
After skiing at Oukaïmeden you can hop in the car and travel just over 4 hours to reach this surf break, leaving plenty of time for a sunset session. Essaouira is nicknamed the windy city and is dominated by kitesurfers in the summer. Although, the winds die down in the winter and the ground swell picks up, making this a perfect spot for beginner surfers with smaller and more mellow swells. 
Surf Break:  Sidi Kaouki
About 4 and a half hours away from Oukaïmeden you'll find a very unique beach. The best surfing at Sidi Kaouki lies on the northside where there is a reef break with fairly consistent waves and is best for intermediate-level surfers. Is it the best surfing in Morroco? No. Still, it provides a memorable Morrocan experience with sand dunes, camels, and a view of the shrine and pilgrimage site of Sidi Kaouki, a 19th-century marabout (a Muslim religious leader and teacher).