Earlier this week, the dynamic duo- Alex Honnold and Tommy Caldwell, climbed what they are calling the "Continental Divide Ultimate Linkup" in Rocky Mountain National Park. Starting at Mt. Meeker, the pair of climbers set off for a brutal 36-hour sufferfest. In total, Honnold and Caldwell traveled 35 miles, ascended 20,000 feet of vertical, summited 17 named mountains, and climbed 11 classic climbing routes with grades ranging from 5.6-5.11. Phew… what a day.
These two really had quite the adventure. As night approached, Honnold and Caldwell missed their support drop-off which contained food, warm clothes, and headlamps. Despite the setback, the pair remained undeterred. They pushed on through the cold Colorado night in their skimpy running shorts with their phones shoved under the brims of their hats to provide light.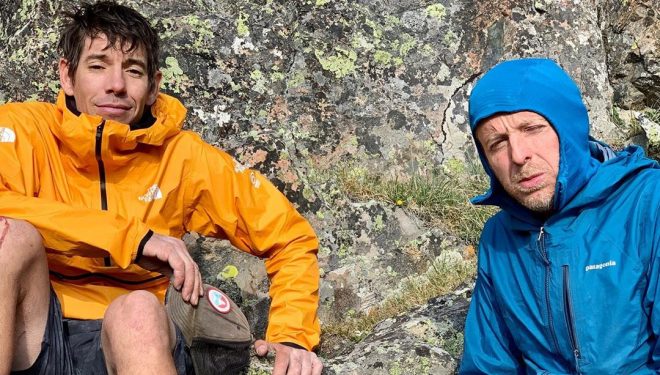 In a social media post, Caldwell wrote: "I guess my wish for a character-building experience paid off… We completed what I'm calling the Continental Divide Ultimate Link, (CDUL, pronounced cuddle for how we warmed up in the middle of the night) after 36.5 hours…"
Caldwell and Honnold certainly aren't strangers to big objectives. From speed records on big walls in Yosemite to huge mountaineering linkups in Patagonia, these two know how to suffer in the most fun way possible. Nonetheless, the CDUL route is one for the history books of Colorado climbing.
Now that the route has been established, it's only a matter of time until someone bold enough will try to do it faster. Game on!