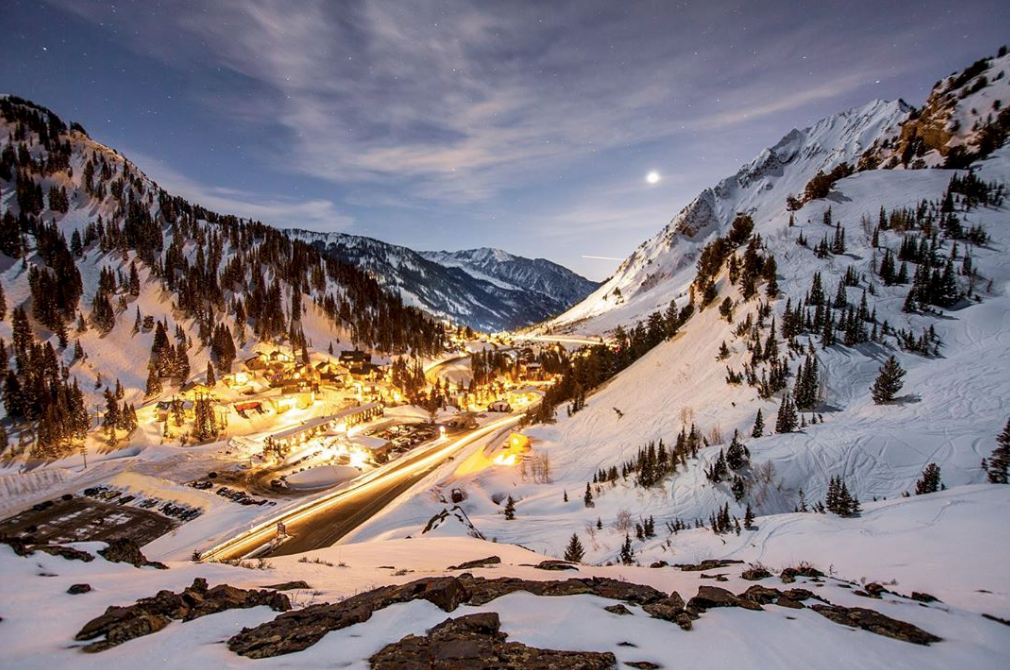 Brought to you by Alta Ski Area
As Salt Lake City grows in population and skier visits, Alta's number of open parking spaces shrinks in availability. More than once last season eager skiers forced to turn around due to lack of available parking at Alta. The culprit? Usually weekends, holidays, powder days, and just a ton of snow-hungry skiers from the valley looking to score some turns. The ski area was built in the '30s after all—did we really expect the existing parking infrastructure to be sustainable forever?
No.  Life beckons change, which is why Alta is implementing a new parking reservation system this season. Alta wrote in a news release regarding the new parking reservation system:
Throughout Alta's history, our passion has centered on skiing—an experience where the soul of skiing lives on at our independent mountain. As we ready for our 84th winter it is important to reflect upon these snow-filled seasons of the past to guide our decisions moving forward.

With the growth of our sport, the simple act of going skiing has changed. At no time is this more evident than on weekends & holiday mornings. Arriving before the sun rises to secure a parking spot is not good for our local skiers. Similarly, turning away cars on busy weekend mornings—cars filled with a family of four, a group of friends or someone hoping to ski Alta for the first time—is not good for the future of our sport. We are implementing a parking reservation system on weekends & holidays to alleviate the unnecessary stress on our community.

We understand that parking reservations represent a big change for Alta and will require more planning from our skiers. We are hopeful that this step helps to restore Alta's weekend & holiday skiing experience for the 2021-22 winter.
Here's how it works
Parking reservations will be required on weekends & holidays from 8am – 1pm. Reservations go live on November 3 at 7 am MST. Qualifying Alta and Alta-Bird season passholders and lift ticket purchasers will receive a parking code via email. All other skiers, including Ikon and Mountain Collective passholders, can purchase a $25 parking reservation without a parking code.
When are reservations required?
Weekends & Holidays from 8am–1pm.

Saturdays and Sundays: December 18 – April 3 and closing day.

Holidays: Winter Break (December 23 – January 2), MLK Weekend (January 15-17), President's Weekend (February 19-21).

Reservations will be required on approximately 40 days during 2021-22 season.

All parking in the Wildcat, Flagstaff (South Side), Grizzly and Albion lots will require a reservation on weekends & holidays. 

Parking reservations can be made online at anytime during the ski season.
When are reservations not required?
First-Come, First-Serve Parking

Monday through Friday (excluding holiday periods).

Opening day through December 17 and April 4 – April 16.

Not required after 1pm on weekends & holidays.

Parking will remain first-come, first-serve on 100+ days during the 2021-22 season.
Reservations can only be purchased online
Reservations are available for $25 per day.

Purchasers of Alta.com lift tickets are eligible to book parking reservations for $10 per day.

Qualifying Alta and Alta-Bird passholders are eligible for FREE parking reservations.

Parking reservations are verified by your license plate.

FREE parking reservations for qualifying Alta passholders:

Qualifying Alta passholders will receive parking code(s) that can be used to book free parking reservations. Parking codes may be reused once the active reservation date has passed.
Rules and regulations:
If free passholder reservations are not canceled within the cancellation period then passholder reservation benefits will be paused until a $25 no-show fee is paid.

The fine for parking without a reservation will be $75.
Why Alta is implementing parking reservations
Provides Alta skiers the assurance that there will be a parking space before driving up Little Cottonwood Canyon.

Eases early morning traffic congestion resulting from limited parking available on a first-come, first-serve basis.

Alta skiers will no longer need to arrive hours before first chair to secure a parking spot on weekends and holidays.

Ski area employees will be able to arrive on time and prepare the ski area and parking areas for you.

Manage the ski experience by limiting the number of skiers to available terrain and lift capacity.
Backcountry skiers and snowboarders that use Alta's lots for touring in its neighboring backcountry terrain like Grizzly Gultch and Mt. Superior have raised concerns on a Reddit forum, saying that the resort's new parking reservations system may discourage them from parking in Alta's lots. Meanwhile, many Alta skiers are praising the initiative, saying that Alta is actively working in favor of its season passholders by giving them free parking codes and ensuring that they will have a guaranteed parking spot when they want to ski at the resort this season.
Alta Parking Map