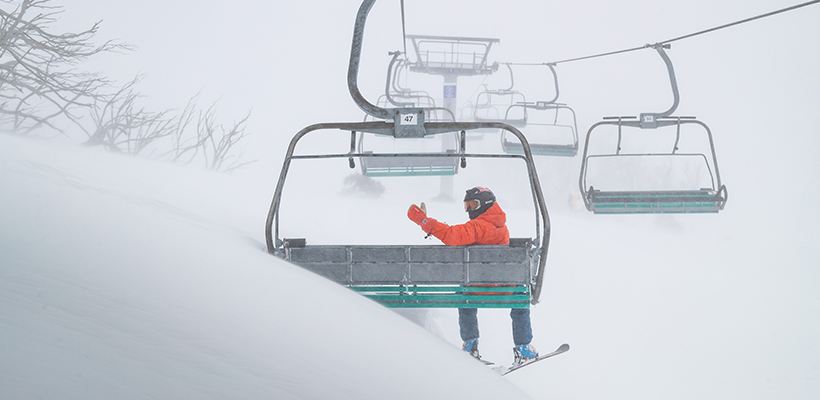 It's this time of year that skiers across Australia and New Zealand are starting to get excited about winter and ski resorts begin dusting down their snow-making equipment and greasing the chairlifts. But as the coronavirus pandemic continues to sweep across the globe, many are fearing that this season may not happen at all.
Australian resorts Falls Creek, Thredbo, and Perisher are determined to open when the season kicks off in June and to stay open until October. But as the government enforces harsher restrictions on mass gatherings, causing a string of businesses to shut down, ski resorts may be the next victims. The Australian Ski Areas Association (ASAA) said it was uncertain if skiers would be able to take to the slopes this year.
'While all resorts continue preparations for the 2020 ski season, it cannot be said with any certainty that the Australian ski season will open as intended on 6 June,' the ASAA said. 'The Australian snow resorts will not operate unless advised by governments and health authorities that it is appropriate to do so.'
Many sporting events have already been canceled across Australia with people being instructed to keep 1.5 meters apart to help combat the spread of the disease. 
Mt Hotham, the country's highest ski resort, said businesses in the community would suffer economically if their season didn't go ahead, especially on the back of the disastrous summer of bushfires. 
'Unfortunately, current events mean things are far from normal. We are grappling with what the evolving coronavirus (COVID-19) situation means for Hotham, for our staff, for our stakeholders and guests,' the resort said.
Vail Resorts which owns Perisher Ski Resort said they were preparing for the season to begin over the June long weekend and would update skiers for any changes. Mt Buller is allowing skiers to request date changes, and to cancel or seek credit or refunds if they or a family member contract coronavirus.
There have been over 3,000 confirmed coronavirus cases in Australia, resulting in 13 deaths.