A solo skier remotely triggered an avalanche on the east aspect of peak 4600 on Hatcher Pass, AK, yesterday and another skier reported triggering and being caught in an avalanche. There were no injuries in either incident.
First Incident
Solo skier followed safety-style skintrack set earlier in the day, from snogo Fishhook lot the long way around to wimp bowl and up to 4068. Lots of whomping on the way. Then along ridge to 4600. Skied sunnyside of 4600, great pow, while descending remote released a to-the-ground slab on steepish face to skiers right and also below skier extending northeast along creek course. Stopped. Evaluated. Bowl above skier not moving. Proceeded shortest route to debris field. Continued towards Skeetawk weather station. Made new skin track on low angle slope back up to 4068. Large-acreage whomps and settling while climbing. Skied nose back down to creek crossing and parking lot.
– Observation on CNFAIC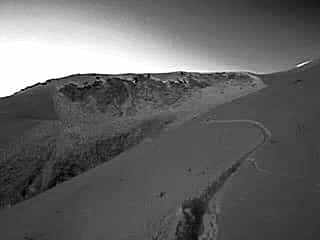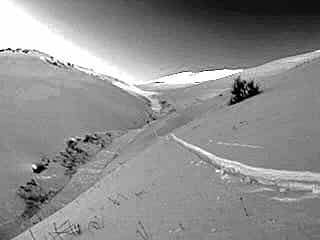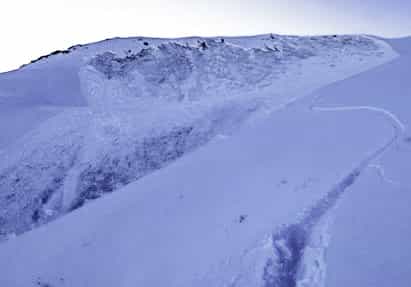 Second Incident
A skier triggered a soft slab slide at 3,000 feet on a 38º slope. The skier was caught and carried, but not buried, and managed to ski out.
Considerable hazards can be tricky. It can allow you to get away with fun, only to smack you in the face, warns the CNFAIC.
"As we have stated, the persistent weak layer of sugary facets will continue to be problematic. Each time it is loaded it will be re-activated. Increases instability will take time. Most avalanches occur during or within 24-48 hours after a storm."

– CNFAIC
Yesterday's avalanche forecast for Hatcher Pass:
Strong winds and new snow have overloaded a weak snowpack overnight.
Natural, human-triggered, and remotely triggered avalanches are likely today in specific areas at the mid and upper elevations.
Human-triggered avalanches may be possible at lower elevations.
Any avalanche triggered has the potential for failing at the ground and releasing the entire snowpack. While coverage is generally shallow, there is still enough snow in specific areas to result in a large avalanche capable of injuring, burying, or killing a person.
Both snow and winds should be tapering off today. Give our weak snowpack a chance to adjust to the new load, and be extremely careful and conservative if headed into the backcountry today.