Lists are inherently wrong no matter how you look at them. There will almost always be something to argue about. So why make them at all? Well…I love a good debate.
There are no set factors that I decided to rate each resort on. The majority of this list are resorts that I have had experience skiing and I ranked them based on "general feel". You might also be asking yourself what I mean exactly by "Big Mountain Skiing". For starters, it does not necessarily mean resorts with large expanses of terrain or high verticals. Think of the Freeride World Tour (If you have not seen the tour check it out here). It is a style of freestyle skiing that encompasses skiing steep and technical faces while also showing off-air and style.
Here is my list of the best big mountain style resorts in the United States. Let me know if you agree or disagree with what I put down!
1: Jackson Hole Mountain Resort, WY (AKA The Big One)
This was the easiest decision on the list. Jackson Hole is hands down my favorite big mountain resort in the United States. The terrain within the resort is unmatched almost anywhere else in the world. Notable areas in the resort include Corbet's Couloir, Casper Bowl, The Hobacks, and Expert Chutes. Skiing there felt as if there was a never-ending supply of big mountain terrain to get funky with (and that's not even including the expansive side-country access). There can be some extensive crowds to deal with but there are plenty of days in which Jackson Hole feels like a ghost town.
2: Palisades Tahoe, CA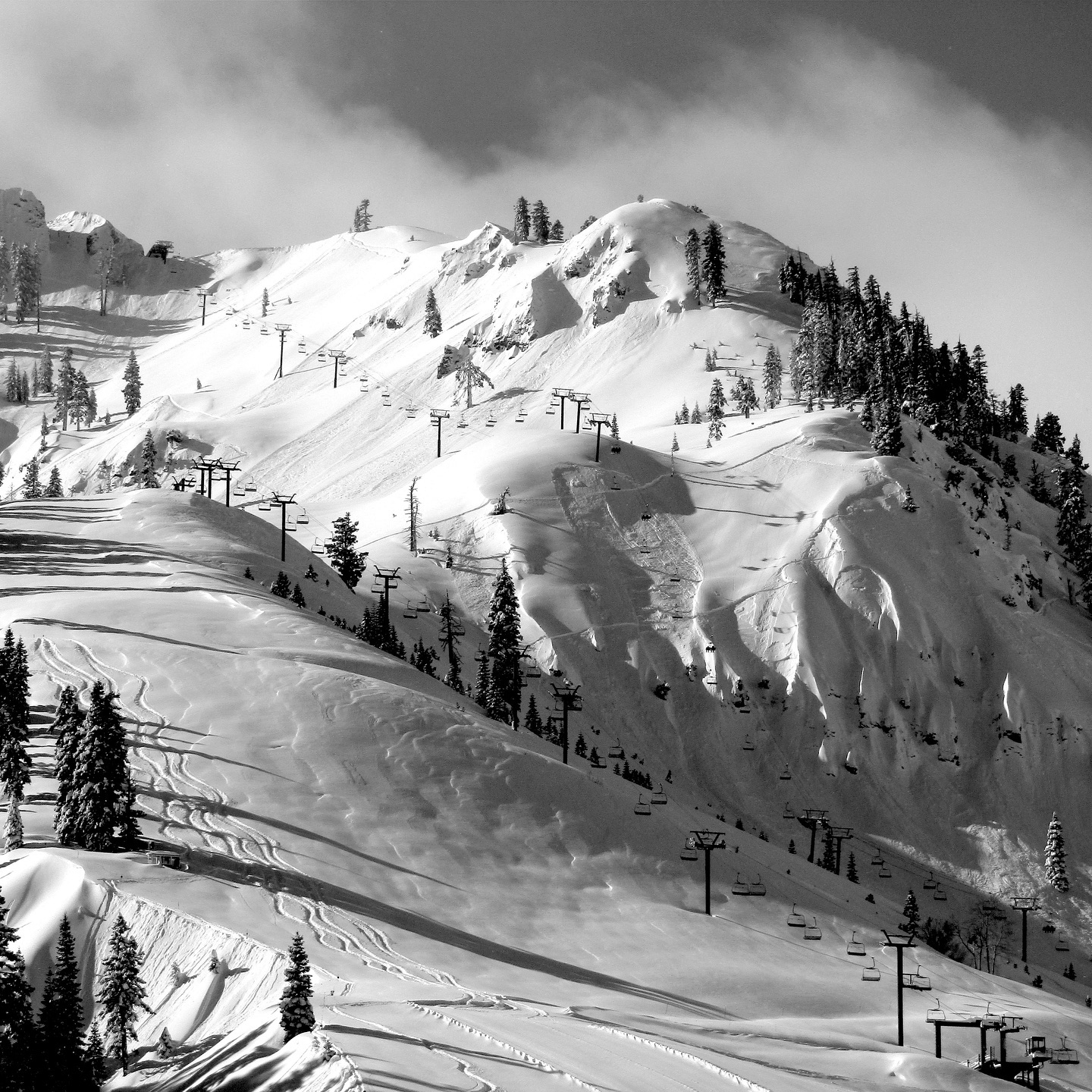 Palisades Tahoe is the Hollywood of big mountain skiing. If you have ever skied there you understand just how close lifts get to some of the major lines. The famous KT-22 chairlift goes right up the heart of some of the most famous in-resort lines. The position of this chair creates a noticeable atmosphere for everyone skiing down. There is a sense that you need to push yourself a little harder to give everyone on the chair a show. Notable areas in the resort include The Fingers, Headwall, Eagle's Nest, Granite Chief, Mainline Pocket, and The Palisades. Just like Jackson Hole, Palisades Tahoe seems like there is never-ending terrain to get airborne off of. There is a lot to like, and that is why I have it as the second-best big mountain resort on this list.
3. Silverton, CO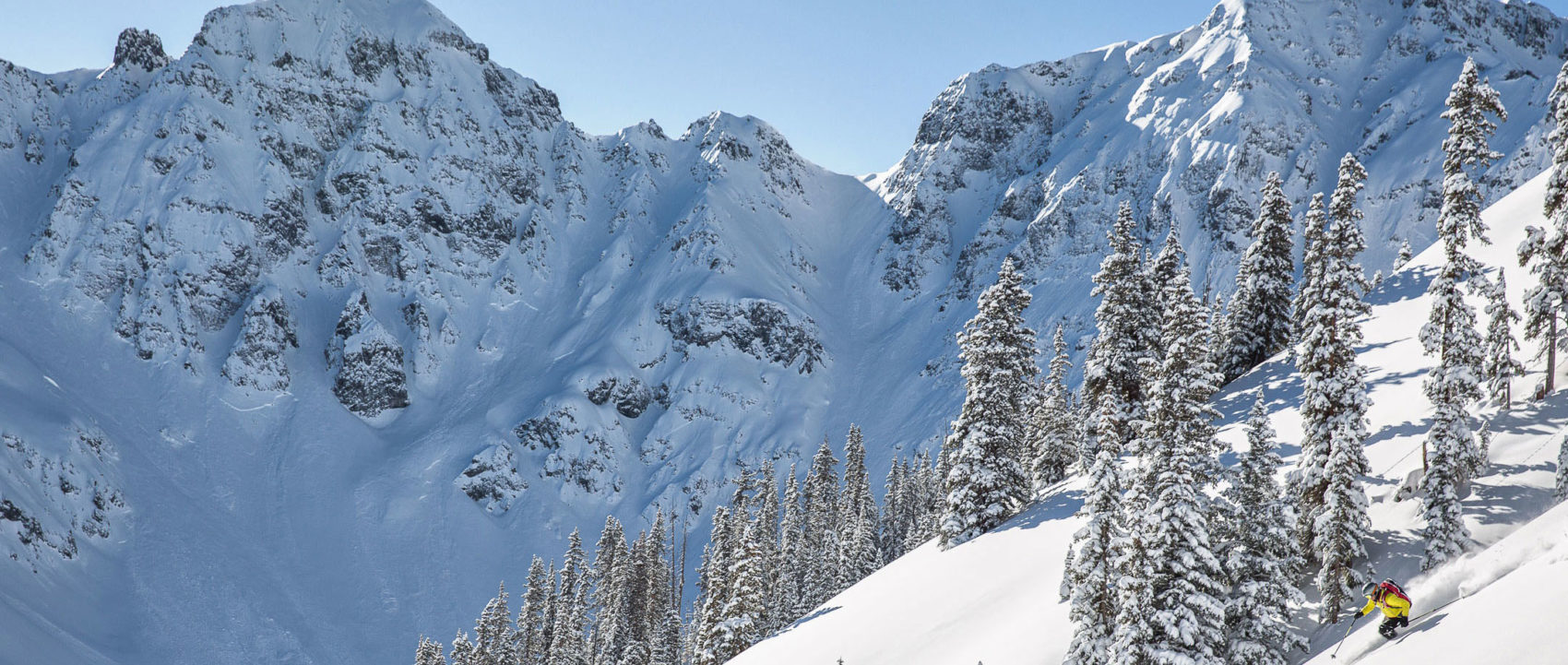 I almost didn't put Silverton on this list. The resort does not feel like a typical ski resort which makes me feel as if it should be in a category of its own. None-the-less, I have decided to put it in, so let's break it down. Silverton is a backcountry style resort with only one lift and the ability to heli-ski. Notable areas in the resort include The Billboard, Hell's Gate, Fat Guy, Storm Peak, Gnar Couloir, and The Grande. A lot… and I mean most of the resort requires hiking to access. This is one of the few resorts that I have not had the pleasure of visiting, but it has been on my bucket list for a long time. Silverton is not your average resort, but it is very much above-average if you like cliffs, steeps, and mind-numbing exposure. For these reasons, I have slotted Silverton at #3 on my list.
4. Alta/Snowbird, UT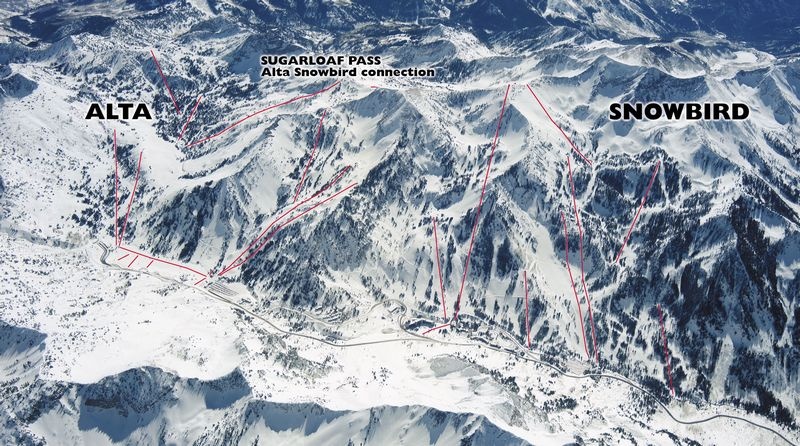 Hold up, hold up, hold up! Ryan, are these not two separate resorts? Yea they are, but for the sake of my list I combined them as I see them as a single area with very similar terrain. Alta/Snowbird and Little Cottonwood Canyon is a paradise for big mountain skiers. Only a short drive from Salt Lake City, both resorts do see big crowds at times, but that does not diminish its advanced terrain. Some notable areas in both resorts include Mt. Baldy, Eagle's Nest, Cecret Chutes, and East Castle. One of my favorite parts of Utah's most advanced resorts is the jumps. There is a great culture of building out natural hips around the two resorts. Almost every chairlift gives riders the ability to jump backcountry style hits that you mostly see in movies and not in resort. Alta and Snowbird combine easy in-resort access with advanced backcountry-like terrain, making it an easy pick to place at number 4 on my list.
5. Bridger Bowl, MT
Bridger Bowl is one of a few ski resorts that made me say to myself, "Wow…I suck at skiing." Everything about the upper mountain will make most skiers question their ability. Some notable zones I like include Mundy's Bowl, Fingers, and Exit Chute. If you plan to make a trip to Bridger Bowl, make sure to bring avalanche gear as the upper ridge requires riders to carry it. Additionally, Bridger almost never has crowds. I have never waited more than a few minutes to catch my next chair ride. Small lines make it impressive when you realize there is not a single high-speed life on the mountain. That is part of what gives Bridger such a great atmosphere. People go there for great skiing and nothing else, and that is why I love Bridger Bowl.
6. Kirkwood, CA (AKA The Wood)
My hometown mountain. The Wood holds a very special place in my heart and part of me wanted to be selfish and put it as #1 while making this list. Kirkwood posts an impressive annual snowfall in America with some years seeing over 600 inches of fluffy goodness. My favorite part about my home mountain is that cliffs and rock features change drastically over the season. On a good snow year, a lot of my favorite features might get completely buried. The great thing is that depending on how deep the snowpack is, there is always something that has the perfect amount of snow to huck your meat off of. Some of my favorite zones include Norm's Nose, The Sister Chutes, Devil's Corral, and Chamoix. Kirkwood also has a long history of big mountain skiing that includes a Freeride World Tour Stop in 2013.
7. Telluride, CO (AKA T-Ride)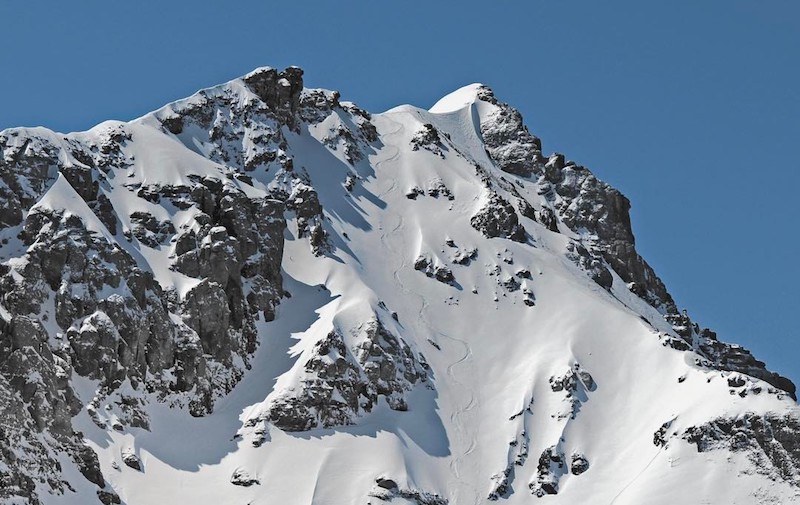 A bet a lot of people will read this and think I am insane for even putting Telluride on this list. For me, it is one of the best big mountain resorts in the United States. A lot of the mountain lacks cliffs, but a couple of chairs give access to vast expanses of pristine steeps, chutes, and cliffs. The hike up to Palmyra Peak gives riders a variety of options to choose from. Some of my favorite zones include Apex Chair, Gold Hill Chutes, Palmyra Peak, Bald Mountain, and Black Iron Bowl. For a lot of the big mountain terrain, you are required to do some sort of hiking, but that is why I think Telluride is a gem. Most of my favorite runs are sparsely ridden and you will find untouched powder days or weeks after major storms. Also, ski patrol understands freeskiing culture. It is totally ok to build jumps around the resort as long as you are smart about it. I can still remember building a line off of Apex Chair when a ski patrol came up to my group and said, "That looks awesome! Keep at it boys cause I want to jump that!". It builds an atmosphere where ski patrol and skiers respect each other and that is something that is not always a given these days. For me, Telluride firmly belongs in this list.
8. Crested Butte, CO (AKA The Crusty Butt)
Crested Butte can be an unassuming mountain when you first pull into the parking lot. The first time that I skied the Crusty Butt I asked myself how my big mountain competition could be held here. To the defense of CB, I changed my mind almost as soon as I got to the upper mountain. My favorite areas of the mountain include Headwall, Teocalli Bowl, Staircase, and Tower 11 Chutes. All of these can be accessed from the only two lifts that I really ride at Crested Butte: High Lift and North Face Lift. These two surface lifts give access to a huge amount of steeps and cliffs. While I think that the lift layout is not great, the terrain makes up for the multiple lifts to get back. Additionally, most of the advanced terrain flows well with multiple hips to jump off of. For these reasons, I have put CB at #8 on my list.
9. Big Sky, MT
Unlike Crested Butte, it was obvious to me that Big Sky was a true big mountain resort. It is nearly impossible for your eyes to not fixate themselves on Lone Mountain. Some notable zones include Lone Mountain, Big Couloir, Still Water Bowl, The Gullies, and Deepwater Bowl. All of this terrain comes off of Lone Mountain, but there is a lot of terrain up there. You can ski roughly 270 degrees off the summit, opening up a lot of extremely steep runs.
10. Taos, NM (AKA A 4 Letter Word For Steep)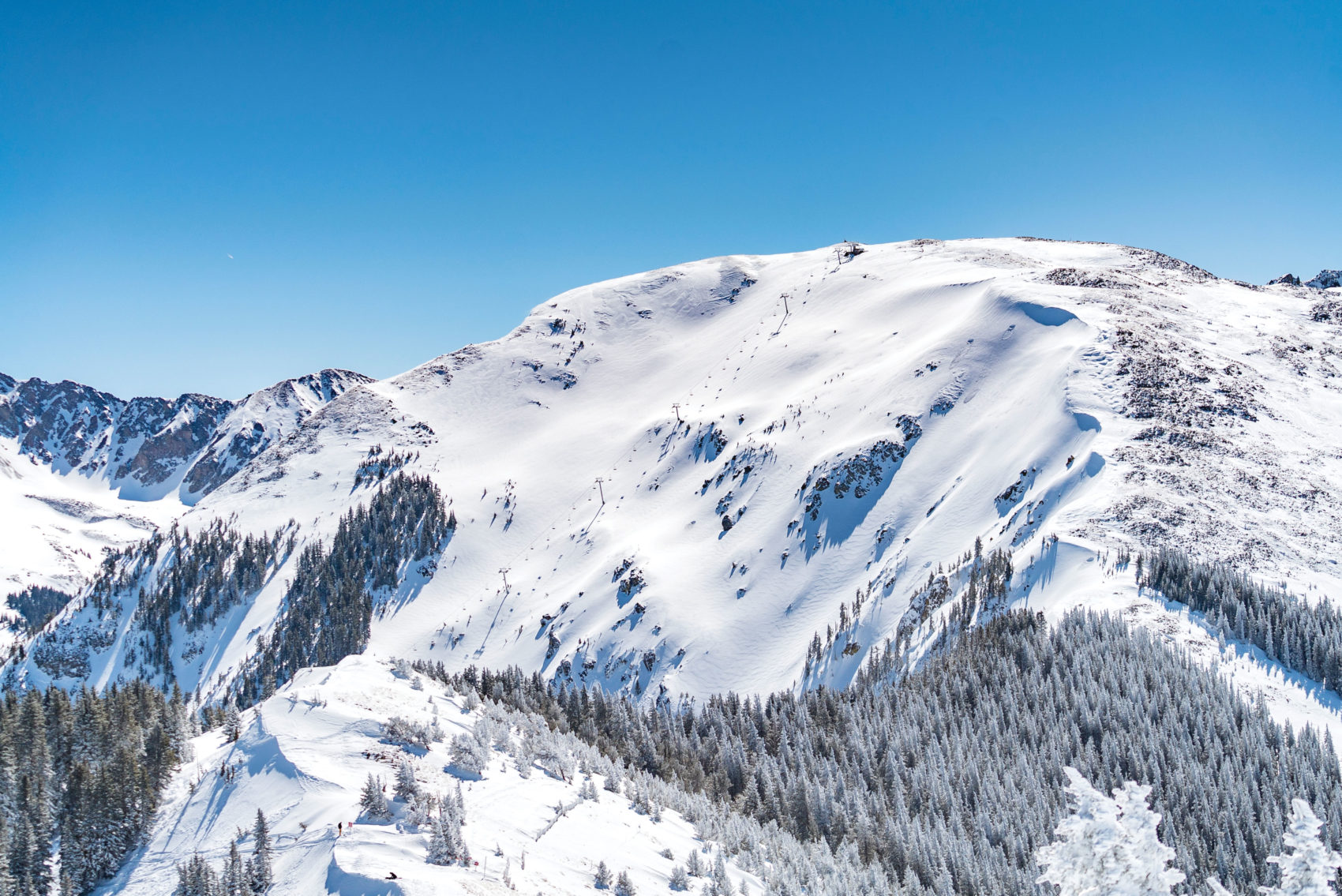 Taos is a big mountain paradise in a place that some people don't even know there are ski resorts. New Mexico does have skiing and Taos is, in my opinion, its crown jewel. My favorite zones include West Basin, Kachina Peak, Highline Ridge, and Twin Trees Chute. A great benefit of New Mexico skiing is the consistently sunny days. I frequently refer to Taos as "Cabo San Taos" and I often stupidly forget to wear sunscreen. Besides the weather, there is a huge amount of terrain that makes my confidence crack every time I look down at it. Taos is also really, really, really steep. Big cliffs on consistently steep faces is why Taos deserves to be on my list.
11. Alyeska, AK
I have never had the chance to ski in Alaska, but there has been enough talk about Alyeska that it warranted a spot on my list. The only Alaskan resort on this list is not one to scoff at. Just looking at pictures and videos of Alyeska made me realize it needs to get some recognition. The upper mountain is fully above treeline, making its terrain extremely playful. All of the hype has made Alyeska one of my top bucket list ski resorts.
Honorable Mentions:
These are mountains that I think have amazing big mountain terrain but I could not fit into my 11 resort list. Every list has resorts that are missed (I definitely missed some great ones). These are my five honorable mentions:
Mad River Glen, VT
Crystal Mountain, WA
Mammoth, CA
Aspen Mountains, CO
Grand Targhee, WY
That's my list. You might not agree with me (most of you probably disagree), but that's the point of it. Let me know what you think I got right and what I got wrong! I love debate, especially about skiing :).