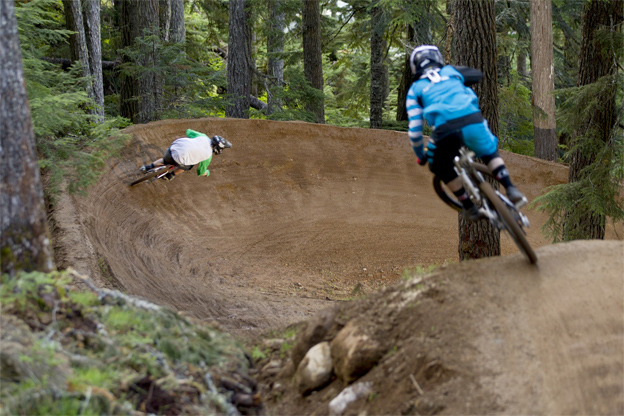 Summer is upon us here in the Northern Hemisphere, the snow is melting rapidly, temperatures are rising, and its time to start trading out the boards for bikes. Biking season is upon us, and we have compiled a list of the best mountain bike parks in North America to help satisfy your gravity fueled adventures this summer season.
1. 

Whistler Bike Park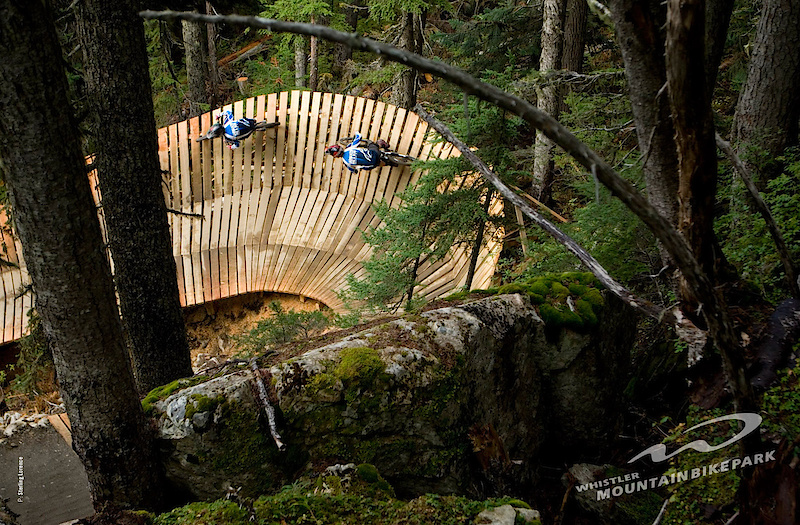 Whistler Bike Park is arguably the best bike park found in North America. Nestled in the Coast Mountains of British Colombia, its location is key to its incredible biking. And with the opening of its newly expanded Peak Zone last summer, a vertical drop of 5,000′ isn't half bad either. Whistler and the surrounding region is the Mecca for biking, with long descents, tacky dirt, and a mix of high alpine and rain forest, this should be a destination for every serious mountain biker.
Vertical:

4,926′ / 1500m

Go To Trails:

A-Line, Crank it Up
2.

 Kicking Horse, BC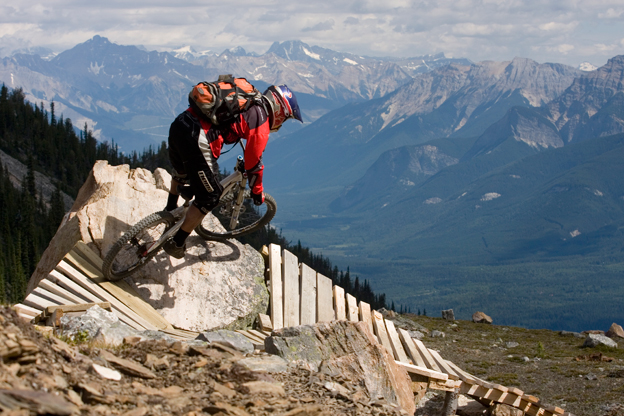 While the west coast of British Columbia is often touted for its incredible mountain biking, eastern BC harbors some pretty good options as well. Kicking Horse is known for its empty mountain in the winter, and the summer is no different, any given day you can almost have the bike park all to yourself. With long descents, sweeping views, and even a bear refuge smack dab in the middle of the park, Kicking Horse is certainly a must hit.
Veritcal: 

4,000′ / 1220m

Go To Trail: 

Rock Garden
3. 

Northstar, CA
Located within the Lake Tahoe Basin in California's Sierra Nevada's, Northstar is the go to place for lift serviced downhill biking for Northern California and Nevada. The multitude of trails on the mountain often inter-connect with various cross country trails that allow you to leave the resort and explore the slew of scenic trails in the Lake Tahoe area. Northstar offers the largest and most diverse selection of trails in Northern California.
Vertical:

1,700′ / 520m

Go To Trails:

Livewire, Boondocks
4.

 Mammoth, CA
Mammoth California is the biggest bike park in the west with over 80 miles of cross country and downhill trails. Located in the Eastern Sierra in Southern California, Mammoth offers miles of trail through the vast Sierra Nevada Mountains. And this September Mammoth is bringing back the Kamikaze Bike Games, a series of biking events guaranteed to thrill every style of biker.
Vertical: 

2,800′ / 853m

Go To Trail: 

Skid Marks
5. 

Trestle (Winter Park), CO
Being the fastest growing bike park in North America, Trestle bike park in Winter Park Colorado is an up and coming contender to the likes of Whistler and Mammoth. And with events like the Colorado freeride Festival, which returns July 25-28 this summer, Trestle is making a name for itself in the bike park world.
Vertical: 

2,000′ / 610m

Go To Trail:

Rainmaker
6. 

Killington, VT
Killington Vermont is the East Coasts destination for lift serviced biking, with over 45 miles of trail spread across five mountains, Killington is known as "The Beast of The East". Over the last few seasons Killington has made many improvements and recently gained the title as a "Kona Groove Approved Bike Park."  And with season passes at only $99 before June 13th, there is no reason not to hit up Killington this summer if you reside on the East Coast.
Vertical:

1,700′ / 520m 

Go To Trail:

Scarecrow 
7.

  Keystone, CO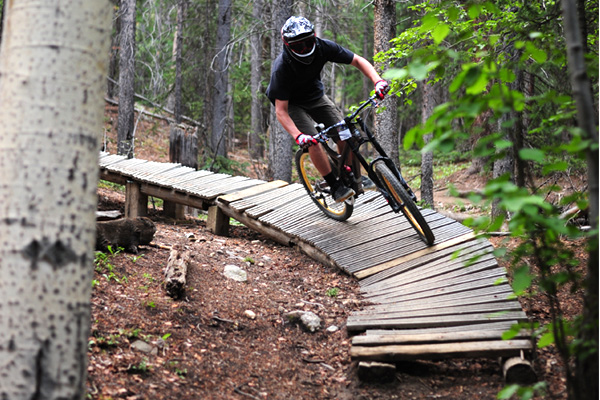 When it comes to mountain biking in Colorado, Keystone is the place to be. With over 100 miles of single track and over 50 trails, Keystone delivers. Located in Summit County about 2 hours outside of Denver, you're most likely not going to be alone, but with so many options on the mountain you'll never even notice.
Vertical: 

2,360′ / 720m

Go To Trail: 

TNT, Drop Zone
8. 

Angel Fire, NM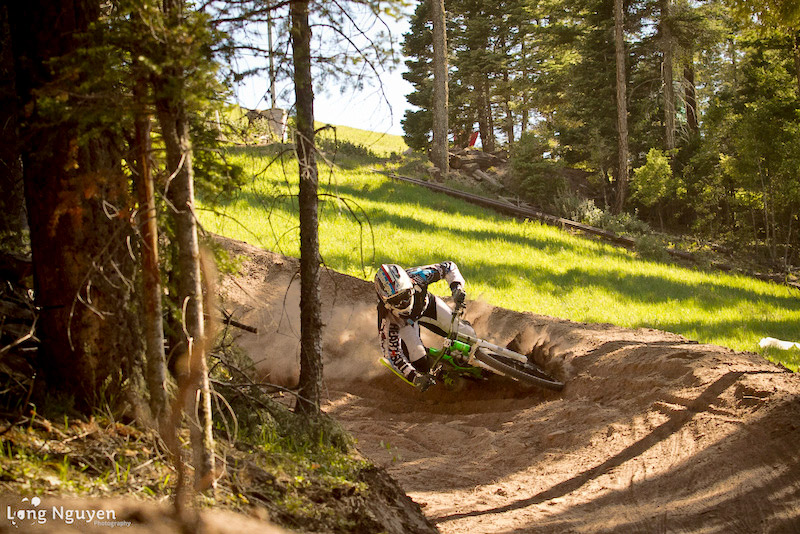 Angel Fire bike park in New Mexico offers a multitude of trails high in the southern Rockies. Being in the high Rockies of New Mexico, the riding differs a bit as the desert like environment offers looser dirt and a very different geology.
Vertical:

2,000′ / 610m 

Go To Trail: 

Chutes & Ladders 
 

9.

 Mont Sainte-Anne, Quebec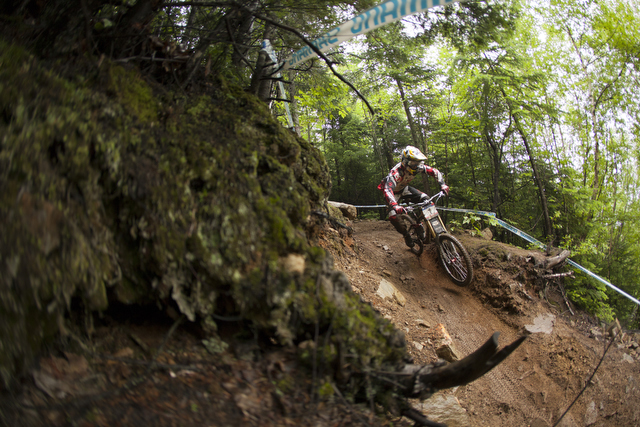 Offering the largest network of trails in Eastern Canada, Mont Sainte-Anne is the mecca for biking in Eastern Canada. Over 25km of downhill trails and well over 120km of cross country trails, the extensive network of trails is enough to satisfy any biker.
Vertical:

2,000′ / 610m 

Go To Trail: 

1837
10. 

Alyeska, AK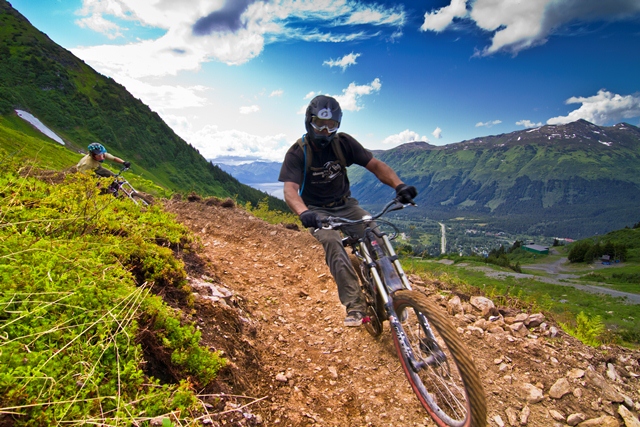 Alyeska over the last few seasons really upped the ante in their own bike park game, going from one lift servicing 500 vertical feet and three trails to three lifts accesing over 15 trails and 2,500 vertical feet. Not to mention it's in Alaska, possibly one of the largest untapped biking zones in North America. High alpine biking with views of the ocean and the midnight sun, Alaska might be the next big biking destination.
Vertical: 

2,500′ / 760m

Go To Trail: 

Blueberry Pancake 202-