Bridger Bowl Ski Area, MT, has one of the most unique means of sharing snowfall with the nearby town of Bozeman, MT: a blue light on top of a downtown hotel. The light is turned on whenever Bridger Bowl receives more than 2 inches of fresh snow and stays on for 24 hours after it snows. The famous blue light has a long history steeped in the traditions of a town that loves to ski, a ski area known for its powder, and an event known as the BBC.
Bozeman, MT locals are familiar with the BBC. No, not the British News Channel. The BBC, in this context, stands for the Bridger Bowl Cloud, a meteorological event so beloved by local skiers that it earned a unique moniker. The BBC is caused by a phenomenon called upslope precipitation or orographic lift. 
Cold and wet winds blow north-west through Bridger canyon. When the winds hit Bridger's singular ridgeline, they are forced upward, which causes the air to cool and snow to fall, accompanied by a characteristic low-hanging cloud. This cloud is the BBC and is almost always a harbinger of deep powder days. 
Other areas in the United States that experience the perks of orographic lift include the western side of the Sierra Nevada in California, areas in the Pacific Northwest facing the sea, and parts of New York and Pennsylvania considered "lake effect" areas. 
When a BBC forms, it can linger for days, dropping feet of snow on Bridger Bowl Ski Area, while the nearby town of Bozeman stays dry due to the geography of the area. In modern times, finding out if a resort got buried by a recent storm is as easy as checking a website or receiving a phone notification. But Bridger Bowl Ski Area was founded in 1955, long before the advent of computers. 
This created a problem. Bridger Bowl Ski Area is located on the far side of the mountains from the nearby town of Bozeman, which is where most of Bridger's skiers are located. From Bozeman, it is impossible to see if it's snowing at Bridger. Furthermore, due to the BBC and the geography of the area, it can be puking snow at the ski area while the town is bone-dry. How, then, to alert local skiers to a powder day in the era before smartphones? 
In 1988, Bridger Bowl's then general manager Terry Abelin came up with a unique solution in addition to a more-traditional snow phone. Abelin and board member Bill Merrick came up with the idea of putting up a billboard with a light in downtown Bozeman. Abelin says, "After a beer later that evening, we thought, 'Screw the billboard, we just need a light up high where everyone can see it.'"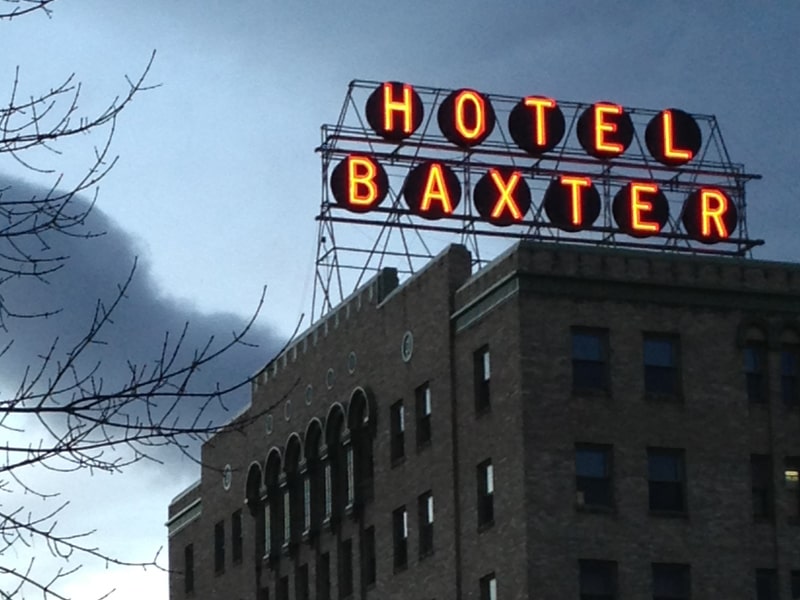 Merrick suggested an airplane runway light, which casts a blue light bright enough to be visible for miles. The Baxter Hotel in downtown Bozeman was the perfect location. The Baxter hotel opened in March 1929, and rises to a lofty five-story height, three stories taller than most of the buildings in historic downtown Bozeman. Furthermore, the Baxter hotel has a massive sign on its roof measuring 20 feet tall and 60 feet long. 
Abelin and Merrick received permission to mount the runway light to this sign, and in 1988, the blue light began blinking, alerting locals whenever Bridger Bowl receives more than 2 inches of fresh snow. The light has remained in continuous operation since its installation, except for two days in 2007 when it experienced an electrical malfunction. The blue light is such an integral part of Bridger's ski culture that the ski area sent out a press release about the malfunction, noting that, "snow-savvy skiers and riders witnessed a rarity," and reassuring locals that the problem would be resolved.
Today, the blue light continues to shine whenever it snows at Bridger and has become a beloved facet of the community, even earning its own hashtag, #bluelightblinking. While folks everywhere have begun looking forward to seeing the first snowflakes fall, Bridger skiers also look forward to seeing a blue light blinking in downtown Bozeman–a sure sign that winter is here and the snow is falling.