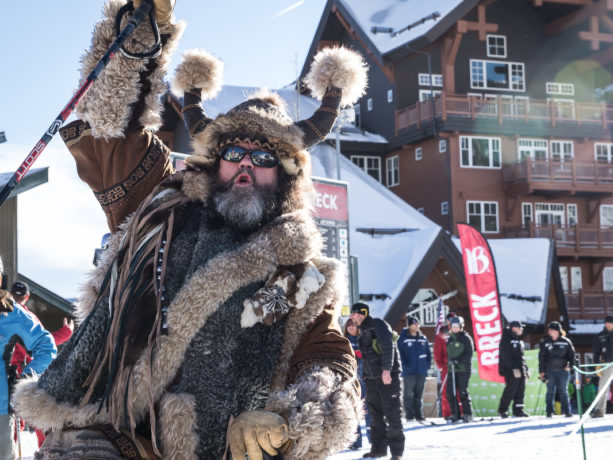 Brought to you by Monarch Mountain
There is nothing like some fresh snow, live music and even a world record attempt to get people out of the house in the winter. Colorado is home to plenty of winter festivals to bring friends and community together during the winter months. The Ullr Festival, Winter Wondergrass and Frozen Dead Guy Days are just the tip of the iceberg when it comes to the Centennial state's winter festivities.
Frozen Dead Guy Days are held in Nederland, Co and is one of the more quirky festivals mostly because of the story of Grandpa Bredo Morstoel. Grandpa Bredo grew up in Norway but when he passed, instead of a burial, he was packed in dry ice and shipped to Oakland, CA to be stored in liquid nitrogen. Four years later he was shipped to be with his family in the mountains of Colorado where his family kept him on ice in a shed until they were deported. The town now celebrates the legacy of Grandpa Bredo, longer days and the winter thaw with this eccentric festival of polar plunges, coffin races, and live music.
You better believe that Ski Town USA has events and festivities going on all winter! Also known as Steamboat Springs this little mountain town is home to one of the three locations of Winter Wondergrass (Squaw Valley, Ca & Stratton, Vt). WWG strives to deliver a unique music and mountain experience for people of all ages. Through the weekend of February 21-23, you can ski all day while finding live bands playing throughout the resort and at the base until late in the night.
If your trying to break the world's longest ski shot then you should be in Breckenridge for the Ullr Festival from December 11-15. The town gets together to celebrate the snow god, Ullr, through a giant bonfire, parades, world record attempts, and much much more. The Breckenridge streets will fill up with about 12,000 people for the 57th year of the Ullr Festival.
Here are some more iconic festivals to attend this year in Colorado:
Borealis Fat Bike Championships