According to the Boston Globe, ski areas on the east coast have suffered this year due to poor snow conditions, warm weather, and a lack of precipitation that has consistently fallen in the form of rain, which is very unfortunate. Revenues and visits have slumped at these resorts this year, especially during the holidays, where these companies make the majority of their money. Mad River Glen's has experienced 60% of the business that they did last year, which is a substantial blow to the resort.
"It's friggin' horrible. It's been an epically bad year. We get snow and then it rains. It's below zero and then it's 60 degrees. We just keep getting beaten down," said Eric Friedman, marketing director for the Mad River Glen ski area in Waitsfield, Vt.
At Killington Resort in Vermont, less than half of the trails were open Monday; two hours north, Stowe Mountain Resort's business is down 15 to 20 percent, and business at Waschusett Mountain, closer to Boston, is down 20 percent this season. El Niño, which occurs when Pacific Ocean water temperatures are above average for long periods, driving wet but warm weather systems across North America, seems to be the cause of this horrible winter for the east coast. Last year treated the east coast well, where heavy snowfall and cold temperatures prolonged the ski season.
"This is a year of survival," said Mike Miller, who has been at the helm of Mountain Meadows ski touring center in Killington for 28 years.
December was horrid for these ski areas, but they experienced colder stretches in January that allowed them to lay down some artificial snow. Despite the artificial snow, it is difficult for these ski areas to draw people in when the ground is bare in most areas. Killington believed that it wasn't worth it to advertise to their customers with such poor conditions throughout the east coast, so they cut back on their marketing and advertising efforts in December. To earn some revenue during this horrible season, Waterville Valley Resort in New Hampshire offered customers a steeply discounted "El Niño Pass."
"You can't fight the psyche of the marketplace. It's about momentum and consistency, and we just didn't have that this year," said Rob Megnin, the resort's director of sales, marketing, reservations, and snow sports.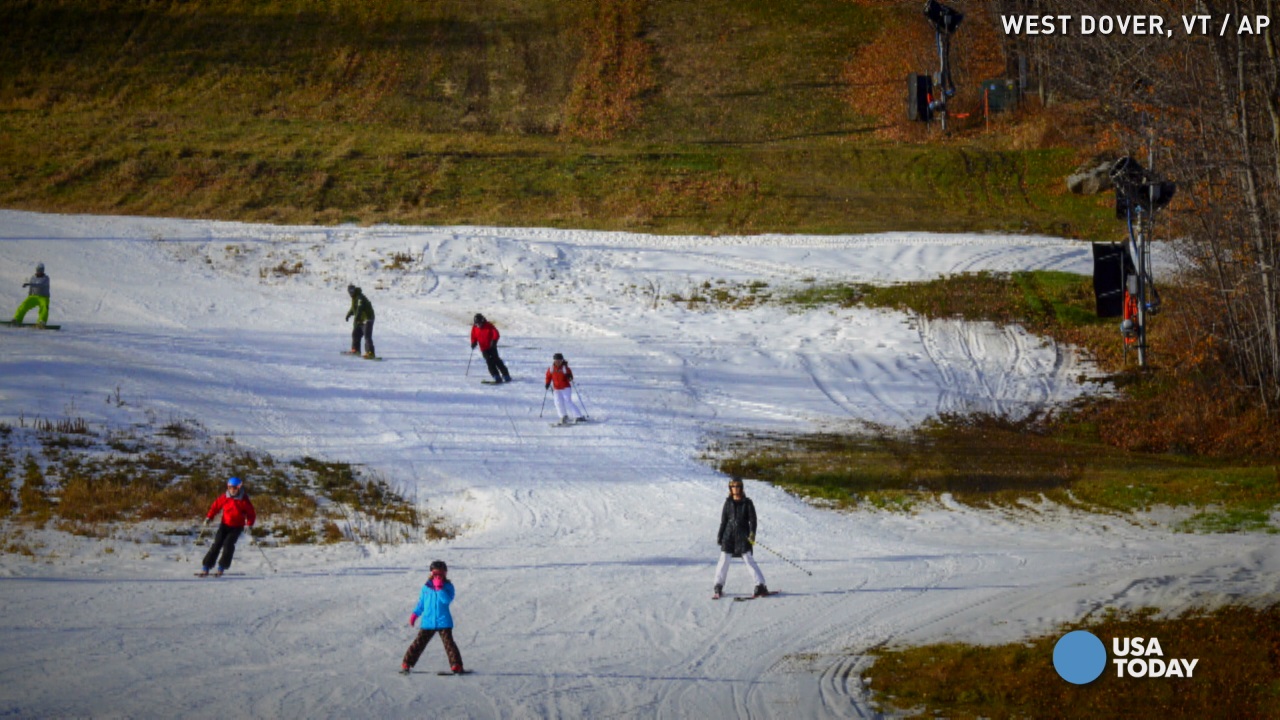 To combat the horrible winter, many ski resorts have turned to offering a wider variety of winter activities, such as zip-lines, mountain coasters, bungee trampolines, skating rinks, snowshoe tours, spas, and kids' activity centers. Resorts are also working to enhance their off season offerings, which could help offset the lack of business this winter. Restaurants and other businesses that rely on the guests from nearby resorts and ski areas are suffering. Despite forecasts for a warm march, ski operators are remaining optimistic and hoping for snow!
"We're going to put our best foot forward. And it's going to snow," said Mike Colbourn, Stowe Mountain's vice president of marketing, sales, and communication.