This is the updated Climate Forecast System (CFS) image from the 1st of January through the 26th.  It's showing 6 inches of liquid (about 6 feet of snow) within that timeframe in January.  This is a very long range forecast, but it at least gives us hope.
This was the chart from the previous post (above) showing 3 inches of liquid.  It looks like we warm up Sunday through Wednesday pushing 50 degrees. Then we get a strong cold front on Thursday dropping temps 10-15 degrees,which is associated with an inside slider short wave storm.
Even with the farthest west solution it just amounts to some snow showers, best case scenario = some light accumulations. It looks like we might get another repeat of this pattern around Christmas. Technically what is happening is the EPO keeps flipping from positive to negative.  The Eastern Pacific Oscillation (EPO) is the main steering component for the jet stream for the Eastern Pacific.
How California Gets the Jet Stream:
When a high pressure sets up over the Gulf of Alaska or north centered we are in a negative phase of the EPO. When it's south centered it's in a positive phase. The EPO is also the driving mechanism for the Pacific North American (PNA) pattern. When we get a negative EPO we typically get undercutting of the jet stream, where is the MJO when we need it (quick discussion of the Madden Julian Oscillation in a future post). The MJO is in space phase 3 which should retrograde the ridge, but it is not strong enough to propagate the proper signal.  If the center axis of the EPO would just shift 5 degrees, we are talking around 300 miles or so to the west we would be getting hit by some decent cold storms.
So, it looks like we stay in this drought pattern with no real changes for the rest of 2013. There are definitely crazy things going on with our climate, it snowed in Cairo, Egypt Friday night for the first time in 112 years and Jerusalem got buried with reports of 2-3 feet. North African/ Middle East snow storm, what's next?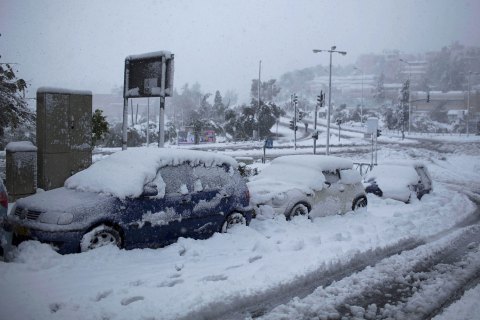 This is what the people in Jeruaelum woke up too Friday morning!