Amidst the multitude of uncertainties this upcoming ski season, bus passes for Jackson Hole season pass holders remain to be one of them. In previous years, Jackson Hole Mountain Resort (JHMR) has included bus passes as a season pass holder benefit. The bus service, known as START, is operated through Teton County and the town of Jackson. For quite some time, START has worked in tandem with Jackson Hole Mountain Resort to provide public transportation for locals who would like to get to the resort.
Despite the fact that 2020/21 JHMR season passes have been on sale since April, there is still a question of whether or not the bus passes will be an included benefit. This uncertainty is ultimately due to a change in the funding formula which was proposed by START earlier this year. The proposed plan would have JHMR, Teton county and the town of Jackson split the transportation costs 50/50 (half of the cost would fall on JHMR, the other half would come from local government). This ultimately would require JHMR to contribute more to this service than it has in previous years. For the first year, however, JHMR would not pay as much due to less funding because of the pandemic.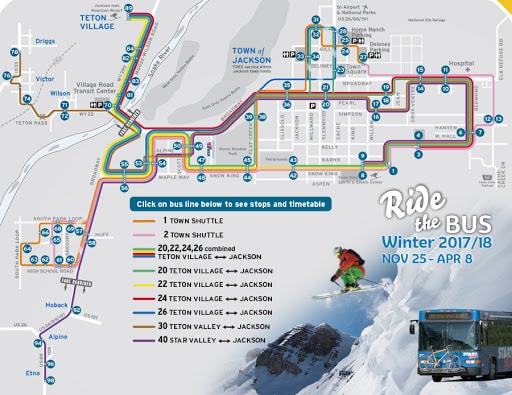 Many season pass holders are frustrated that the fate of free bus transportation still resides in limbo. The access to public transportation to the ski resort has proven beneficial for the community in the past. It has helped reduce in-town traffic, lowered carbon emissions, and improved air quality.
It appears that resolution is nearing for local government and JHMR. There will be a joint town-county meeting this upcoming Monday to nail down the final details and hopefully reach a satisfactory solution for all parties involved.