[Sponsored by: SCOTT Sports]
Bittersweet ides of waning winter are made better by arrival of annually anticipated favorite, spring skiing. Call it corn, the mash, or spring-fling; it's all soft, fun and, usually, bathed in full sun. POW days may get the pedestal, but sumptuous semi-summer ski days conclude each season in style.
For SCOTT and Sunski, sports-meet-lifestyle companies founded for love of recreation in the great outdoors, spring brings something special to snow. The season marks a next, new chapter of adventure and opportunity to meet a changing environment with flare–while the white stuff lasts.
So make the most of this (and every) spring-fling with help from SCOTT Sports, Sunski and this handy-dandy Top-5 gear guide.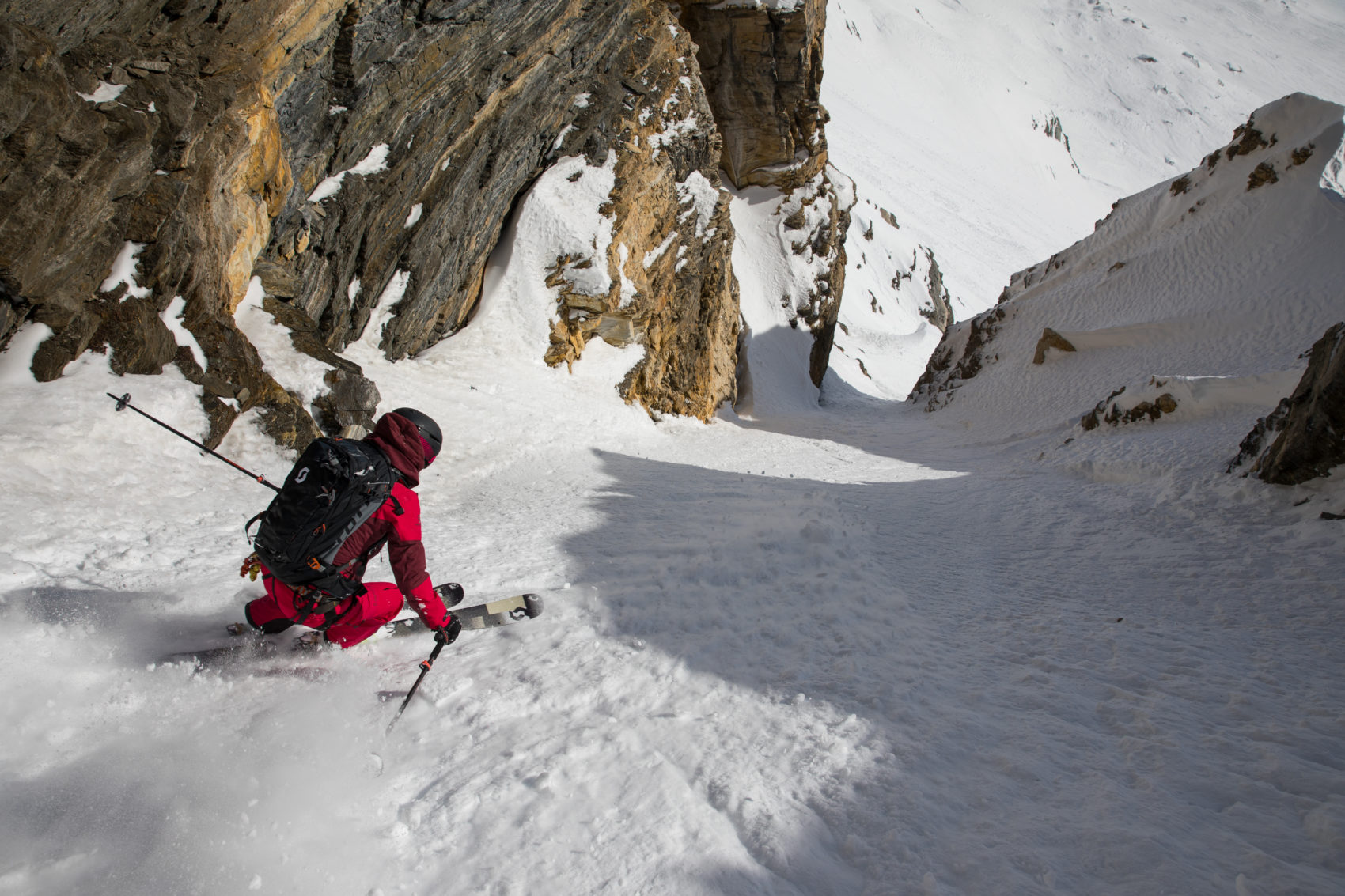 INFLATABLE INSURANCE:
Let's face it; snow slides, so stay savvy and reasonably safe with state of the art security. Avalanche technology has advanced by leaps and bounds. And SCOTT Sports has toiled as diligently as any towards making snow enthusiasts safer when crossing uncontrolled terrain.
Patrol E1 Avalanche Backpack, featuring Alpride E1 airbag technology is a pinnacle development in safe snow travel tools. Lightweight and functional, the E1 has been painstakingly designed with safety and utility in mind. SCOTT describes the pack as, 'the ultimate in avalanche backpack innovation.' It incorporates 5 unique carry technologies in ski/board/ice axe fixation as well as tool compartment. It comprises 8 instruments as unique in construction as they are elite in the field including: cold-resistant supercapacitor, fast re-charges, and speedy inflation (very handy). Plus the airbag may be activated twice without cartridge replacement. The Patrol E1 is a pack produced to push boundaries.
At SCOTT Sports safety and fun stride hand-in-hand toward (and beyond) the known–with a little help from the innovative Avi-pack, Patrol E1. 
ON TOUR:

Spring conditions are prime for ski touring. Like jam on toast, the pair just seem to go hand-in-hand. But scoring spring goodness requires traveling on the best gear.
Superguide 105 by SCOTT is just the vehicle to score touring goods. An awarding winning ski featuring Elliptic carbon core, Superguide is said to achieve 'what most think is impossible on skis.' Its design emphasizes versatility and performance via a wide platform, opening the door for skiing's "line catchers" to chase spring's steepest terrain.
SHADES:
When light begins to linger, and surface refraction turns extreme, natural first thought is for quality shades. And the fine people at eyewear endeavor, Sunski offers options a'plenty.
An admitted business accident born to fruition, Sunski abounds with passion for outdoor antics and stylish ocular protection. Their catalog suits any need, spanning accessories to kids gear in six unique collections–including Sport. Designed with a mind for action, Sport model 'Taravals' employs durable, flex-friendly material and is formed to fit comfortably around the face via 'wrap' shaping.  Lenses, Aqua or Slate deflect powerful sun to keep focus clear and where it should be; the next step forward.
Taravals by Sunski aids the eyeball in a fashionable manner, while keeping the adventurer on the cutting edge.
SKI TRIPPIN':

Tis the season to enter one of snow sport's most elite stages; Alaska and the great backcountry ski trip. Late season months mean maximum accumulation as well as increased likelihood of stability in snowpack at alpine heights–especially at snow-mecca, the great state of Alaska.
Great Land guiding services offer outstanding spring programming to access terrain of a lifetime, provided the underboot tool is up to the task.
SCOTT's Scrapper 115 is a ski assured to put a capital 'A' for Awesome on any AK spring ski trip. Another among the many award-winning skis manufactured by SCOTT, Scrapper 115 is a meaty twin-tip rocker packing a one-two punch via a grace plus power combo. It's as stable as you please, yet playful at speed. It's little wonder why the Scrapper has become a quick favorite among the SCOTT freeski quiver.
GOGGLE TAN:

The search for a goggle that encapsulates 'you' is likely among ski industry culture's most unilateral facets. Speak the Swiss or Swahili, everybody loves a good pair of face shields.

SCOTT, thankfully, acknowledges that international wish 'to see' through the white curtain and, insomuch, unveils a line-up of killer full wrap eyewear capable of going the distance–just like the wearer.
LCG Goggle, a signature model featuring 'slider' lens changing (another award winning development from SCOTT) offers simplicity and functionality in sleek form. The LCG revels in color combinations galore and offers zero fog, SCOTT optiview, and ACS air control system. If optics alone can make the day, then the LCG is an eyes-up advantage.
Spring season means sizzling skiing, a sumptuous fact made fun as well as safe with help from the friends at SCOTT Sport and SUNSKI. Each company's many faceted offerings promise cutting edge technology easing access to that loose-as-a-goose and lovely long season; spring.
Get the kit, and get after it