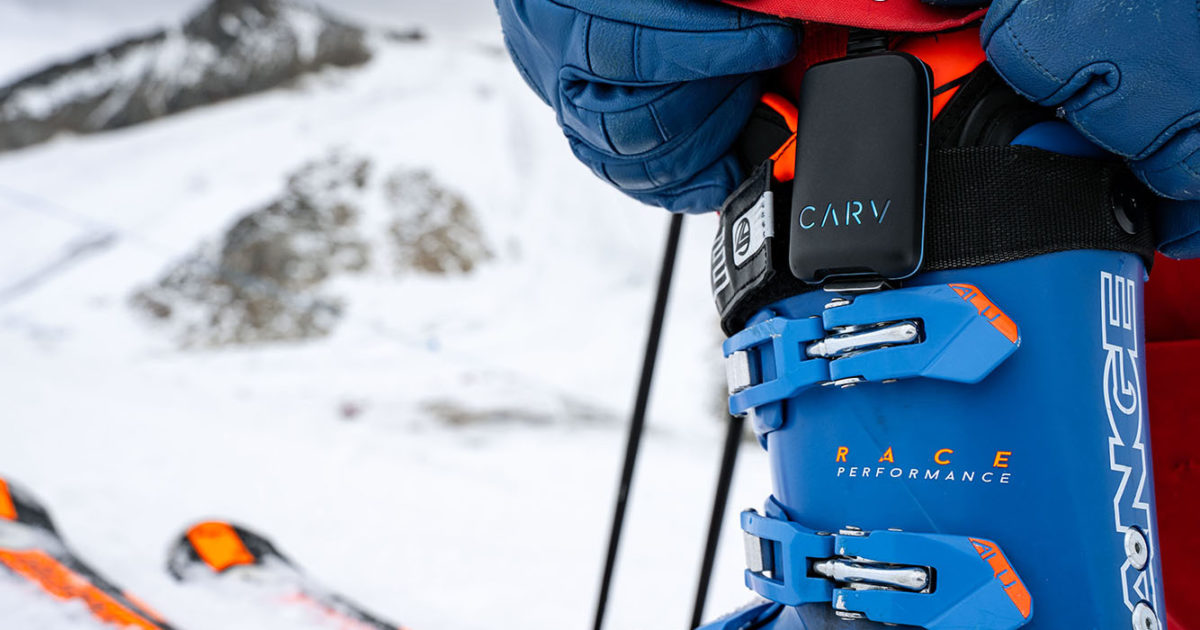 I had the opportunity to test the Carv Digital Ski Coach for the past two months. I've heard friends – both amateurs and pro skiers alike – rave about the Carvs, saying that it's improved their skiing exponentially. The Carvs work by utilizing sensors to tell you information about your balance and movement on the hill. I had high hopes for the Carvs, and for the most part, they lived up to my expectations. There are also some things that I would love to see in future iterations of the product. This is an unbiased, honest review of the product; I was under no obligation to give a positive review.
Name: Clay Malott
Days skied with the Carvs: 40
Height: 6'3″
Weight: 160lbs
Skiing Level: Expert
Boots used: Salomon S/PRO 120
Testing location: Aspen, Colorado
Installation
I was dreading the installation quite a bit. After watching the installation video, I felt a bit better, it looked fairly easy. First, I wrestled my liners out of my boot to expose the sole of the boot. It was a bit tricky to slide the inserts in without bending them (this can break the sensors), but I just took at slow, and they went in fairly easily. Taping the inserts and cables down was a bit difficult, but not a big deal at all. Overall, the installation took me about fifteen minutes for both boots, which is a bit longer than Carv says it takes but that could also be that I was particularly slow at installing them.
Fit
I was concerned about the inserts changing my boot's fit, and while they didn't change as much as I expected, it was still noticeable. Upon skiing in the boots for the first time, I could tell that they fit a little more snug than they used to be. The inserts simply gave the liner less space in the boot, which I could feel pushing on my foot a bit. However, after a few days, the liner packed out a bit more and it went back to feeling like it did before. Just to make sure it didn't significantly alter my boot, I took the inserts out and skied a day on them. There was a little bit more space in them, but I probably wouldn't have noticed if I weren't actively trying to feel for it. Overall, the inserts barely changed the fit of my boot, which is a relief.
The Carv device itself attaches to the booster strap on the upper cuff of the boot. Each morning, it was pretty easy to put on, and only took a few more seconds than it would usually take to put my boot on. As someone who likes changing my boot's fit throughout the day, the Carvs became a bit annoying to deal with. If I wanted to loosen the upper cuff (by loosening the booster strap), I had to unclip the Carv device, change the strap's fit, then re-clip it to the strap. This is a minor gripe, and at the end of the day, it really wasn't a big deal. Again, it only added about 5-10 seconds per boot, so it's not something that was very frustrating to me.
The data
This is the main part of the review, and perhaps the thing I was most impressed by. The Carv inserts work by gathering data about your balance and movement on the slopes and relaying it to the app on your phone. Through 72 pressure sensors with nine-axis motion, the Carvs can give you data on a whopping 35 metrics assessing your skiing.
There are several modes that you can use the Carv with, but the one that I used most was the Free Ski mode, which analyzes your skiing technique and provides the data as well as feedback to improve your skiing. To start the mode, you just calibrate the inserts (which takes about three seconds per foot) and start skiing. The inserts will automatically begin collecting data about your turns and relay it to your phone, where you can view it on the lift.
The Free Ski mode gives you a "Ski:IQ" score every run, which takes into consideration balance, edging, pressure, and rotary data. Within each of these four categories, you can view specific metrics (fore/aft ratio, for example). The app will also give you tips to help you with the thing that you could improve most on. The feedback is specific and tangible and easy to incorporate into your next run. For example, when the Carv app told me that I could work on early edging, here is the feedback that it gave me: "At the start of each new turn, think about pressing your new outside ski back up the hill like you were trying to start running sideways down the mountain." This feedback is super easy to think about on the chairlift, and I can immediately go and incorporate it in my skiing during the next run.
If I was trying to target a certain metric, it was super satisfying to see that effort reflected in the data. For example, if I were trying to get further forward, I could see an improvement in the balance metric from one run to the next.
There are several other modes, another favorite of mine was the monitoring mode. You can have metrics such as fore/aft ratio, edge angle, outside ski pressure, etc read out to you through headphones as you turn. This allows you to make micro-adjustments as you're skiing, which is super cool.
Complaints
Overall, the Carvs are really awesome and have improved my skiing substantially. However, there are areas where Carv could improve upon in the future. First of all, they really only work on piste. I found when I went into steep, off-piste areas, the Carvs detected a lot of edge chatter, etc; things that are unnatural on groomers and such but natural in off-piste terrain. This is how they were made, but it would be really cool if the inserts could detect when you're skiing steep, off-piste terrain, and only track relevant metrics, such fore/aft pressure, etc. With that being said, I still felt like the drills and metrics that I worked on the groomers translated pretty well to off-piste terrain.
The bottom line
I strongly recommend the Carvs to anyone looking to take initiative and improve their skiing. They improved my balance, turn shape, and overall skiing ability. I don't exactly think they fully replace a ski instructor, as they can't track upper body motion. I think for what they have done for my skiing, for a price of $350, the Carvs are absolutely worth it. I'll definitely continue to use these and improve my skiing.