Brought to you by HAKUBAVALLEY
The secret's out, the entire ski industry is now descending upon Japan year after year. And for good reason. Japan is the fabled land of snow that it's made out to be. Cold Northwest winds blow off of Siberia, pick up moisture off the Sea of Japan, then dump that moisture on the isles of Japan. Storms don't matter in Japan, just the wind direction. This wind blows consistently in January and February making Japan the snowiest place on Earth.
WHEN TO GO TO JAPAN:
Go to Japan in January. January is the snowiest, coldest month when snowfall seems nearly non-stop.
WHERE TO GO IN JAPAN:
In Japan, there are two big options:  the northern isle of Hokkaido and the main isle of Honshu.
Hokkaido gets more snow than anywhere else on Earth.  Hokkaido is cold resulting in light, fluffy snow.
Honshu is further south, gets less snow, more rain, but has better terrain than Hokkaido.
In Hokkaido, the popular ski resorts for freeskiers are Niseko, Rusutsu, Kiroro, and Furano.
In Honshu, the popular ski resorts are Myoko, Nozawa Onsen, Cortina, and Happo-One.
JAPAN'S STRANGE SKIING RULES:
Japan is a very strange land when it comes to skiing rules.  Most ski resorts do not allow skiing in the trees nor out of bounds.  Clearly, all the best skiing is in the trees and out of bounds.  When you roll up to a ski resort for the first time, make sure you ask around and find out what the policy of that ski resort is.
Niseko, on Hokkaido, has the most progressive boundary policy, with a system of 10 backcountry gates for accessing out-of-bounds terrain.
At Cortina ski resort on Honshu, skiing in the trees and out of bounds is also 100% OK.
At Happo-One on Honshu, it is against the rules/law to ski trees or ski out of bounds (unless you leave their one backcountry gate at the top of the ski resort and go uphill).  The caveat is that Happo patrol won't chase you and doesn't seem to care that much if you break the rules.  At most other ski resorts, they very much care if you break the rule and will chase you, take your pass away, or potentially involve the police.  It's a tricky game that can be complex to play.  We recommend following the rules.  Many ski resorts have a backcountry gate at the top for mountain climbers.  Find that gate and use it.
AVALANCHES:
Japan gets big snow which translates to big avalanches. What you need to watch out for in Japan is sun crusts and rain crusts.  Both create slick surfaces that new snow doesn't stick to well.  You also need to be evaluating the snow almost hourly.  Wind transports snow quickly here.  Snow piles up quickly here.  The sun warms things up quickly here.
Japan's three BIG RED FLAGS are:
1:  Lots of New Snow
2:  Lots of Recent Wind
3:  Rapidly Rising Temperatures
In Japan, all three of these red flags are often in effect.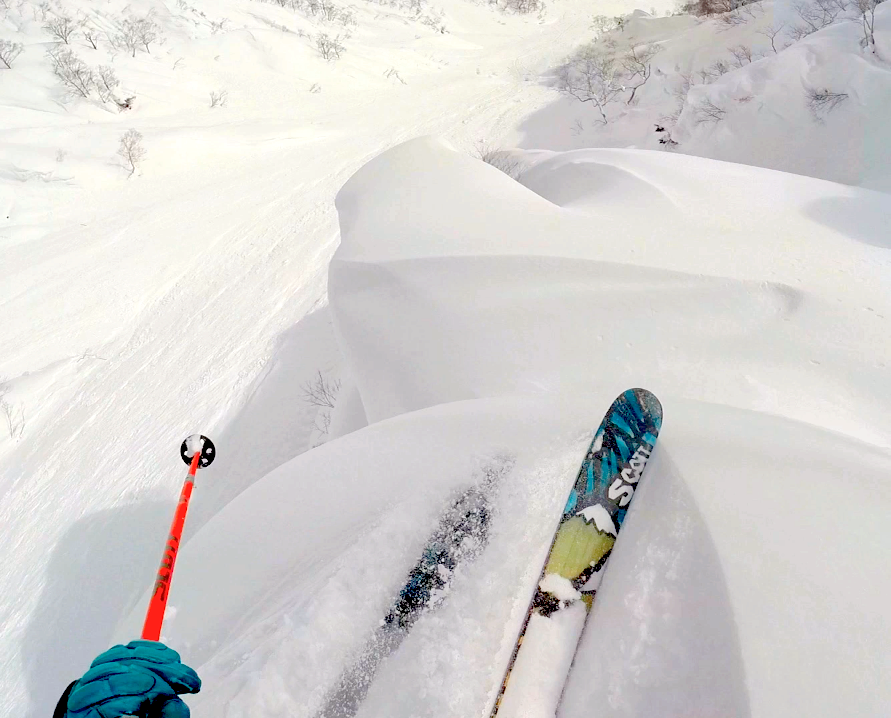 TERRAIN TRAPS:
Much of Japan's skiing is within convoluted terrain traps.  Water carved these mountains, not glaciers.  There are no U-shaped valleys in Japan, only V-shaped valleys.  This translates to nearly ubiquitous terrain traps.  Almost everything you ski in the backcountry ends in a large terrain trap.  In many areas, you're skiing on faces, chutes, spines, and gullies that end up in V-shaped valleys with creeks in them.  If you get swept away by an avalanche, you'll be buried very deep.
Keep terrain traps in the front of your mind when skiing in Japan and make extra conservative decisions regarding where and when you'll ski.  It's often not possible to stay out of terrain traps in Japan, so it's important to find snow that's stable.
GUIDING:
There are plenty of guides in Japan that will be happy to take you out and show you around.  Backcountry Glide in Hokkaido and Evergreen in Honshu are good places to start.
PHOTO TOUR: