Brought to you by Visit Idaho and Ski Idaho
Report from Wednesday, February 22, 2023
After today, I have snowboarded at over 25 resorts spanning across eight state lines; Grand Targhee easily just had the most fun tree runs I've ever been through. Targhee has over 2,500 acres of skiable terrain and averages around 500 inches (40+ feet!!) of annual snowfall. The quaint town at the base of the resort is exceedingly peaceful and features several lodges, cafes, bars, and shops. I need to immediately put it out there that if you are planning on visiting Targhee, for the best possible trip, you need to stay at The Targhee Lodge, get the breakfast bagel (absolutely unreal) at Snorkel's Cafe, and have a drink or sit down for a full dinner at The Trap.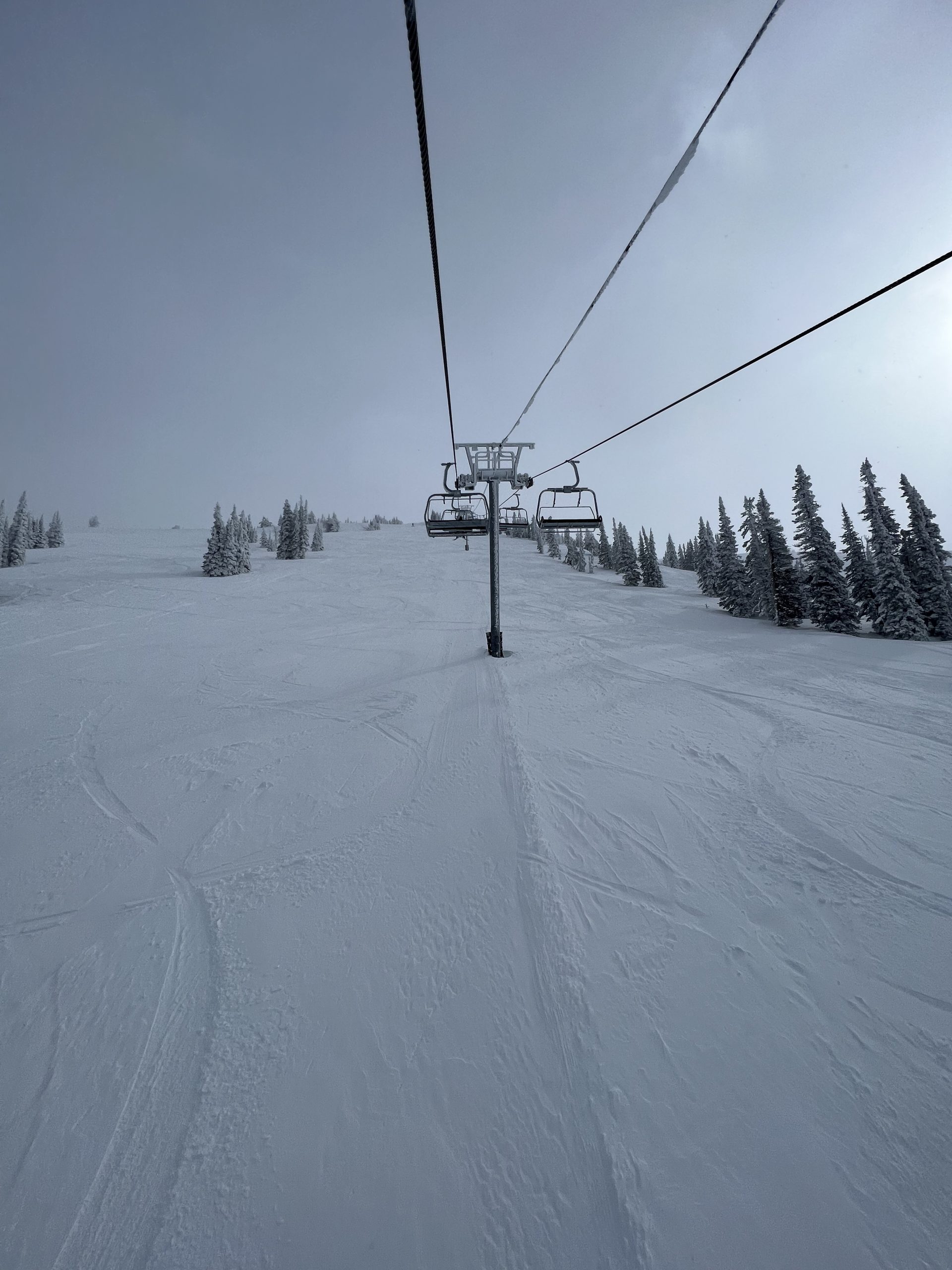 The tree runs at Targhee were different than anything I have ever ridden. The trees are all spaced out so perfectly that you can really just boom through them without worry, and the scenery is goregous with almost every tree being frosted over in rime ice. My favorite tree run of the day was Eleanor, accessed from the brand-new Colter Lift on the far south side of the mountain. Installing this lift over the summer was a huge addition for Targhee as it expanded their terrain by around 30%, and it is a high-speed six-pack that greatly distributes riders throughout the mountain.
Don't get it twisted, though: Grand Targhee also has some exceptional bowls and wide-open off-piste terrain. Raven Wood, off of the Blackfoot Lift, was my favorite run of the day, and I probably rode it at least eight times. To get there, you ride a traverse from the top of Blackfoot to the rider's right and can jump right off of the cat-track into a wide-open powder field that is Raven Wood; I was having a lot of fun trying some new tricks off of this entrance. Riding down, the open bowl has nice, open trees, aspen groves, and mini-cliffs as well. Additionally, I had a lot of fun in Medicine Bowl and on Crazy Horse by the Sacajawea Lift. The snow was so deep, though, that really any run I went on will be a great memory forever, but especially these.
When riding up the Dreamcatcher Lift, to the lookers right, there is an insanely large cliff band that spans for probably half of a mile. Extreme caution should be excersized when entering this zone, due to avalanche danger and unmarked cliffs, including the double black runs of Bobcat, Cornice Interruptus, Otter Dog, Reliable, Toilet Bowl, and Das Boat. I was eyeing this zone from the lifts for the whole day trying to make a decision on if I should enter or not. On my last run of the day, I followed a mountain employee through the Bobcat gate and jumped off one of the biggest cliffs in that zone. After floating in the air for at least 15 feet, I stomped the landing into waist-deep powder and rode out screaming like a child. I am looking forward to coming back to Grand Targhee and hitting these cliffs again, and special thanks to the employee who showed me the ways of the mountain.
Simply put, The 'Ghee was unbelievable. Whether it was trees, bowls, or cliffs, every run was better than the last and I was still riding through untracked powder on my last run of the day at 3:30 pm. I still need a few more days on the mountain to really learn this place and get familiar with the terrain, but after one day I understand how special Grand Targhee is. The tree runs were unique and are a must-see for anyone who enjoys riding through the forest. Around the mountain, the cliffs span in size from small to large and the snow here makes it a great spot to learn this style of riding. The bowls are wide open with awesome looking, iced-over trees and aspen groves, and overall the atmosphere and environment of this mountain is unlike anywhere I have ever been.
Snow Numbers
Forecast
Trail Map
Photos