Brought to you by Visit Reno Tahoe
Anyone who has witnessed Lake Tahoe will agree that the view lives up to the hype. This body of water lies nestled like a sparkling gem in the Sierra Nevada mountains. The lake is so large that its surface is noticeably convex due to the curvature of the Earth. With panoramic mountain landscapes, the lake is breathtaking from every angle.  Of course, the best way to catch views of this stunning lake is from one of the ski resorts that surround it! 
High Altitude Views From Lake Tahoe's North Shore
Looking for some stellar sights of North America's largest alpine lake? Check out these five resorts and see Lake Tahoe like never before. 
Catch vistas of Big Blue from the highest resort on the North Shore. You'll feel on top of the world while looking down at Lake Tahoe's brilliant waters. For those staying in Reno, you can lay eyes on the lake in just 30 minutes from your hotel door. 
Ride big mountain terrain and soak up vistas before dropping in. The Scenic Aerial Tram will take you 2,000 vertical feet into the High Sierra and offer views of Lake Tahoe and the surrounding alpine region. Landscapes lining the Pacific Crest turn your head in every direction with Lake Tahoe in the midst of it all.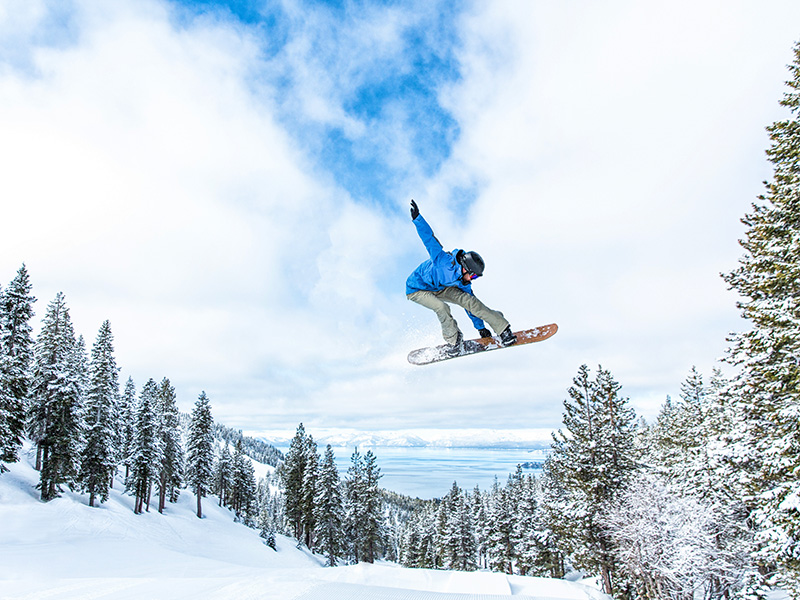 Get lake views with backyard BBQ vibes on top of Mount Pluto, Northstar's tallest peak. The Summit Smokehouse is home to delicious house-smoked BBQ meals and a signature selection of craft beers. This mountain-top restaurant is the perfect spot to refuel and rest your eyes on Lake Tahoe while you are at it.
Get ready to see Lake Tahoe up close when you ski lakeside. At Diamond Peak, the ski runs seem to collide with the lake itself. Whether you are ripping groomers or lounging on the deck listening to live music, you'll see the famous lake in all its glory.
Another local favorite, Homewood Resort, is low-key with much to love—especially its lake views. As you ride the chairlift, you begin to float above the bright blue waters of Lake Tahoe. Chairlift selfies are mandatory here. 
After witnessing Tahoe's deep blue waters from the mountain peaks above, it's easy to see how the lake attracts so many adventure seekers year after year. Ski resorts here are ready to give you a lift and show you one of the most beautiful spectacles in the natural world. Get ready to hit the slopes and soak in the scenery!