A 74-year-old Arizona hiker has been missing since Monday, July 31st, 2017 in the Uinta Mountains of Utah.
The Uinta mountain range, UT is the tallest mountain range in Utah with King's Peak reaching over 13,500′.
Melvin Heaps left for a hike from the 10,000′ Crystal Lake Trailhead on Monday and didn't return home.  
When he didn't return home on Monday night, his family called 911 and reported the man missing.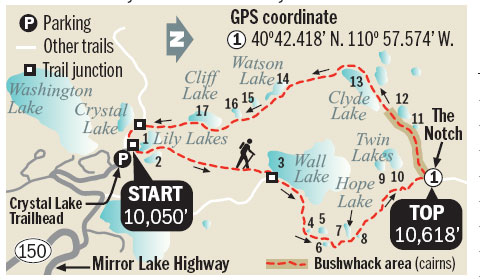 Melvin in hearing impaired and may not be able to hear helicopter nor other signs of help.
Melvin's car was found at the Crystal Lake Trailhead by officials.
The Garrett Bardsley Foundation, a nonprofit that helps search for missing persons, has stepped in to help.  They are currently asking for volunteers.
On Friday the foundation sent hikers and mounted searchers out at 7am.  The foundation announced Friday night that they'll be continuing the search for Melvin on Saturday and Sunday.
If you want to help search for Melvin, please visit:  Garrett Bardsley Foundation – Melvin Heaps
Melvin was last seen wearing a long-sleeved red shirt with blue jeans and suspenders.  He frequently wears a straw hat when hiking.
If you have any information about Melvin, please call the Summit Country Sheriff's Office:  435.615.3600.