How To Ski & Ride the Highest Gondola on Earth Gulmarg, India:
Yes it's possible to ski in India. India holds the highest gondola on Earth:  the Gulmarg Gondola that drops you off on the top of 13,780′ (4,200m) Afarwat Peak. When most people think about India they picture the Taj Mahal, Bollywood dancing or the Ganges. What most people forget is that it is the subcontinent of India that formed the Himalayas – the highest mountain range in the world. In the North West of the range in the contested region of Kashmir lies a small town with a large Gondola named Gulmarg. If you do it right a ski trip to Gulmarg can be the best ski trip of your life and probably the cheapest too.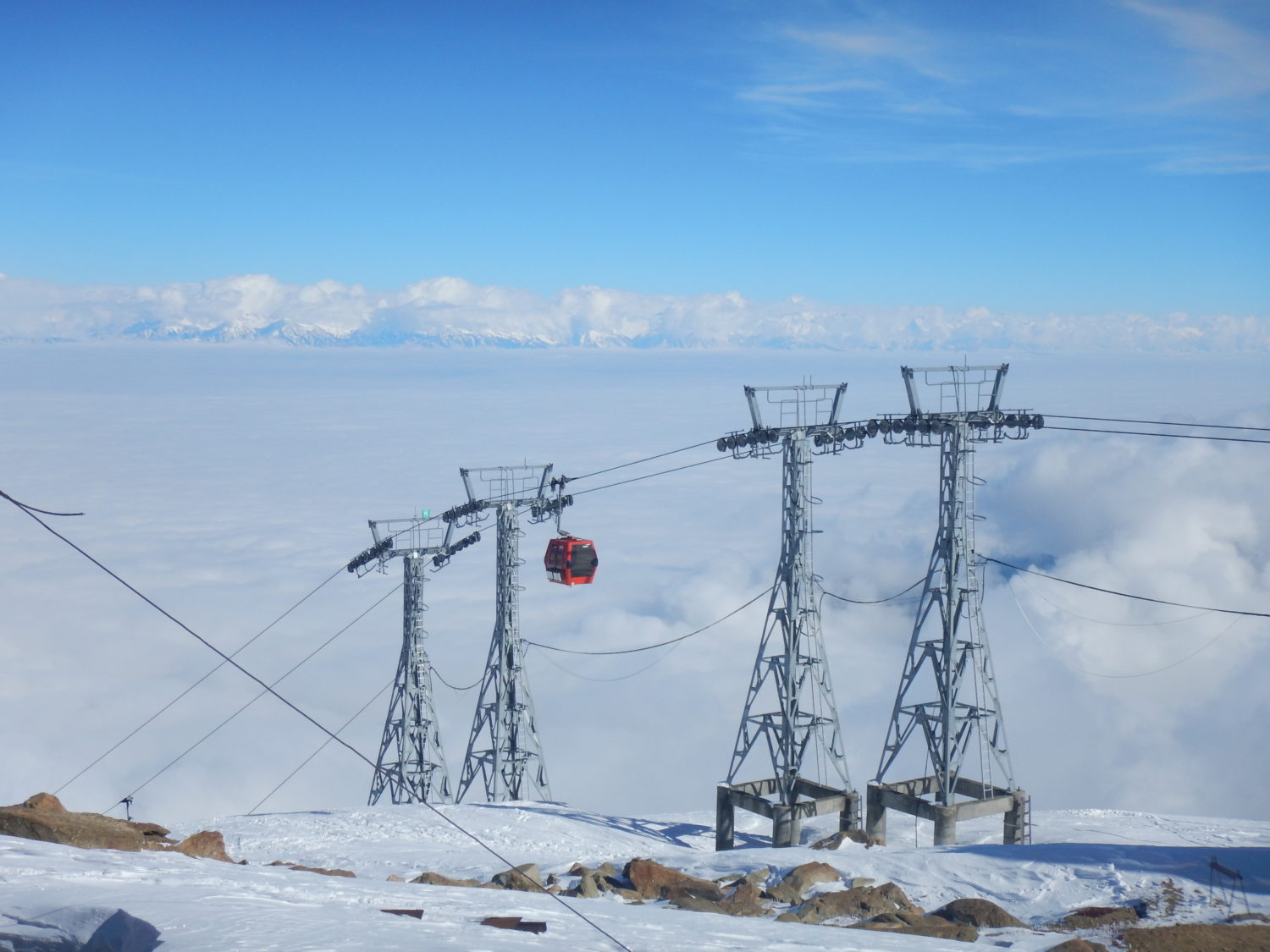 When to go:
February. This is when the snow is the most reliable. There should be a good base by now but in general it's still cold and snow quality is high. The season for skiing in Gulmarg shrinks every year and as the weather patterns become more extreme and unpredictable but in general it runs mid-January until mid-March. Going in January runs the risk of there not being sufficient snow and/or the Gondola not running yet. Going in March means there may be warmer temperatures and less snow lower in the valley. February is the busiest month but that just means you actually see other people and skiers, there's still plenty of fresh snow for everyone several days after a storm.  Any trip to Gulmarg should be at least two weeks to ensure you get a good storm or two and to account for any issues such as flight delay (relatively common), Gondola closure (very common) and he Dehli Belly (almost inevitable).
What to Bring:
A sleeping bag, Patience, and a sense of Humor
Let's be honest, Kashmir is no Aspen. There's no ski valet, no free hot cider and no concierge to pick up your lift tickets. Customer service, in general is still being figured out. On any given day the gondola ticket office may not open (even if the gondola is open), the ticket seller may not sell you a ticket because he's too busy talking on the phone to his friends, he will almost always say he doesn't have change and it's likely he will say that a day pass isn't available that day – instead you will have to buy individual single-ride tickets each time you ride the lift. If you let the poor service get to you, you are guaranteed to have a bad time. Instead it's best to wait, laugh at the Indian inefficiency and embrace it as part of the cultural experience. Power cuts and a lack of heating are common at of the budget and mid-range accommodations. The room temperature at most places in on par with most flats in Queenstown – there's no insulation or central heating. A good option is to stay somewhere with a Bikari (traditional fire) in the room and/or bring a good sleeping bag.
Get a guide:
Hiring a guide at least for a few days will allow you to maximise your ski time in the Himalayas and minimise your stress. With the conflict this summer and the general presence of military in the mountains it's easy to worry about taking a wrong turn and ending up somewhere you shouldn't be. General navigation above treeline is fairly simple but once below treeline (for example skiing to Tangmarg or Drang townships) then knowing where to go gets a bit trickier. Topo maps of the area are hard to come by because of the large military presence in the area. There is one app (download it and the maps before you go) called which was well marked for the Gulmarg area. Guides not only help you navigate the mountains but also come in handy for arranging taxis back up to town after a big tour, getting the inside scoop on gondola opening times, and taking a few short cuts here and there when buying a ticket for the gondola isn't so easy. If you've got a good skill set and are confident making safe decisions in unfamiliar backcountry then a local Kashmiri guide is a great option. They know the area well, will be familiar with where the good snow is, which spots to avoid and are a great source of knowledge on the culture/history/politics of the area. Not all local guides have been formally trained, some have an Avi 1 cert but few have much more than that. They can often be on older equipment or not have touring gear which will limit where you can go. Make sure you meet with them in advance to discuss your potential objectives and ensure their skills and equipment match. Most guides and their qualifications are listed on the Gulmarg Avalanche Centre website. You are able to contact them in advance but booking specific dates ahead of arrival wouldn't be recommended as the weather may not be suitable on those days and rescheduling is typically not permitted.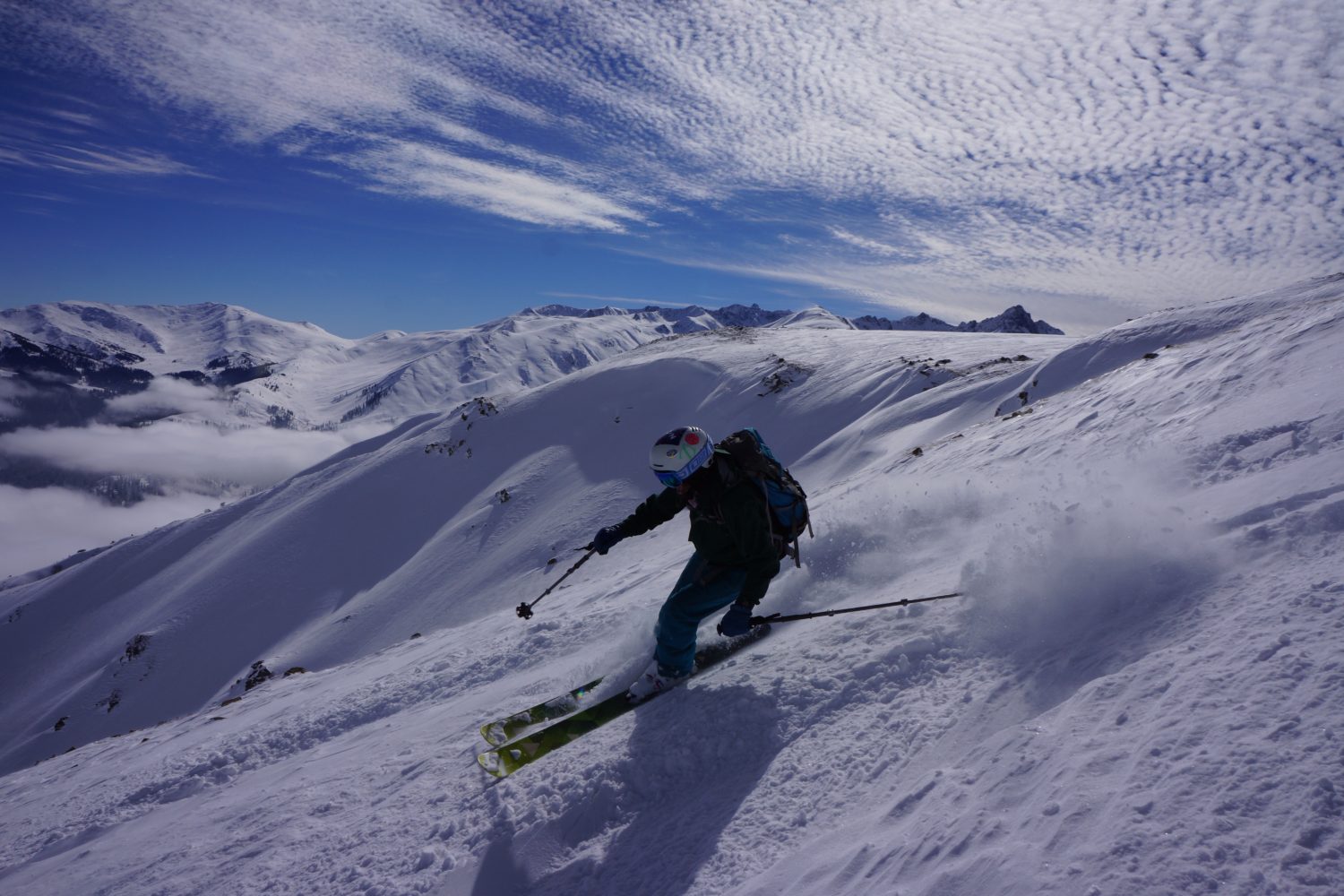 For those who want extra piece of mind and a professional service then a foreign guide with international qualifications is a better option. Bear in mind that these guides will be significantly more expensive and most of the money you pay for them does not stay in the area. Bills Trips is an excellent guiding company which has been around since before the gondola opened in 2005. Bill has many connections to the locals and with every foreign guide there is a local tail guide.
Be prepared for the Delhi Belly
The dreaded Delhi Belly is the last thing you want on a powder day in Gulmarg. Hand sanitizer and frequent hand-washing is the easiest way to minimise your chances of getting sick but often no matter how careful you are it will find a way to strike you down. Bringing drugs (proton pump inhibitors, ondansetron, loperamide), electrolytes and simple pain relief/anti-inflamatories with you from home should mean your recovery time is faster and more comfortable. The water in Kashmir is typically safe to drink from the tap. All the locals do and many tourists do too but if you've got a sensitive stomach it's best to play it safe. Bringing a Steri-pen or aqua tabs means you won't have to buy bottled water. There's definitely no recycling in the area and any garbage is lucky to end up in a dumpster, most ends up being thrown into the forest. Anything you can do to minimise your waste here is a good thing.
Get a local sim card – Internet is scarce
Most hotels will advertise that they have wifi but in reality, it's either non-existent or only available for a few minutes a day at a very slow speed. A few hotels that did actually have wifi were the Rosewood, Hilltop and the Grand Mumtaz. You can usually get the password for the internet at these places if you're having dinner. A regular Indian sim card won't work in Kashmir, you need to get a local Kashmiri sim card. These are technically only available for sale to those who have Kashmiri identity cards but there did seem to be plenty of locals able to purchase them on your behalf in Srinagar. Having a local number also makes communicating with other skiers staying in different hotels much easier.
Come ready to bargain and don't book everything in advance
A night or two booked ahead of time to start off isn't a bad idea but once you're in town it's best to shop around. If a hotel has empty rooms you're able to bargain the price down significantly. Quote another hotel's price and the competition will almost certainly match it. Definitely do not buy gondola tickets or a weekly pass online in advance. There have been reports of people not being able to use their online tickets and also the chances of you using the pass enough to earn your money back are slim.