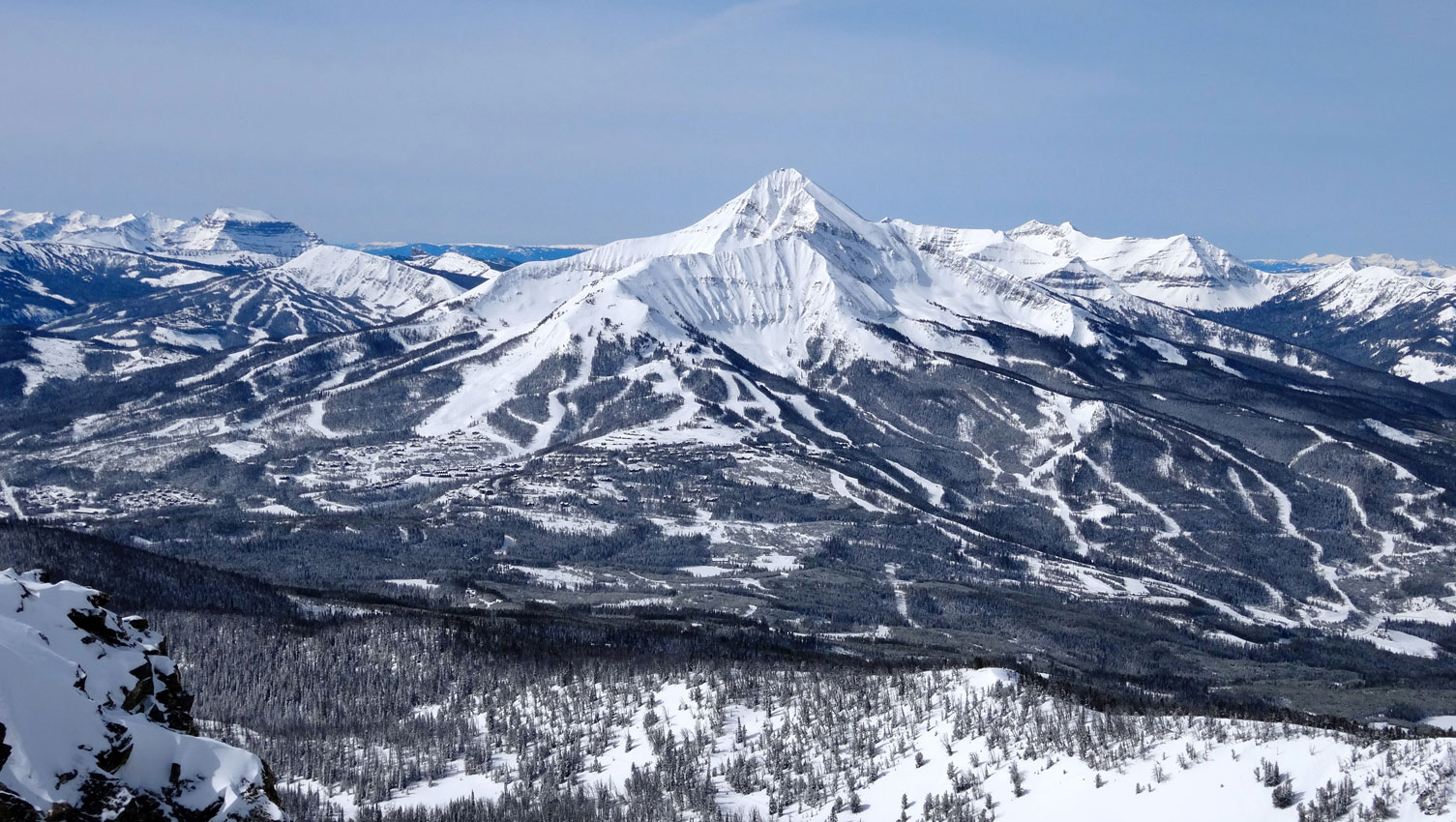 Big Sky in Montana and Wyoming's Jackson Hole are two iconic American ski resorts located in the Northern Rockies, approximately 3 hours apart. The geographic proximity of the two resorts and their reputations as premier ski resorts make them ripe for comparison.
Jackson Hole is one of North America's most famous ski resorts, if not globally. The resort possesses an iconic mystique and is consistently ranked the number-one ski resort in North America by various media outlets, including Forbes. Big Sky has generally existed in the shadow of Jackson Hole's reputation, meaning less media attention and visitation. However, that's exactly how the locals want it; there's world-class skiing found at Big Sky. In the same Forbes list that ranked Jackson Hole the #1 ski resort in North America, Big Sky ranked #10, meaning the two resorts are in a class of their own. Let's compare and contrast.
Skiable Acres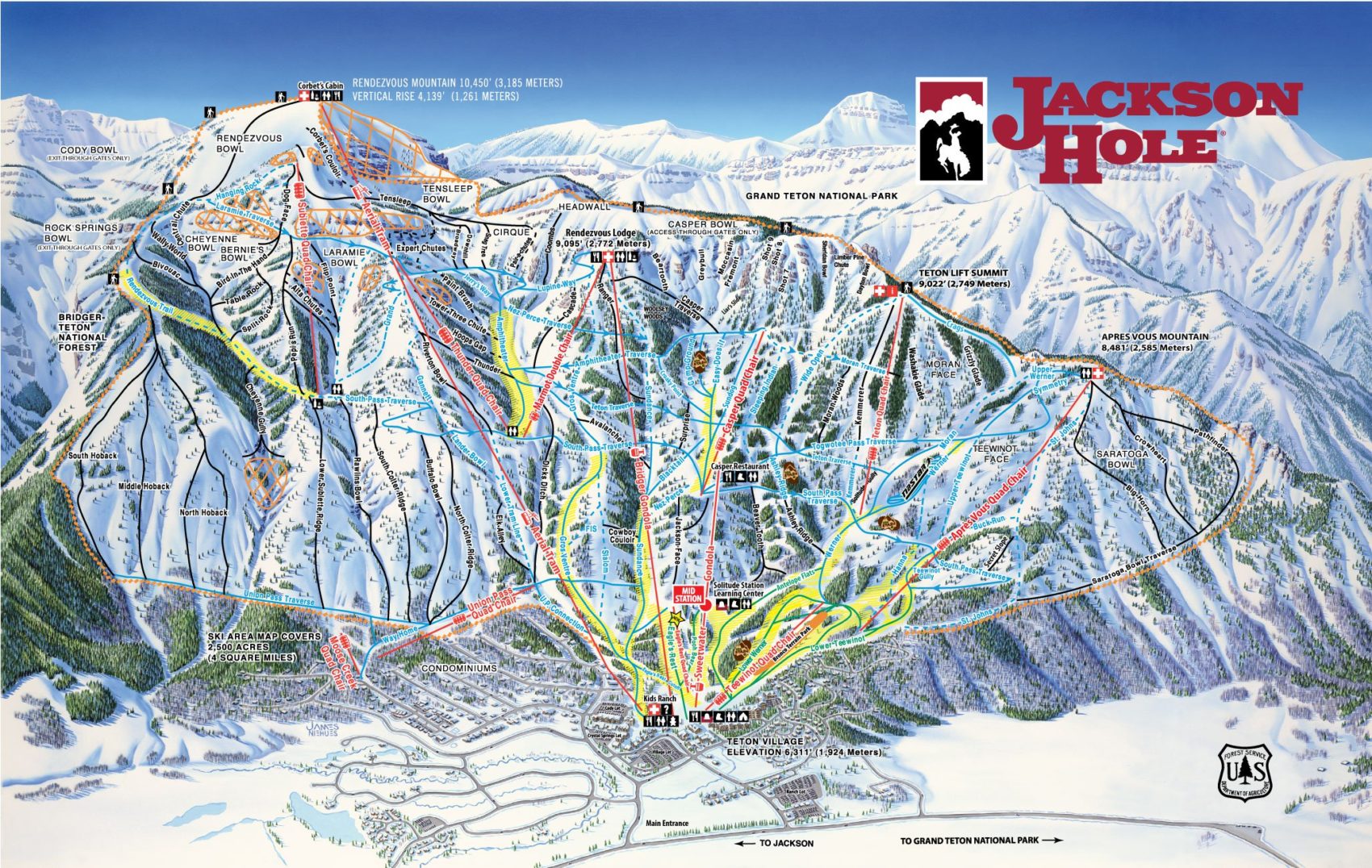 Jackson Hole: 2,500 acres
Big Sky: 5,800 acres
Both resorts have highly respectable amounts of acreage. Big Sky, of course, lives up to the name and offers the second most skiable acreage of any resort in the United States, second behind Park City (7,300 acres). It's almost impossible to find a crowd at Big Sky due to the vastness of the resort and its relative isolation. In 2013, Big Sky bought neighboring resort Moonlight Basin, known for family-friendly terrain, and combined the two to create one of the largest resorts in North America.
Jackson Hole has 2,500 acreages of inbounds territory, less than Big Sky and some other big-name ski resorts in the Rocky Mountains. Both resorts are large enough to spend several days without skiing the same run over and over, a claim that not many resorts can make. However, Jackson Hole offers numerous backcountry gates with access to over 3,000 acres of backcountry territory, contributing to Jackson Hole's reputation as an advanced mountain.
Top Elevation & Vertical Drops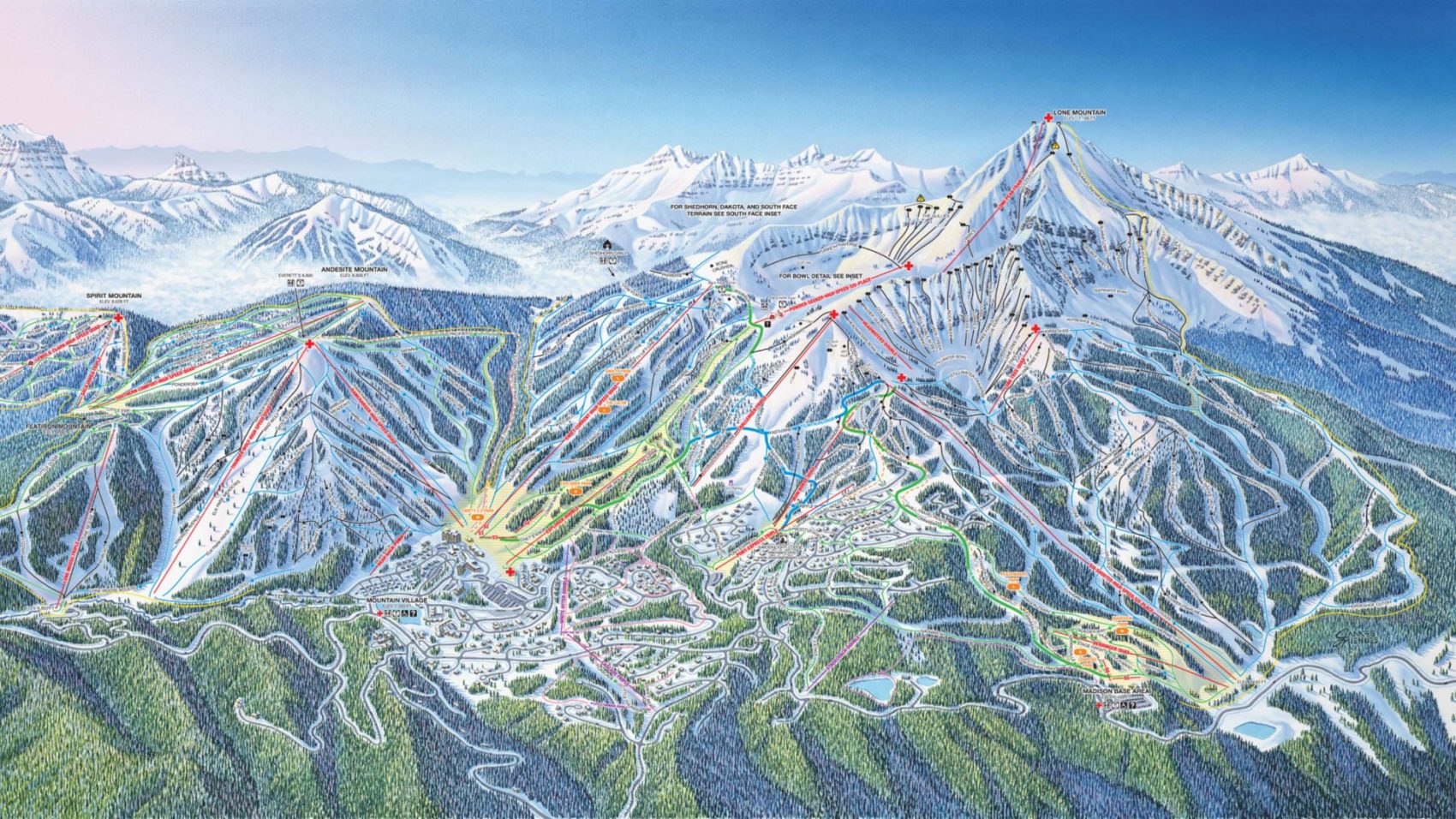 Jackson Hole: 10,450 feet / 4,139 feet of vertical drop
Big Sky: 11,166 feet / 4,350 feet of vertical drop
The advertised vertical drops of ski resorts can be highly misleading. Most ski resorts measure their vertical drop by calculating the difference between their highest and lowest elevation points. A ski resort with a top elevation of 10,000 feet, and a bottom elevation of 7,000 feet, could claim to have 3,000 feet of vertical drop. However, these vertical drop numbers can be misleading. Skiing directly from the highest to the lowest point might be impossible, meaning there isn't any possible way to ski the entire vertical drop. Or, there might be a way to ski the whole vertical drop, but the run would be full of transverses and flat terrain and barely qualify as a ski "run."
However, the vertical drops of Jackson Hole and Big Sky do not have this problem. By the simple math of distance between the highest and lowest point, the two resorts have the fourth (Big Sky) and fifth (Jackson Hole) longest vertical drops in North America, after Snowmass, Whistler/Blackcomb, and Revelstoke. However, Big Sky and Jackson Hole possess extremely honest vertical drops. MountainVertical.com uses a formula to calculate the actual skiable vertical drop, the drop that can be skied in one continuous, straightforward, and enjoyable run. Under their calculations, the true skiable drop for Big Sky is 4,016 feet, just 334 less than their traditionally advertised 4,350-foot vertical drop. Jackson Hole has an actual vertical drop of 4,105 feet, only 34 feet less than their traditionally advertised 4,139-foot vertical drop. Jackson Hole's true vertical drop of 4,105 feet gives it the longest "honest" vertical drop in the United States. Big Sky is second. Either resort you go to, you'll experience opportunities to ski a genuinely remarkable and genuine vertical drop.
Average Annual Snowfall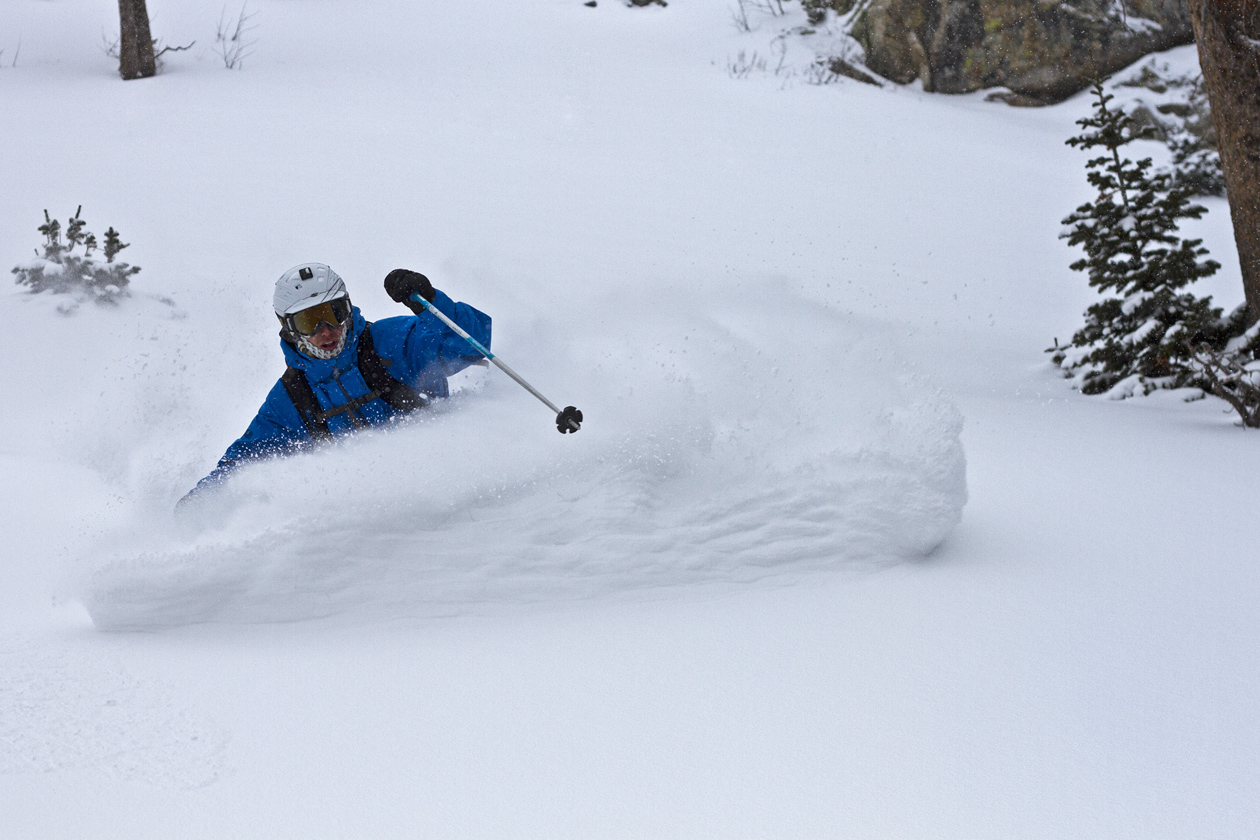 Jackson Hole: 459 inches 
Big Sky: 300 inches 
Being in the Northern Rockies, both resorts typically receive large amounts of snowfall. The average winter for both resorts will feature 400 inches, but both resorts, especially Jackson Hole, can easily receive well over that amount. Last winter, Jackson Hole received 464 inches over a season of 83 days, and there were more days with at least an inch of freshly fallen snow than without. The past decade has been one of the snowiest in Jackson Hole's history; 2014, 2017, and 2019 featured the three snowiest Februaries on record.
Due to its geographic position in the Northern Rockies, Big Sky will typically receive less snow than Jackson Hole. Last winter, Big Sky received 208 inches; the year before, it received 162 inches. However, like most of Montana, Big Sky receives frigid temperatures for December through March. Daytime temperatures on the mountain seldom exceed 30 degrees, and nighttime temperatures consistently dip into the negatives. These cold temperatures ensure that snow will stick around long after it's fallen, giving Big Sky a consistently solid, chalky base regardless of its comparatively less snowfall. The cold temperatures also ensure that any powder that falls will fall as ultra-dry "cold smoke."  Jackson Hole also benefits from colder temperatures, meaning when the powder falls at either resort, it'll likely be extremely dry snow that sticks around for weeks.
Terrain 
Snow, vertical drop, and skiable acreage mean nothing if you don't have legitimate terrain to make that snow and acreage meaningful. The two resorts are famed for their dry snowfall and massive vertical drops. Both mountains offer beginner-friendly terrain and a multitude of intermediate groomers that stretch on forever. But as we all know, it's not beginner/intermediate terrain or an abundance of snowfall that has given Jackson Hole and Big Sky their iconic statues. It's advanced and expert terrain that draws people to these resorts, and it's advanced/expert terrain that has given these resorts their world-renowned reputations.
Jackson Hole's terrain is widely regarded as some of the most extreme and rowdy on planet Earth, and it's not just because of famed runs such as Corbet's Couloir. You've probably seen videos of people going down Corbet's Couloir countless times, but that's arguably not even the most challenging run at Jackson. Skiing the S&S Couloir requires special arrangements with ski patrol, and you have to sign a waiver before going down the run. It's only attemptable on deep winters, and there's often a 30+ foot mandatory drop-in. Check it out:
Jackson Hole is famed for these steep couloirs flanking out from the top of the iconic Aerial Tram, or "Big Red" (which ascends over almost all of the resort's vertical feet), but that's not the only legit terrain Jackson Hole offers. There's an abundance of expert terrain, which often scares away more casual skiers, but Jackson Hole offers some of the best intermediate terrain. The grooming team at Jackson Hole is one of the best in North America, and there's no shortage of cruisers with stunning views. The runs off Casper chair are extremely rippable and offer sick views of the valley below. Apres Vous is one of the older regions on the mountain and offers some more amazing intermediate terrain. After all, skiing powder is the only thing that beats ripping rolling turns down freshly groomed slopes. Jackson Hole offers an abundance of both.
Lone Peak is the singular peak that serves as the iconic symbol for Big Sky, and it's probably the most recognizable peak in all of North America's ski resorts. The Lone Peak tram shuttles skiers right up to the peak, and from there, there are sweeping views of two national parks and three states. Like the iconic 50-degree Big Couloir, some lines are so dicey that the resort requires you to check in at the patrol shack before attempting them. The Dictator Chutes are also another iconic zone on Lone Peak. Each chute is named after oppressive dictators to pay homage to the oppressive and terrifying steepness you'll experience on the runs. The runs are so steep that you must be a nasty dude to ski them; Lenin, Castro, and Putin all have chutes named after them. Lone Peak isn't home to all Big Sky's best skiing; legit terrain can also be found in the Moonlight Basin zone. Headwaters is an expert ridge in the Moonlight Basin zone that requires a short hike to reach from the top of the Headwaters lift. Many of the chutes from the Headwaters ridge drop down 2,000 vertical feet and require mandatory air.
Thanks to their large acreage, Big Sky and Jackson Hole offer something for skiers of every level, but they're known as expert mountains first and foremost. Which resort do you prefer?