Report from Saturday, 13th, and Sunday, 14th, May 2023
I have been trying to get to Killington Resort, VT, for the last few seasons, and I finally had the opportunity to do it this spring. It was awesome! I usually try to hit a different mountain each season, and I have to say that the people at Killington were top-notch. The vibe on the mountain for spring skiing was contagious, and everyone I met at Killington was terrific. I enjoyed chatting with everyone I met, and Killington welcomed me to their mountain, and their hospitality was first class!
The ski season on the East Coast starts to end in early March for most ski resorts. However, Killington has always aimed to remain open until June. Usually, by May, only a hand full of ski resorts are left standing, but Killington is almost always the last one to close in the east. Superstar Glacier is the resort's premier slope, is 1,200′ long, and is covered in moguls from top to bottom. Every season, Superstar is the last slope that remains open on the mountain, and the teams at Killington do a great job every spring keeping it running.
Killington, "The Beast of the East," is a world-renowned resort that attracts skiers and riders from all over the country and abroad. In late November, the mountain hosts the Killington Cup, a World Cup FIS Ski Racing competition comprising women's slalom and giant slalom events. It is a huge success, draws tens of thousands of fans, and is the world's most-attended Women's World Cup FIS Ski Racing event.
Quick Facts and History:
First Opened in 1958
Elevation: 4,261 Feet
Base Elevation: 1,165 Feet
Vertical Drop: 3,050 Feet
Skiable Acres: 1,509 Acres
Trails: 155
Beginner Trails: 17%
Intermediate Trails: 40%
Expert: 43%
Total Lifts 21
Lodges: 5
Hotel: 1
I visited Killington on Mother's Day Weekend, and the spring temperatures and ski conditions were excellent. It was a big weekend at Killington for all the ski moms out there, but their 100-day ski members were on the mountain as well, and it was also the first weekend that all the ski resorts on the east coast were closed besides Killington. That meant all the die-hards from the Northeast were at Killington that day, looking to hit the bumps on Superstar.
It was about a seven-hour drive, and I did an all-nighter by leaving at 11 pm on Friday and reaching Killington around 6 am on Saturday. I had somehow forgotten that I had not had the opportunity to ski any moguls this season due to the lack of snow in the Northeast, and that would come back to haunt me! The lifts started spinning at 8 am, and a line formed around 7:30 am with all the locals trying to grab first tracks. Superstar was groomed the night before on the skier's right, and on the left, it was left un-groomed and still had some nice bumps on it.
I had the pleasure of meeting Brooke Geery, the Marketing Specialist at Killington, who gave me a mountain tour and introduced me to some locals. Brooke was awesome! She was a snowboarder who navigated down Superstar with no problems and was very knowledgeable about Killington and the ski industry. She was also very understanding and recognized my situation of not having skied moguls all season long, driving seven hours, and not sleeping for two days—my first day on Superstar would not be easy for me!
My first run down Superstar was around 8:30, and it did not take long for me to realize that not having the opportunity to ski moguls all season long was about to become a huge factor. Superstar could be described as a slope with three different runs, with two expert runs at the top and bottom and an intermediate run stuck in the middle. Superstar is divided into the top, middle, and bottom sections. The top section of Superstar is steep and does not allow a person the opportunity to settle into the run. The middle section flattens out a bit, allows a person to catch a break, and allows your legs to rest a little. The bottom section of Superstar ends with dropping off again and is much steeper than the middle section. All three sections of Superstar are covered with bumps from top to bottom, providing a real challenge for people who love skiing moguls.
Saturday temps were in the 60s, the conditions on Superstar were excellent, and the stoke in the air was high, with crowds wanting to hit the iconic run. It did not take long for Superstar to get bumped up, and by 11:00 am, the whole slope was covered in moguls. I was looking forward to hitting some moguls this season and did not realize how bad of a shape my legs were in for taking on a slope like Superstar. Spring conditions made the snow heavy, and the conditions put a workout on your legs. My first three runs were an absolute disaster as I struggled to make it down the mountain with my legs burning with every mogul I hit.
By noon, my legs were smoked, and I was ready to take a break and grab some grub on the Michelob Ultra Deck. The deck is at the bottom of Superstar and has outdoor seating, a stage, and a bar for guests to enjoy. It is the spot to grab food, relax, and enjoy music while watching skiers and riders go down Superstar during the spring. During lunch, I switched out my boots and skis for something more suited for Superstar's conditions. I went with my high-performance boots and a pair of freestyle skis I have not used in over three years. The wider ski proved to be my stabilizer, and I could handle the wet-spring snow better without worrying about my skis getting stuck or catching an edge.
Spring skiing provides a different atmosphere and brings out skiers and riders who love to hit the slopes. It felt like every Killington local was on the mountain on Saturday, and the stoke was incredible. It was a collection of all the top skiers and riders in the east, with Killington being the only mountain left open for them to hit. I have to give credit to the crowd at the mountain that day; they were all incredible skiers and riders, and they made me feel like a beginner.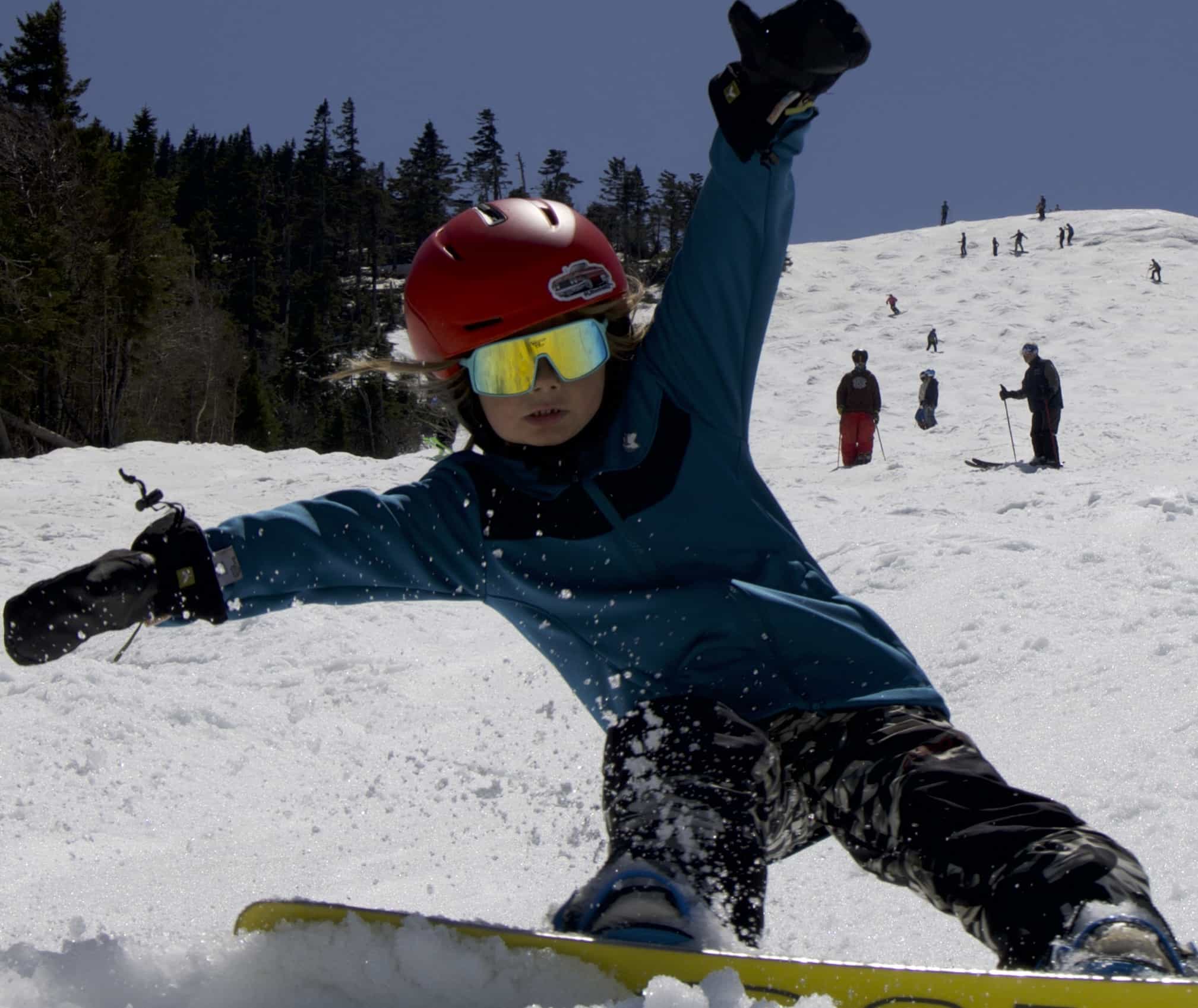 Brooke Geery introduced me to many of the locals at Killington on Saturday, and one of them could become a star! Harley Ruffle is five years old, was born in Manasquan, NJ, and moved to Killington when he was just over a year old. Harley is a snowboarder through and through and loves being on the mountain. He can take on a run like Superstar and glide down it relatively easily. He has been snowboarding since he was two years old and just finished his 4th season with 100 days on the mountain at five years old. He is already doing comps and events at local mountains, such as the Slash and Berm and Rail Jam. This season, he recently placed third in the U10s in the Slash and Berm at Killington.
https://www.instagram.com/reel/CsMuwD5pwQG/?utm_source=ig_web_button_share_sheet&igshid=MzRlODBiNWFlZA==
I had the opportunity to have lunch with Harley's parents, Jill and Gary, and chat about their son's early success in snowboarding. It was clear his parents genuinely supported Harley's love of snowboarding and the chance he has to make it a career. However, after speaking with them for about an hour, it became apparent the choice was totally up to Harley alone. Jill and Gary told me about the sacrifices they were making for Harley to have the opportunity to do what he loves, but they also stated, "What Harley does is up to him."  
Harley has no fear of hitting the park or an expert run like Superstar and has the energy of a child that seems to never stop. Harley loves the terrain park and is already doing tricks, hitting features, and pulling off flips in the park. He is also a pretty smart kid and quickly reminded me I was wrong when I asked him a question while riding up the lift. I asked him if he liked to ski; he hesitated for about a second and then responded, "I don't ski. I snowboard!"  He was pretty sharp for a little guy, and he already had me backpedaling before we even hit our first run together.
Someday, Harley will figure out his path and, hopefully, have a successful career in snowboarding. Killington Mountain, Darkside Snowboards, Signal Snowboards, Union Binding, Shred Dog, Vermont Snowboard Posse, BC Goggles, Bern Helmets, and Candy Grind already sponsor Harley.
By the end of my first day at Killington, my legs were burning, and I was looking forward to getting some rest before the next day on the mountain. My dog and I love to camp, and Killington offers free camping at its Vale lot for anyone who wants to stay on the mountain. The campsite is available late spring and summer once the Ramshead lift closes during the season.  Winter camping is available at Killington at the Skyeship lot on route 4, which is something that I will definitely want to checkout next season.  There are about 15 sites that have wooden decks to set up your tents on, and the camping site is also open to campers or RVs.  Anyone who wants to utilize the camping site is free to do so. However, it is first-come-first-serve basis, and guests cannot make reservations. When I arrived on Saturday morning, about eight sites were being used at the time.
Some sites have picnic tables for guests, and the campsite offers a great view of Superstar. Some guests had campfires at night, but Killington does not provide fire rings at the sites. The campers at the site that weekend were all laid back and chill. Most everyone was asleep by 10 pm, probably worn out from skiing all day on Superstar and trying to get rest for the next.
At the campsite, I had the opportunity to chat with a couple from Portland, ME, who were checking out Killington for a mountain bike event later in the month. They had their two dogs, Rupert and Sugar, with them. They had never been to Killington before and said something to me that I will never forget. We were standing at his campsite, and he looked up at Superstar and said, "Do people really ski down that?"  The tone in his voice, his complete sincerity, and the look of disbelief on his face were priceless!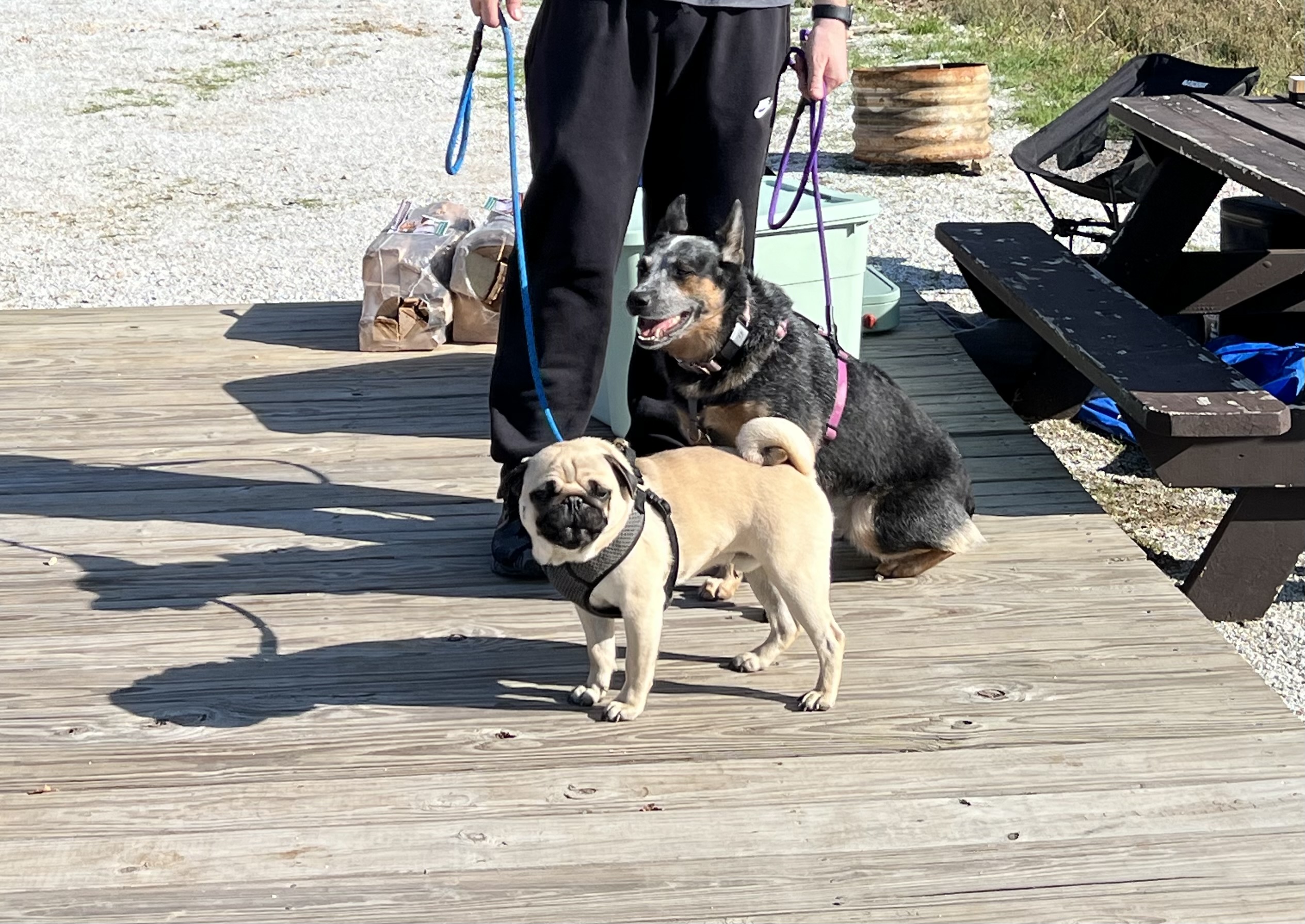 The campsite allows guests to stay on the mountain and not worry about fighting traffic, returning to the slopes the next day. An access road in front of the campsite goes directly to the top of the K-1 parking lot. I would highly suggest anyone who will be tent camping ensure they have the tie-downs for their tents because it does get very windy at the site.
The second day of skiing at Killington was Mother's Day, and the temperature dropped overnight to 36 degrees with daytime temps around the mid-50s. The colder weather improved the mountain's conditions, and Superstar was holding up well. Sunday-spring skiing at Killington is much more laid back and less crowded than skiing on a Saturday. Superstar was a lot easier for me to handle on Sunday. However, the beating my legs took on Saturday lingered, and I was still not at top form hitting the moguls that day either.
I hit five runs by Sunday afternoon, and by that time of the day, my body had enough of Superstar even though my mind still wanted me to go for more. It was a great reminder to keep my body, especially my lower body, in shape throughout the season and have the correct type of skis to handle whatever conditions the mountain would throw at me.
I was surprised by how many people brought their dogs to the mountain. I am a dog owner, and I took my girl with me and I was a little nervous about how the people at Killington would react to me having my dog with me. That feeling quickly ended, and I was shocked by the number of people who brought their dogs with them to the mountain throughout the weekend. It was almost like a "DogFest" with all the four-legged companions walking through the K-1 parking lot and at the bottom of Superstar.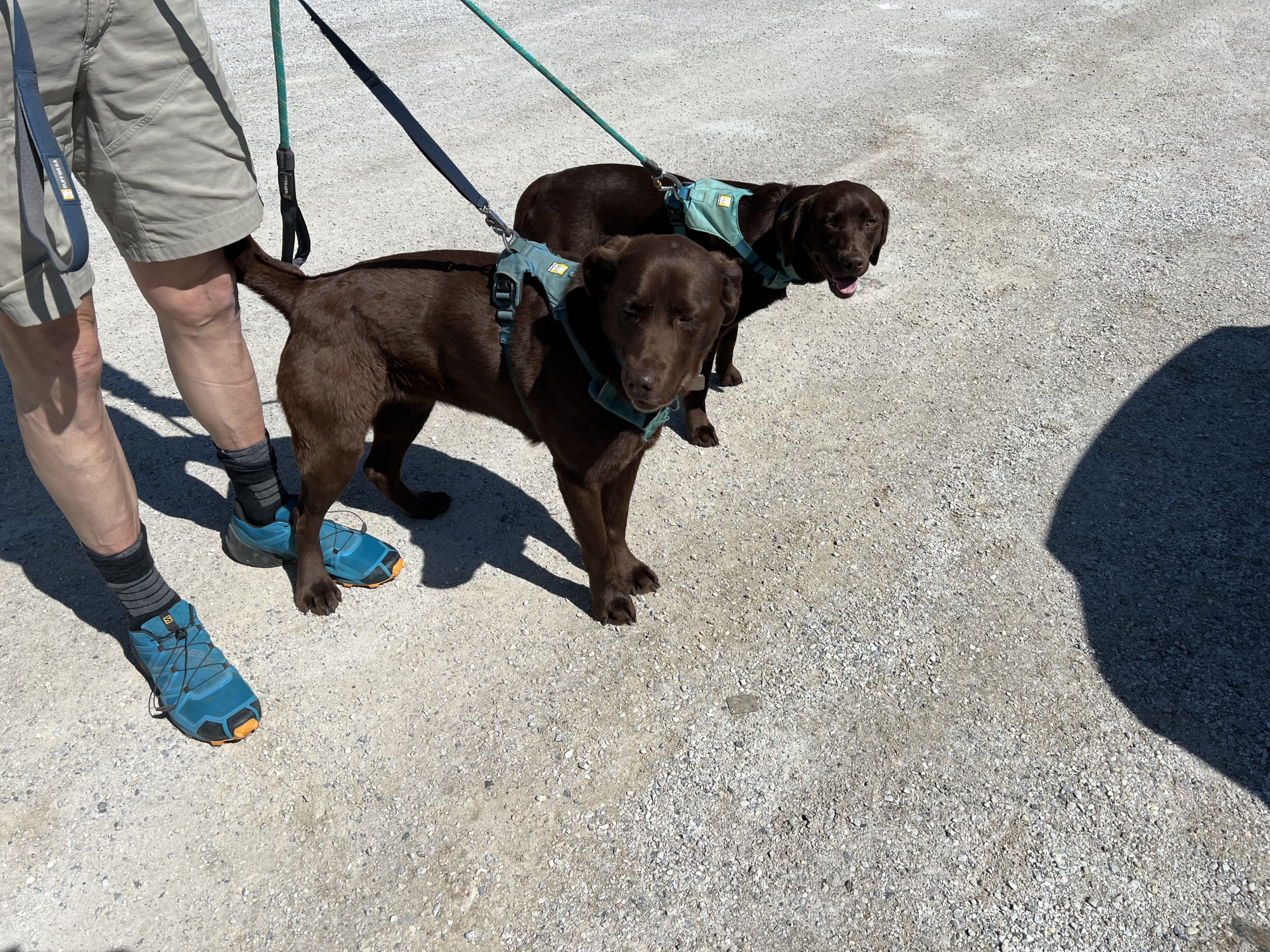 The atmosphere at Killington was fantastic all weekend, and I had the opportunity to meet some amazing people from all over the Northeast. Spring conditions bring a vibe to Killington that is hard to beat, and the K-1 parking lot was full of people who were there to have a good time on the mountain.
There was one thing I had never seen throughout my skiing career, and I struggled to find the words to say at the time. It happened in the K-1 parking lot, and a motorcycle rider had his skis mounted on the back of his bike. The motorcycle rider was David Kirk, from Ludlow, VT, and he arrived on Sunday afternoon to hit some runs on Superstar. It probably only happens in the spring, and I just stopped what I was doing and had to talk to him.
Something refreshing that I found while skiing at Killington was the level of respect that everyone had for one another there. I had the opportunity to chat with some skiers and riders on Superstar; all of them were so friendly and down to earth. It was refreshing to be surrounded by such talented skiers and riders who could have easily had chips on their shoulders but chose not to and were so easily approachable. It would have been easy to tell them I wrote for SnowBrains, and they might have acted differently. However, I find going "undercover" usually works best.
By the end of my ski trip, I looked back and thought of all the great experiences I had at Killington Resort throughout the weekend, and I had already started to plan my next visit there. The mountain, Superstar, the vibe, and, most importantly, the people at Killington are special. The people at Killington get skiing and snowboarding and are passionate about it. I have mostly skied the Northeast throughout my skiing career, and everyone in the region constantly compares other resorts to Killington. They talk about resorts having that "Killington Like Atmosphere" or the "Killington Like Run."  Resorts throughout the Northeast offer great terrain and a great atmosphere in their mountains, but there is nothing like Killington besides Killington in the east.
For more information on Killington, visit its website: https://www.killington.com.
PHOTOS: