Mammoth is untouchable in May.  You can ski park, ski the mountain, rip big backcountry lines, boulder, rock climb, mountain bike, golf, hit the hot springs, and swim the rivers – all in the same day.  It's non-stop, but you can get it all in because the sun doesn't go down until 8:30pm right now.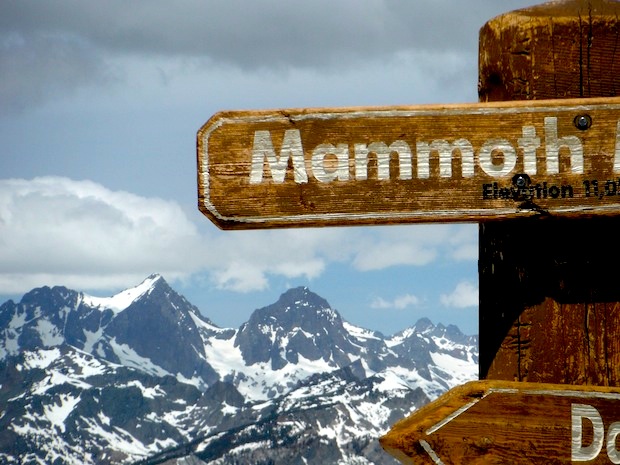 Today we focused on skiing Mammoth and hitting Hot Creek.  The sun was out, the costumes were out, it was hot, but there was a cool breeze.  This time of year, we all know the snow can get sticky.
Not today.  A cool breeze saved the snow and kept it crisp all day.  It was great to have the same fast, slush snow from 10am until 2:30pm.
Mammoth is open today and tomorrow from 7:30am to 2:30pm with the Gondola, chair 23, Thunder Bound 6, Broadway 1, & Face Lift open.  By 9am the snow was softening up and getting good.  By 10am it was perfect.  We kept waiting for it to get sticky and weird, but it just didn't.  That cool breeze kept the snow crispy and fun.
The top of the mountain was where it was today.  Upper gondola laps delivered slushy bumps off Climax and smooth corny groomers on Cornice.
We got out to the Paranoids and found good turns, soft bumps, and bizarre sun cups out there.  Chair 23 was skiing well with slushy bumps and a wind lip for the brave of heart.
A wall-ride comp, a few good bands, and a keg throwing competition didn't detract from today's fun.  
A post ski Hot Creek session was damn fun.  We even caught 3 rainbow trout while sitting in the pool.  Gorgeous day down at Hot Creek today.
Tomorrow looks to be more of the same in the morning with the possibility of some overcast in the afternoon.  
We just found out that Mammoth is extending their season indefinitely.  Tomorrow was supposed to be the last day of the year.  Not anymore…