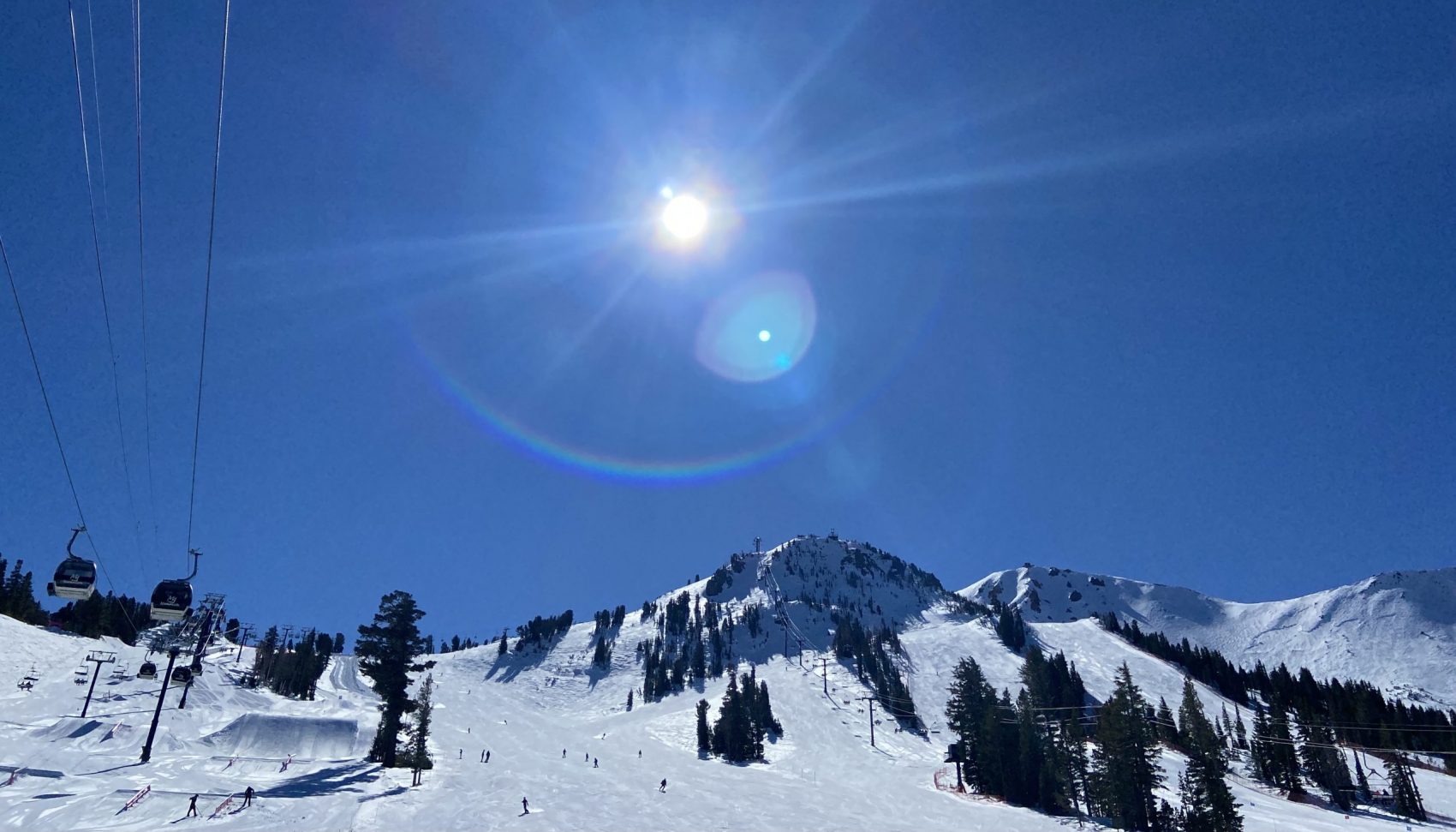 Brought to you by Mammoth Lakes Tourism
Report from Friday, February 5th to Sunday, February 7th, 2021.
After receiving 113" (287cm) of snow last week in what many deemed was Mammoth's saving grace for this season, the mountain shifted from a winter wonderland into a spring skiing paradise over the weekend. With a solid base and 154/163 trails open, this weekend allowed access to the entire mountain.
With temperatures rising into the high 50's at the base on Friday, Saturday, and Sunday, the key to having a good ski day was sticking to the groomers and, when wanting to venture off them, making sure to hide from the sun. It was in the shade and higher up on the mountain where you would find the best snow.
My favorite area over the weekend was off Chair 22. Little to no lift lines paired with most of the runs off the lift being protected from the sun made it great skiing to lap. My personal favorite run this weekend was the Avalanche Chutes, which had the best snow on the mountain.
Other noteworthy runs were the Paranoid Flats, Wipeout Chutes, Quicksilver, and Rollercoaster.
Overall, lifts were surprisingly uncrowded, and even in the middle of the day, I was waiting no more than 15 minutes on any given chair except the gondola, which I did not even try and go on due to its long line. With Covid-19 guidelines in place, any given gondola could only have one household in it at a time, making its rider capacity dramatically reduced. The side effect of such limited capacity was the then limited capacity to ride to the top of the mountain as the only other way to do so is via Chair 23.
Snow Numbers
With last week's mega-storm dropping over 100" of snow, Mammoth is in great shape. Hopefully, temperatures will recede below freezing, and they will get some fresh snow to freshen up the base and make for better snow conditions.
Weather Outlook
NOAA has issued a Special Weather Statement for the coming week as several systems move through the Sierra Nevada. As of writing this article, it is clear that the first storm rolling in through Tuesday-Wednesday looks to be fairly weak, but the following storm, which will last into the weekend, could vary from a major storm to a weak one, with snow totals being unable to predict at this point.
If you are interested in doing some storm chasing this coming weekend, make sure to keep your eye on the weather as forecasts get more accurate going into this weekend.
Handling of Covid-19 Guidelines
I want to make sure to highlight Mammoth's effort in doing a great job enforcing Covid-19 guidelines. On all of the lifts, lift operators were never afraid to remind people to pull up their face mask when waiting in line. There were also dedicated staff members walking up and down the lines on busier chairs, reminding people to keep their face masks on properly.
At the top of lifts in what Mammoth deemed 'communal areas,' there was ski patrol on multiple occasions, reminding people to keep their masks on until they actually started going down the slopes. With these measures, the vast majority of people complied with mask-wearing making for a safe and friendly environment.
Photos