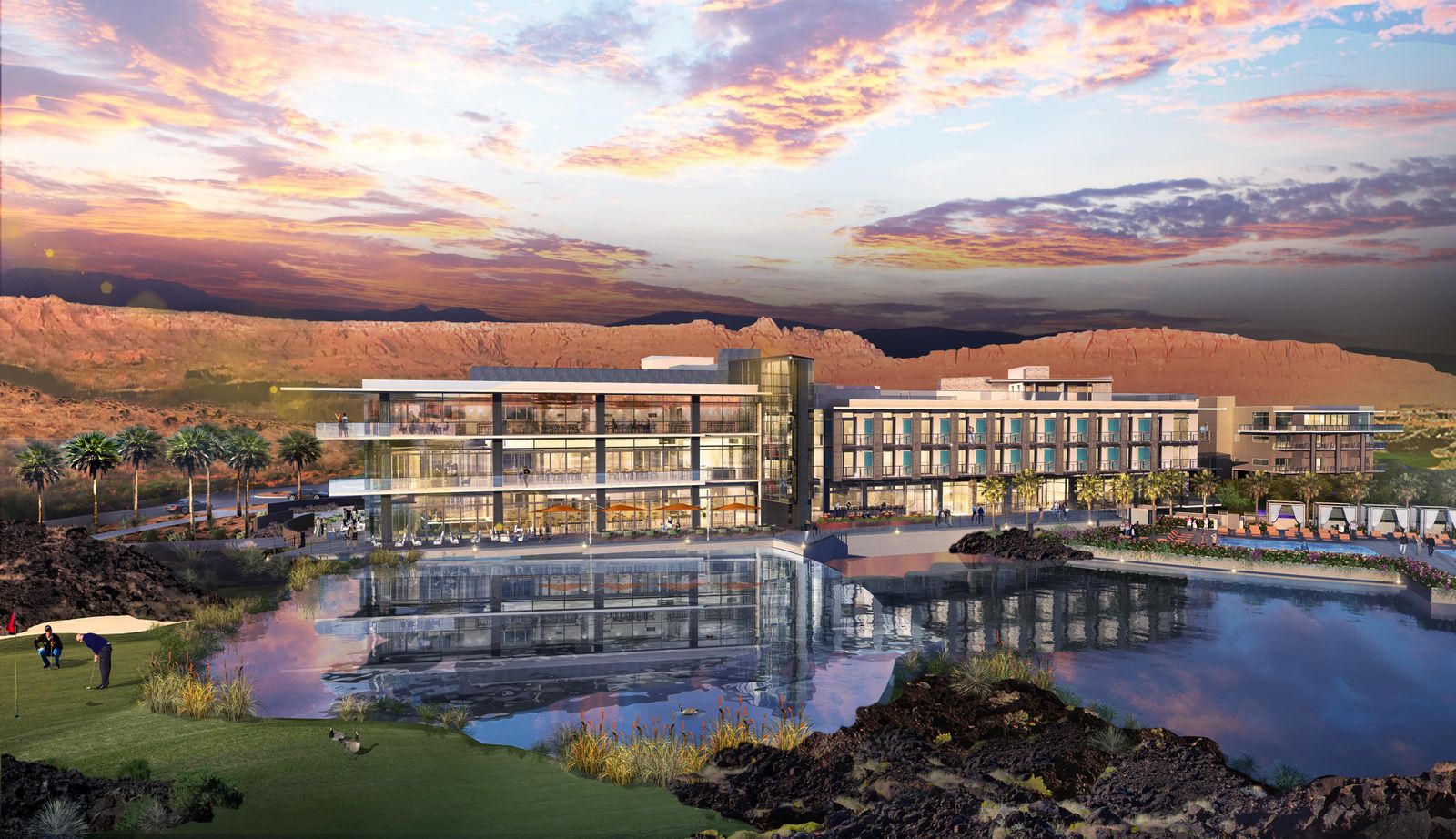 Vacationers to Southwest Utah will soon have another lodging option to choose from.
Black Desert Resort, located just eight miles from St. George, is slated to open in the fall of 2024. The new resort will be colossal and will cover an impressive 630 acres. This will easily make it the largest resort in the state. For reference, Disneyland is 500 acres.
Activities
The focus of the resort will be on golf, dining, and relaxing. However, more adventures are easily within reach.
For skiers and snowboarders, Brian Head Resort is only about 90 minutes to the northeast. Brian Head has the highest base elevation of any resort in Utah at 9,600 feet. It averages an impressive 360 inches of snow spread across 650 acres. It also has big expansion plans to more than double its skiable terrain to 1,500 acres, making it the 7th largest ski resort in the state.
Both Zion and Bryce Canyon National Parks are within a comfortable driving distance for a day trip. On top of that, there is no shortage of hiking trails and outdoor activities to explore within the resort itself. Canyoneering, rock climbing, and mountain biking will all be popular activities.
Nearby, Snow Canyon State Park is located within the Red Cliffs National Conservation Area which spans an even larger area of southern Utah. It boasts more than 130 miles of trails used for hiking, biking, and horseback riding.
For those who love the water, Sand Hollow State Park is another option for adventure. The park is one of the newest state parks in Utah but is quickly becoming one of the most popular. With warm blue water and a red sandstone landscape, the Sand Hollow Reservoir is a destination for water sports, boating, and fishing.
The primary attraction will be the 19-hole championship golf course which is already open. It features lush greens, black lava fields, and nearby red rock cliffs, which makes it feel like a combination of the landscapes of Hawaii and Arizona. The course is so world-class that it was chosen to host the Black Desert Championship. It will be the first PGA Tour event held in Utah in 60 years. The event is slated for October of 2024, around the same time the rest of the resort will open.
Other Amenities
Reef Capital Partners, out of Lehi, Utah, is the builder doing the construction and they will be responsible for an impressive list of amenities. They include a resort pool, conference center, wellness spa, and underground parking. The resort will feature over two dozen restaurants and a Desert Boardwalk. This will be a pedestrian-only promenade of restaurants, boutique shops, and galleries that will also be open to the general public and not just resort guests.
As proposed, it will have 3,330 rooms and condos. This will accommodate the estimated 600,000 visitors the resort will attract each year. Additional amenities that will be built in future years include a lazy river with waterfalls, zip lines, rope bridges, a climbing rock, surf and golf simulators, a 36-hole putting course, a driving range, and much more.
This may sound too grandeur for the average traveler, but the resort is claiming to be an affordable luxury. The resort's motto is "Remarkable within reach and luxury without pretense." The restaurants won't have fast food but will include fun fare up to fine dining. The shops will be upscale but not overpriced.
With all that's set to come to fruition at Black Desert, maybe it's time to start planning a trip to Southwest Utah.