State Highway 73 ('SH 73'), known as 'The Great Alpine Highway,' is a major South Island road connecting the East and West Coast of New Zealand. SH73 is 231 km (144 miles) long, stretching from Christchurch to Hokitika/Greymouth, passing through the Southern Alps and Canterbury region. Along this special highway, you'll find some of the most incredible skiing New Zealand has to offer. 
SH 73 offers access to six fantastic club fields – such as Porters Ski Area, Mt Olympus, Mt Cheeseman, Broken River, Craigieburn, and Temple Basin. Some of these club fields are non-profit and run by locals and volunteers. All the proceedings go into maintaining the fields for the next season. Each ski area offers terrain for a range of levels as well as endless ski touring in the neighboring hills, bowls, and chutes surrounding the fields. 
When driving from Christchurch along SH73, the first stop is Porters Ski Area. Porters is 89 km (55 miles) from Christchurch, with a turnoff 4 km (2 miles) west of Lake Lydon. Porters offer terrain for everyone, from family to freestyle pros. The lift access consists of a beginner platter, operating a rope tow, and a lift, then a long chairlift accessing the top half of the resort, which has three T-bars spread out accessing a range of black runs. The highest lift accessed point is 1,980m (6,496 ft). Aside from racing, Porters has its very own terrain park, which also has mini-events for fun. The area was established in 1968 by local ski enthusiasts and today is still booming winter by winter. In 2018, Porters invested in summer offerings by opening a mountain bike summer, creating an all-year-round adventure destination. 
An hour down SH73, you'll find the second club field, Mt Olympus. Mt Olympus, more commonly known as 'Playground of the Gods' by the Kiwi freeride community, is exceptionally well known for its inbound back-country terrain. Mt Olympus Ski Club was founded in 1948 by the local Windwhistle Winter Sports Club. Since then, Mt Olympus has grown into one of the hubs of Kiwi freeride, hosting Junior Freeride World Tour Qualifiers ('FWQ') and the famous and unique event 'Mofo' (Mount Olympus Freeride Open).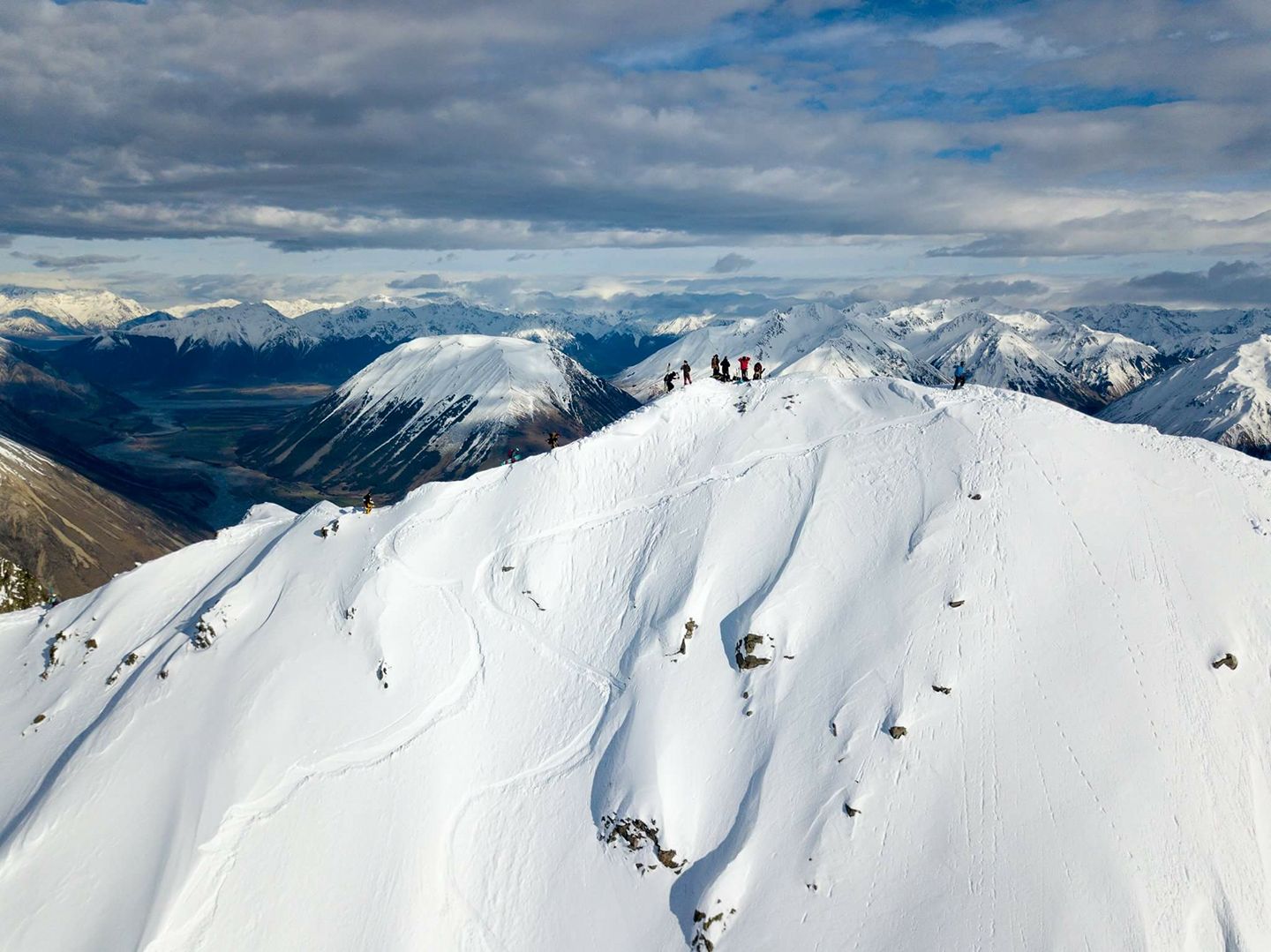 Mofo used to be a FWQ event, but is now just an epic event where anything goes, from blades to telemarks, all walks of snow enjoyment are allowed. Mofo is held in mid-September each year — if you're around the Canterbury region that time of year, go up and have some fun. Another unique quality of Olympus is its location. The elevation of the Olympus base is 1,430m (4,691 ft), with three rope tows accessing a vertical of 450m (1,476 ft), to 1,880m (6,167 ft). The highest peak of Olympus itself is 2,096 m (6,876 ft) with a hike-accessed drop of 1,050m (3,444 ft), altogether offering access to some of the most magnificent natural terrain NZ has to offer. 
Ranging from carved-out lips to bowls and chutes, the fun is never-ending at Olympus. The south-facing aspect in which Olympus is situated boasts an annual snowfall of 4.5m (14 ft), one of the largest annual and consistent amounts across NZ. Craig Murray, an NZ free-rider who has competed on the Freeride World Tour ('FWT') circuit for many years, and skied all across the world, left a special testimonial on the Mt Olympus website. 
"Mt O is a ski field like no other, the club has done an amazing job retaining the vibe over the years."
Sebastian Varlet, a French free-rider who has competed on the FWQ circuit for many years, also left a notable comment: 
"From backcountry spines to perfect lips, this place has all to offer. The lodge and some challenging rope tow (as lifts) for Euro skiers will complete this nice Kiwi experience."
Olympus, like other club fields, includes accommodation in their lodge, making it a ski-in ski-out destination with a hot tub and bar for much-needed après-ski relaxation. Aside from the inbounds fun to be had, Olympus is connected to many ridgelines and peaks across the Southern Alps, which creates endless fun if you have your avalanche training and a pair of skins ready for use. One of these very peaks is Mt Cheeseman, which is the third field on SH 73. 
Cheeseman, known as 'Cockayne' due to being located on Mt Cockayne, is 45 km (27 miles) east of Arthurs Pass. It was founded in 1929 and named after the botanist 'Thomas Cheeseman' who was curator of the Auckland Museum for many years. Cheeseman, like Porters, offers a bit of everything for everyone, being both a family-orientated hill with a beginner area and groomed runs, to a paradise for backcountry fans with many sophisticated backcountry lines. The highest lift accessed elevation point is 1,874m (6,148 ft). The hill annually hosts the Primary and Intermediate schools ski race event, bringing kids from all over the South Island together to compete. The hill has two lodges for accommodation, one catered for and one un-catered. Aside from the patrolled ski area, Cheeseman opens up to the Southern Alps. 
From Cheeseman, you can walk to Mt Olympus to the south or venture north to Broken River or Craigieburn. To Olympus and back is roughly three hours each way, and one is advised to stay at one of the lodges if you wish to get some laps in. To Broken River from Cheeseman is just under two hours, to get to Craigieburn, you hike up to the summit of Mt Hamilton (about half an hour more roughly) and ski down. There are many alternatives along the Craigieburn range if bad weather rolls in, but it is also advisable to check the weather and make a plan before going out.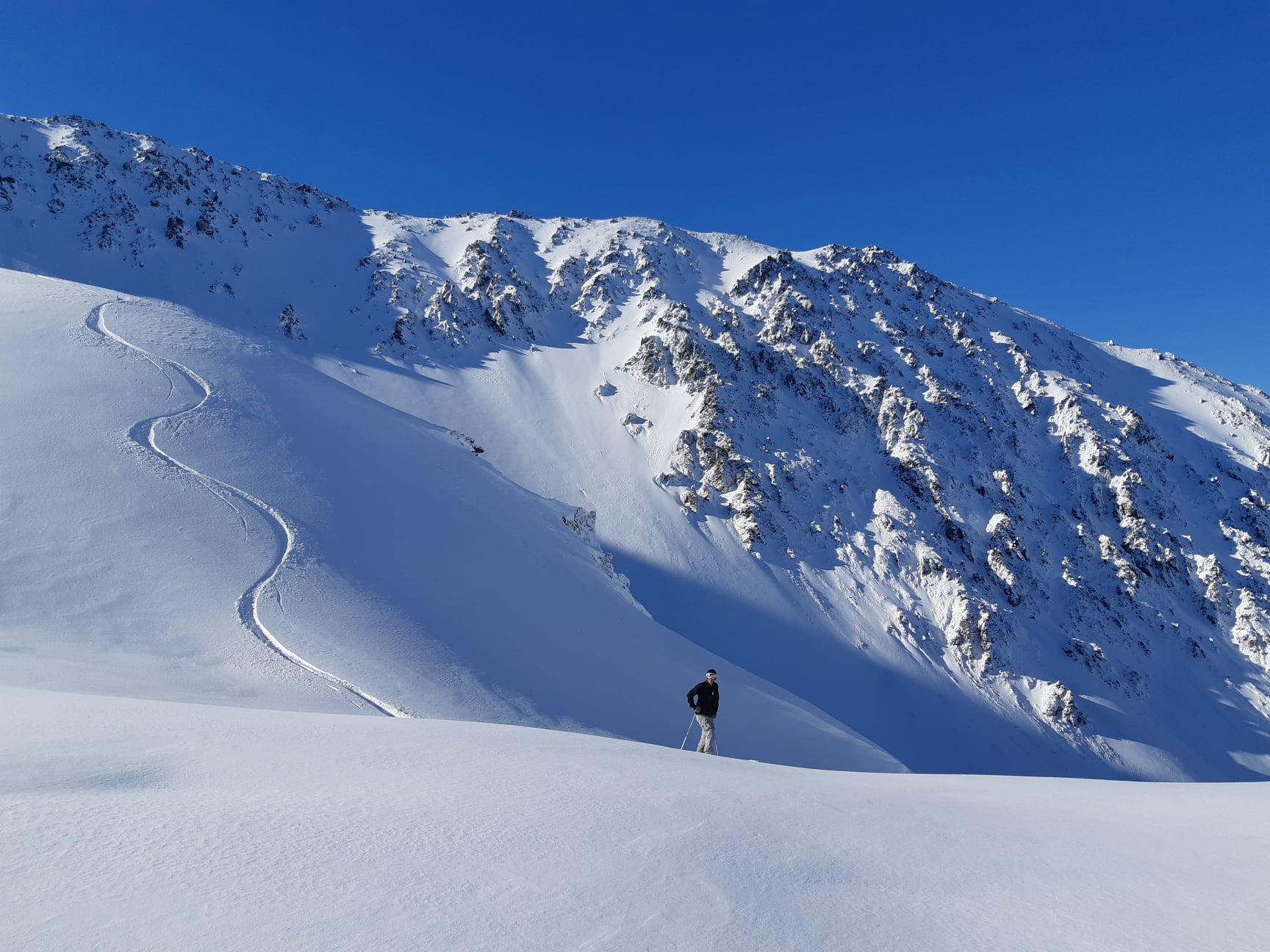 Just 112 km (62 miles) west of Christchurch and just under an hour from Cheeseman lies the Broken River Ski area. Broken River was established in 1950, it is well known for snow accumulation due to its sheltered location. Broken River claims to be 'Tranquil Backcountry' with no grooming and five rope tows to access the epic terrain. The highest lift accessed elevation point is 1,820m (5,971 ft). Due to being an inbounds backcountry ski field, Broken River offers avalanche training to new timers and off-piste instruction to those who aren't as confident yet. They also offer telemark instruction and night skiing if you miss a powder day. 
To get from the carpark to the base, the 'Tyndall Tram' runs daily and only takes four minutes through the beautiful trees surrounding the lower part of the mountain. Once you're at the base, you can find accommodation that has two options, catered or not, depending on your travel budget. If you are only day tripping, there is a day-lodge located on the slopes with a barbecue, hot food, and a bar available for some downtime in the sun post-laps. If you wish to get amongst the endless slopes surrounding Broken River, there are many touring options available. 
One of the many touring options available is the next stop on SH 73, Craigieburn Ski Area. Craigieburn is a 90-minute drive from Christchurch, 43 km (26 miles) east of Arthur's Pass. Craigieburn was formed only four years after Broken River (1954), and Temple Basin is a non-profit club. Volunteers run the field, and all proceedings go into maintaining the field. Due to this, there aren't many infrastructure resources, such as ski hire, grooming, or terrain for lower-level skiers (it is recommended that you can get down blue runs or higher). Like Broken River, it is considered inbounds backcountry and variable terrain.  The infamous 600m (1,968 ft) descent run on 'Middle Basin',  is compared to a heli-skiing experience by some.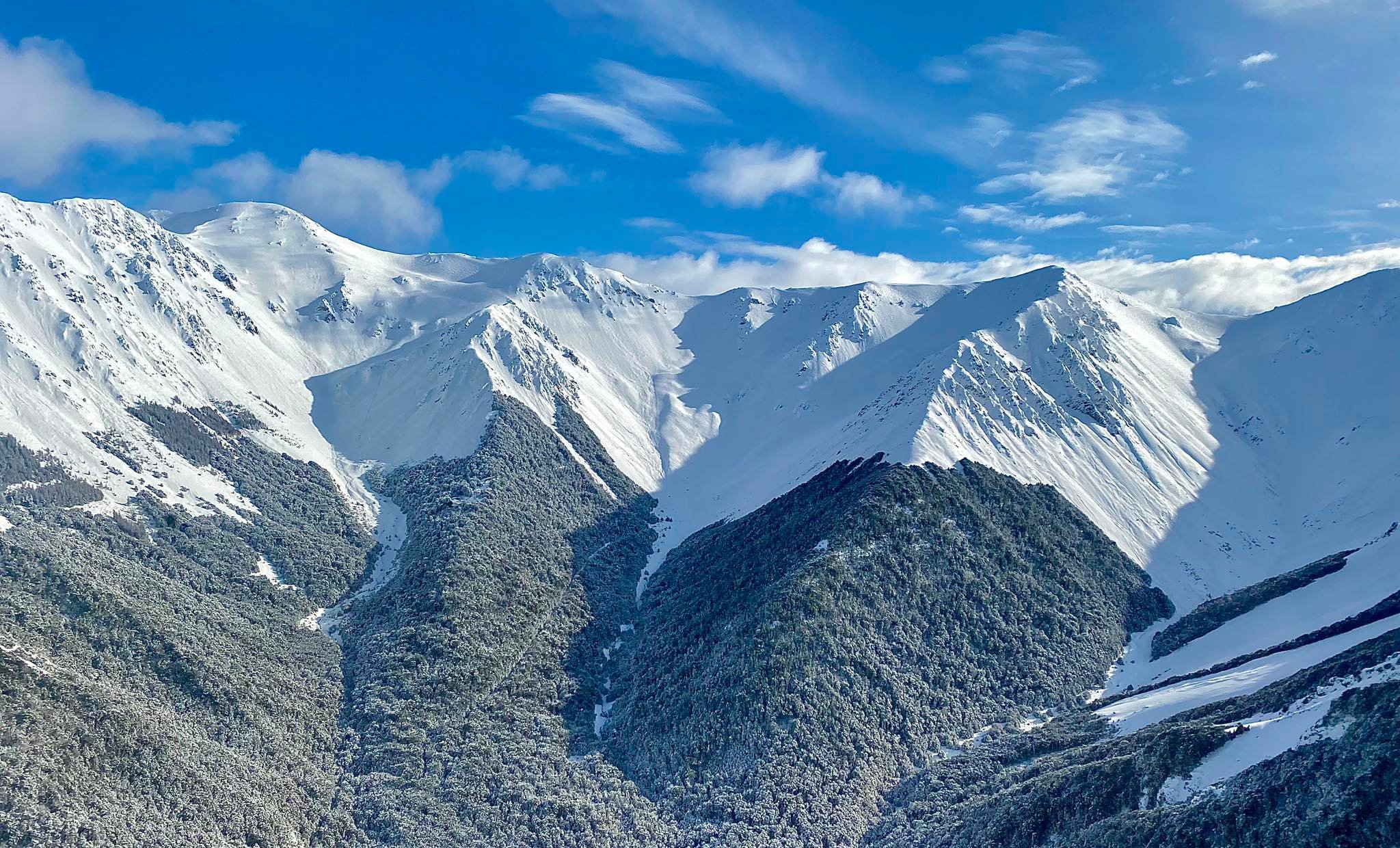 Craigieburn offers three rope tows which have a 500m (1,640 ft) vertical rise. The highest lift accessed elevation point is 1,922m (6,305 ft). At the ticket office, located at the bottom of the slopes, you can practice on a stationary rope tow, to get used to the technique. Aside from the lift-accessed terrain, there are many hiking routes if fresh tracks are desired. Some of these options are Castle Hill, North 'Middle Basin', or over to Broken River, all can be done in a day or an overnight mission. If accommodation is needed, like other club fields, Craigieburn has you covered.
Craigieburn has two lodges located below the treeline. Breakfast and dinner are both catered for with a bar. Lunch can be purchased in the day lodge (no cooking facilities). Unlike the five ski fields mentioned, Temple Basin is not linked to any of them by ridgelines, and sits on the opposite side of the valley towards Greymouth.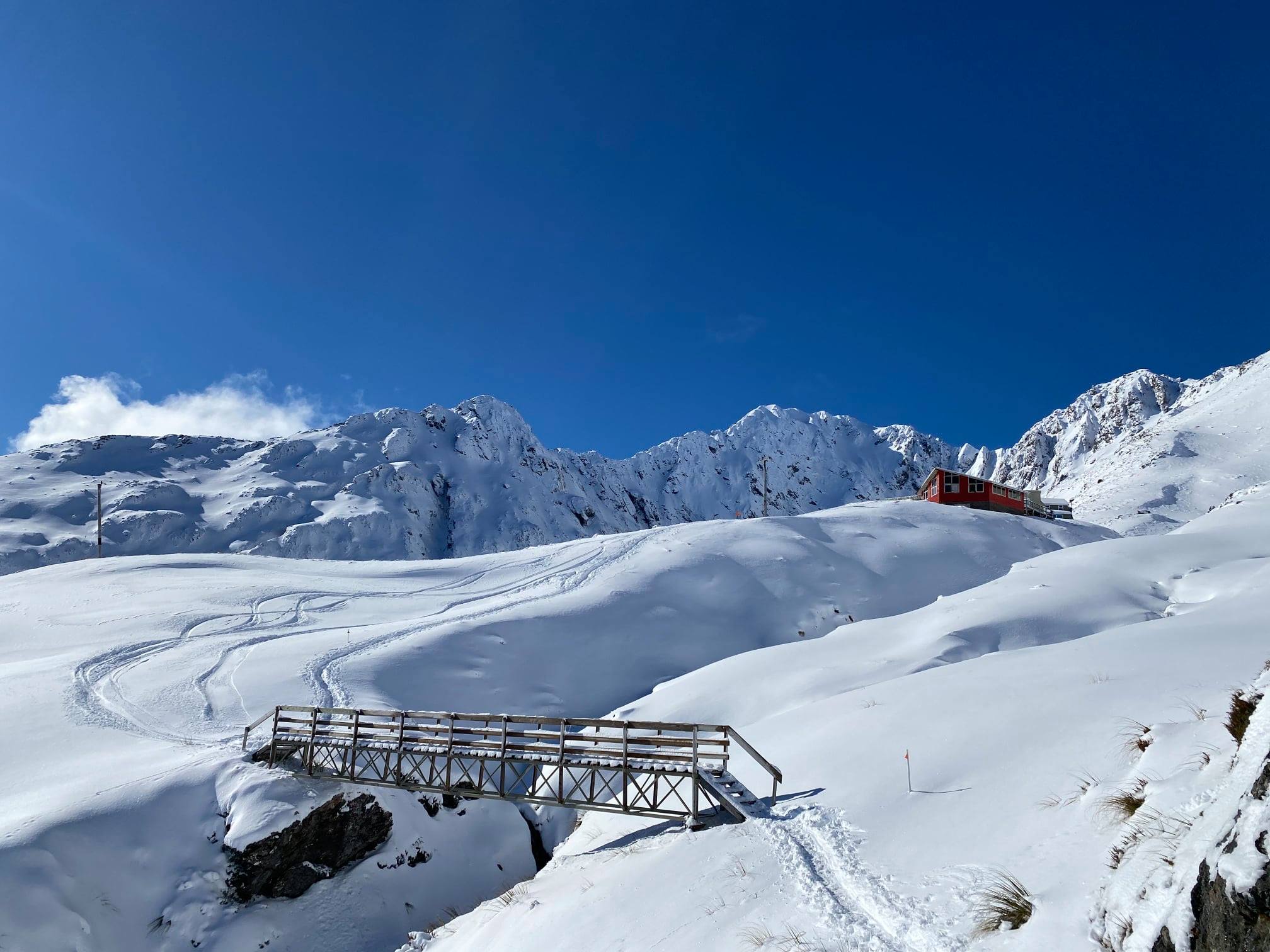 Temple Basin, the last stop on the magnificent 'Great Alpine Highway,' is just over two hours drive from Christchurch and 5 km (3 miles) north of Arthur's Pass Village. Temple Basin is one the oldest ski fields in New Zealand, being established in 1929. Temple Basin has many similarities with Craigieburn, such as being a non-profit ski area. Volunteers run the field, and all profits are fed back into the company for development and maintenance. Another similarity is, that the ski field is regarded as an 'inbound backcountry.' There is no grooming, so it is advised to be confident at skiing blue runs or higher before coming to Temple.
To access the terrain, there are four rope tows, with one located next to the lodge, making it a 'ski in ski out' accommodation. The highest lift accessed elevation point is 1,753m (5,751 ft). The lodge offers everything you need, including a full-time chef and bar. There is a 'Goods lift' from the carpark to the field, to pop your gear in, while you enjoy a beautiful 40-minute hike to the base. 
Temple Basin is also the home to the New Zealand Snow Safety Institute (NZSSI). They offer many courses, ranging from backcountry skiing and riding instruction and avalanche awareness to general alpine skills, climbing, and mountaineering. The goal is to make it as affordable as possible so people do not feel limited to get the education they need for such adventures in the Southern Alps or overseas.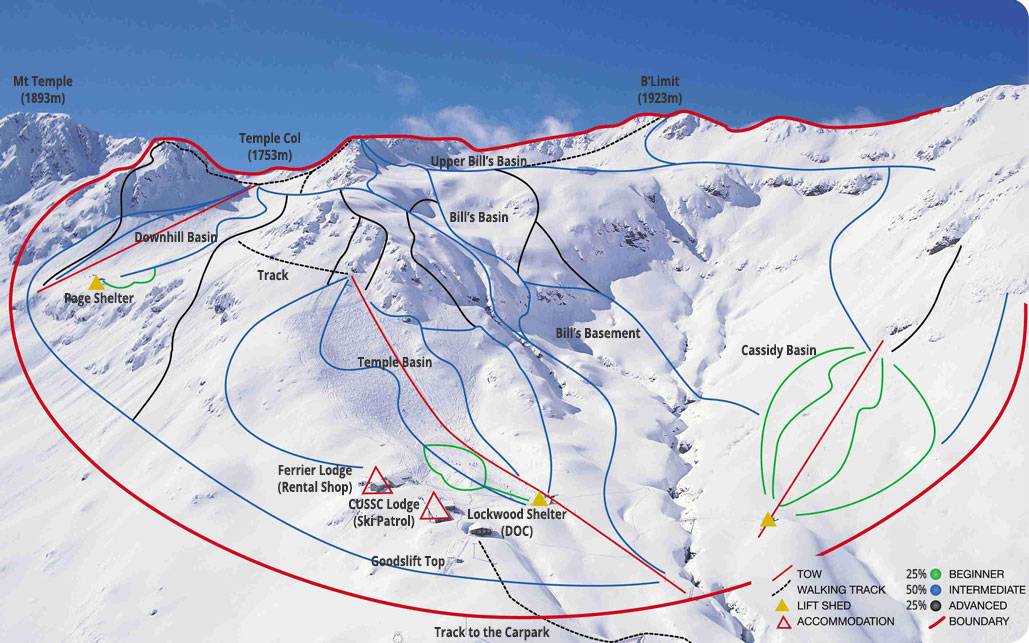 Anywhere along the 'Great Alpine Highway' you can turn into a day of fun. There is alternative accommodation all the way throughout. If you don't fancy bunking in a dormitory, you can find details about these on Arthurspass.com. Aside from these ski fields, there is unlimited terrain across the mountains surrounding them. All that's needed is some backcountry skills, the right gear, and a willing attitude to make it possible. 
Statistics
Porters Ski Area:
Elevation: 1,980m (6,496 ft)
Lift Access: One beginner carpet, two chairlifts, three T-bars
Location: 89 km (55 miles) from Christchurch
Mt Olympus:
Elevation: 2,096m (6,876 ft)
Lift Access: Three rope tows
Location: 132 km (82 miles) from Christchurch
Mt Cheeseman:
Elevation: 1,874m (6,148 ft)
Lift Access: One rope tow, two T-bars
Location: 111 km (68 miles) from Christchurch
Broken River Ski Area:
Elevation: 1,820m (5,971 ft)
Lift Access: Five rope tows
Location: 112 km from (69 miles) Christchurch
Craigieburn Ski Area:
Elevation: 1,922m (6,305 ft)
Lift Access: Three rope tows
Location: 113 km (70 miles) from Christchurch
Temple Basin:
Elevation: 1,753m (5,751 ft)
Lift Access: Four rope tows
Location: 153 km (95 miles) from Christchurch
Links/ Bibliography: