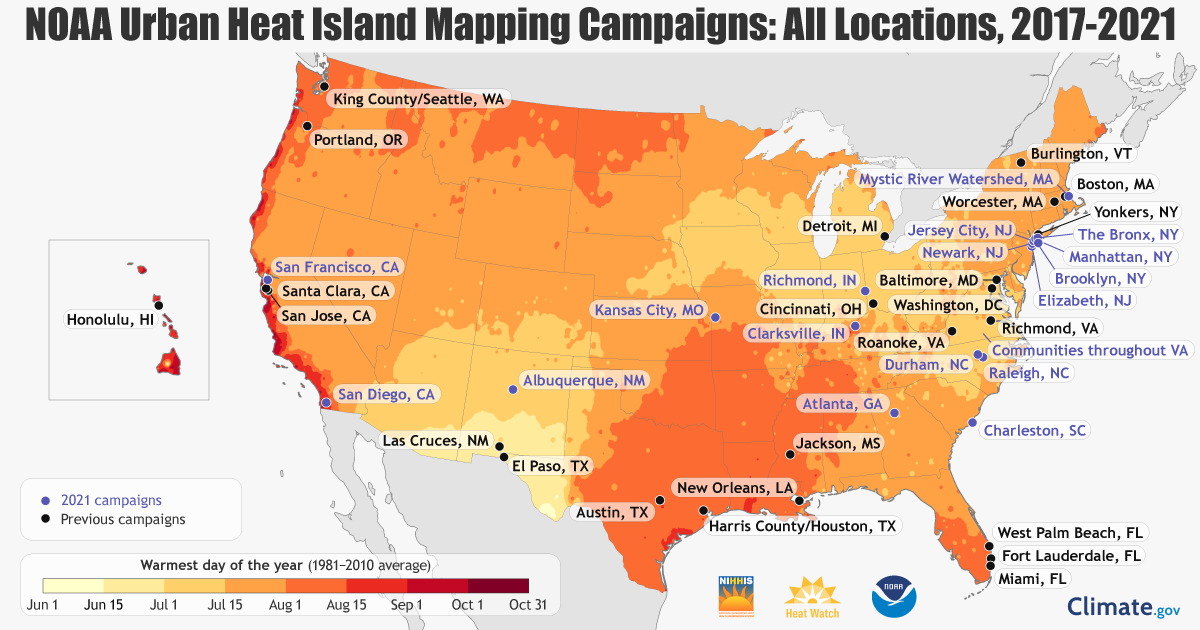 In summer 2021, the National Oceanic and Atmospheric Administration (NOAA) and partners will be mapping urban heat and heat inequities in cities in 11 states to help shed light on urban hot spots across the nation. 
NOAA wrote in a Facebook post detailing the project: 
"Cities are hot. And yet, even within the same city, some neighborhoods can be up to 20°F hotter than others! And due largely to the practice of historic redlining — discriminatory, race-based lending and housing policies in the 1930s — these hot spots are often home to poorer communities of color."
The project's goal is to learn where action is needed to protect vulnerable populations now and in the future. That's why NOAA's National Integrated Heat Health Information System (NIHHIS) and partners are launching new community-led campaigns that will map the hottest parts of cities in 11 states across the country this summer. The communities include:
Albuquerque, New Mexico
Atlanta, Georgia
New York City, New York
Charleston, South Carolina
Kansas City, Missouri
Raleigh & Durham, North Carolina
San Diego, California
San Francisco, California
And parts of New Jersey, Indiana, Massachusetts, and Virginia.
"Our Nation faces a growing climate crisis that has exacerbated inequities, particularly for the low-income and communities of color," said U.S. Secretary of Commerce Gina M. Raimondo. "The Biden-Harris Administration is ready to take swift action to tackle climate change, and we at the Department of Commerce are so pleased to be partnering with communities around the country toward equitable climate resilience by working with them to design safer, more livable, and healthier cities."  – NOAA
To learn more, read the article by NOAA outlining this project HERE.