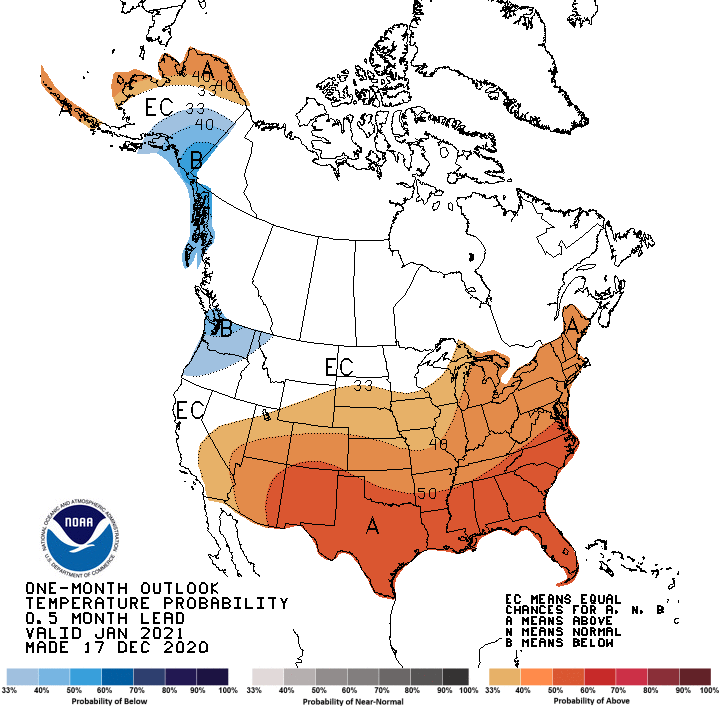 The NOAA this morning issued their outlook for January 2021. Like previous months, January is expected to be warmer than normal across most of the nation. Only the Pacific Northwest is forecast for below-average temperatures.
In the precipitation outlook, the south is favored to see drier than normal conditions. Above normal precipitation is forecast for the Northwest, Great Lakes, and Ohio Valley.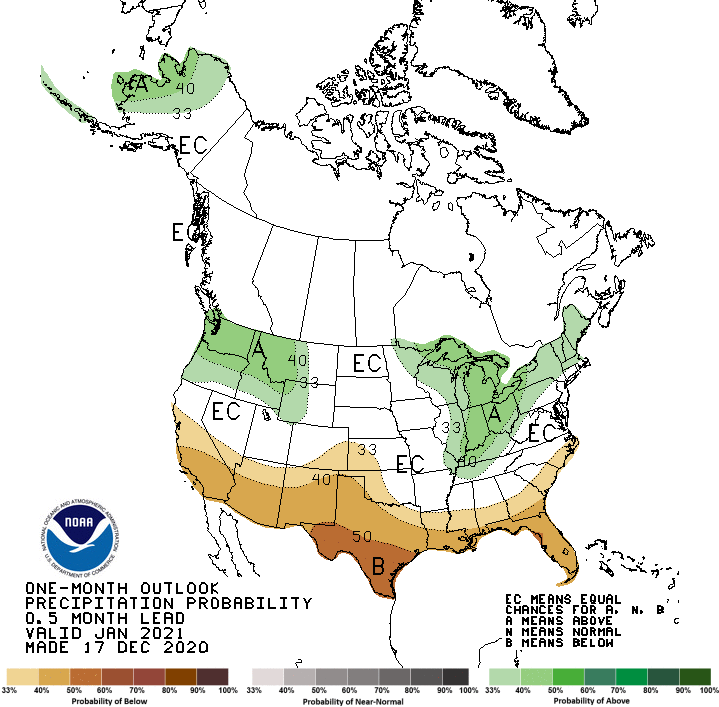 See the full discussion below:
The outlook for January 2021 is based on a number of factors. The first is the footprint of the ongoing La Nina as determined from composites.  La Nina is likely to continue through winter 2021 before potentially transitioning in spring. Most La Nina composites and correlations are run on a seasonal basis, so signals in those tools will have a portion of signal in January.
Other factors considered are current and likely land surface conditions with respect to snow cover and frost depth, the predicted state of intraseasonal oscillations in the tropics, and model guidance from the NMME suite and constituent models.  The MJO is not forecast to be a significant contributor to the variability in January as mature La Ninas can inhibit the eastward propagation of MJO related winds of the Pacific Ocean. Snowpack and frost depth are below normal across much of the northern plains but are likely to end the month above normal in the Northeast (if the latest short-term outlooks verify well).
Model guidance from the NMME suite favors broadly above normal temperatures from the Rockies eastward, with little to no shift in temperatures favored for the Pacific northwest and much of California.  Below normal temperatures are favored for much of Alaska in many of the model tools, though there are weak signals for above normal temperatures along the west coast of Alaska and for the Aleutians. The outlook for January temperatures largely reflects the model guidance, but with some modifications. The odds for below normal temperatures in the Pacific Northwest are higher than model guidance, attributed the likely impact of La Nina. Odds for above normal temperatures are slightly lower than model guidance over the Northern Plains, as that area has high variance and La Nina composites and trends would favor below normal temperatures. However, below normal snowpack and shallow frost depths, aligned with predicted above normal temperatures in the next two weeks would favor above normal temperatures in this region.  The upcoming major snowstorm for the northeast may set down a blanketing and lasting snowpack, a factor in moderating the odds for above normal temperatures through the Northeast.
The precipitation outlook is also largely model based, with some minor modifications to reflect the likely impact of La Nina during the month. The biggest areas of uncertainty in the precipitation outlook are over Northern California, the Northern Plains, and the Alaska Panhandle. Over California, EC is indicated, but some tools have above normal precipitation while others have below normal as far north as Eureka and Tahoe. The uncertainty for the Northern Plains is present in the model solutions and La Nina composites, though La Nina would have a slight tilt toward above normal precipitation on the seasonal time period for Dec-Jan-Feb, that signal isn't strong so it's not coming through on the monthly outlook. La Ninas are correlated with ridging over the eastern North Pacific, but if the eastern edge of the ridge is slightly further west or north, storms may not be steered into the Alaska Panhandle. Composites favor below normal precipitation on the seasonal time periods but model solutions have only a weak signal from the Kenai Peninsula to the very northern portions of the Alaska Panhandle, with more storms pushing into western Alaska