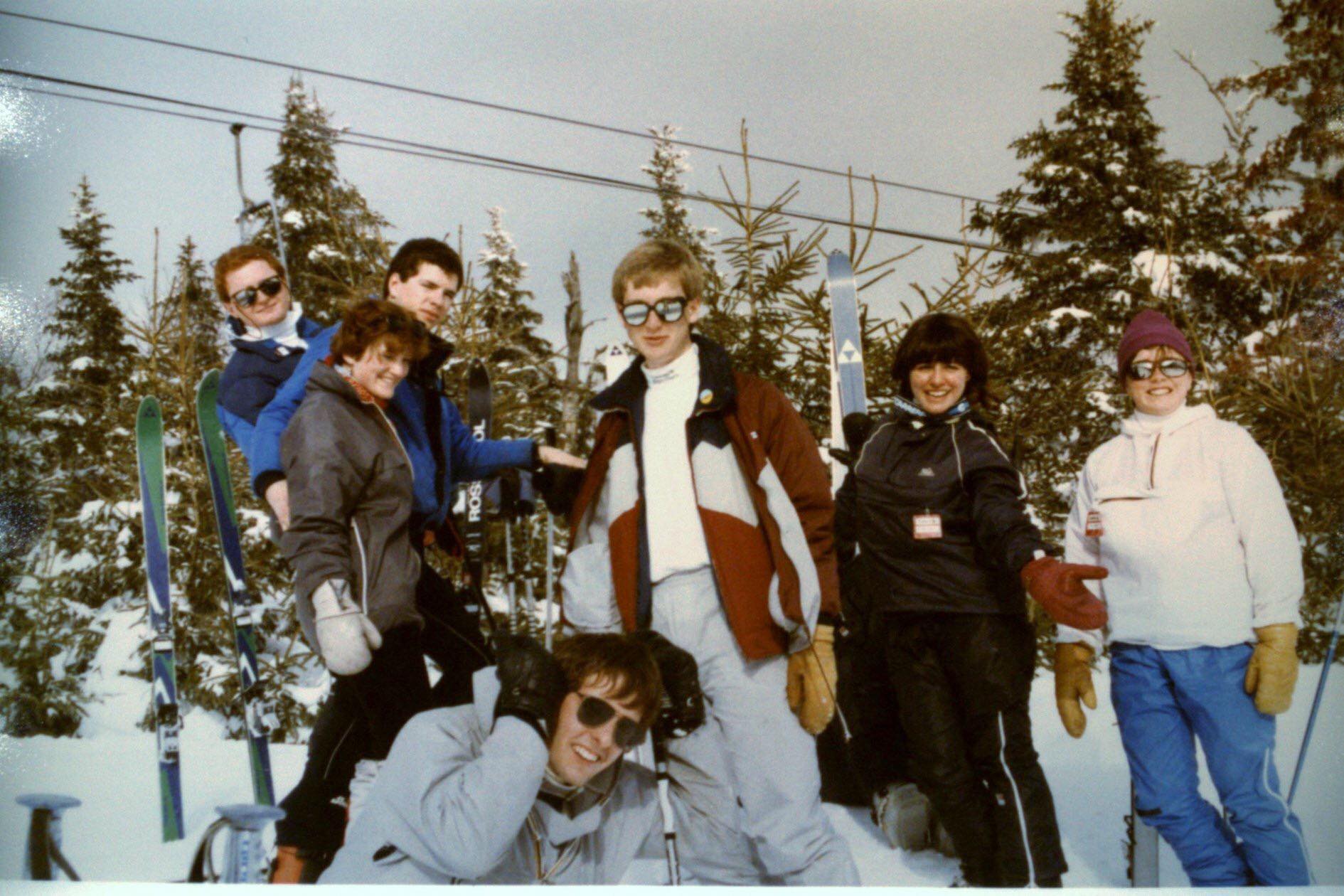 We've heard it a thousand times, and are reminded of it every day, but right now, times are extremely tough. Covid-19 has brought its struggles for everyone and every community worldwide. For the snow community, our resort season was cut unusually short. Spring skiing/boarding is a time of the season that all SnowBrainers look forward to. March and April offer warm weather, good vibes, and great aprés-ski parties. However, the best part of Spring skiing is looking back and celebrating another great season of doing what you love, the amazing moments and turns that came along with it and looking forward to the next.
Even though a lot of us are not skiing/boarding as long as we would have liked this season, we wanted to hold on to that appreciative spirit, keeping in mind that there will always be mountains to ski, and plenty of more opportunities to ski them. 
So, we asked the SnowBrains community to look back on past seasons through their camera rolls and post their best ski/snow related photos. From there, we picked some of our favorites and asked the author for the story behind it that epic day. Some go back just a couple of seasons, others go back 80 years!
So put on a beanie, grab a cup of coffee (or beer, there are no rules in quarantine), and smile at the amazing times our mountains have brought us, and look forward to many more.
Kayla Smartz: Dawn Patrol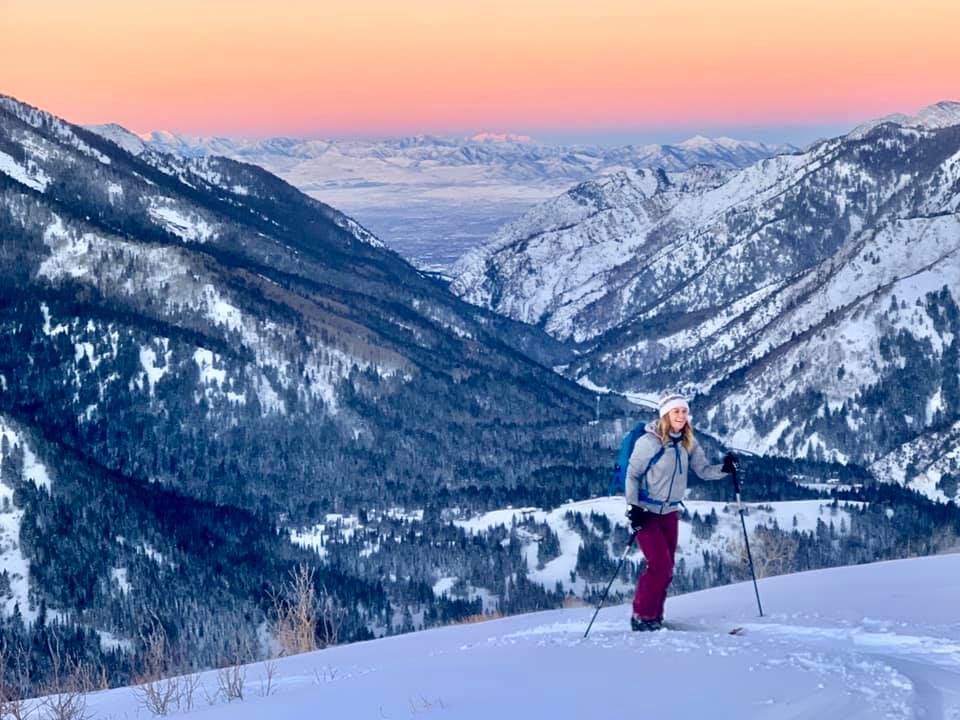 "I parked at the trailhead outside of Salt Lake City, Utah at 5:50 am on December 13th to meet my friend, Everest, to backcountry ski before work. It was a bitter 3 degrees outside and all I could see outside was pitch-black darkness. I put my boots on inside of my truck and hit the trail. After an hour and a half of skinning uphill with our headlamps and frozen faces, we reached the summit of my favorite dawn patrol peak at 7:35 am. I looked behind me and the sunrise absolutely took my (frozen) breath away. It was so pink, so orange, I took just stood there and took it all in. Big Cottonwood Canyon looked so perfect. Honestly, I don't remember a thing about how the snow was on the ride down, but that sunrise will forever be embedded in my mind. I made it into work by 9:00 am feeling physically dirty but so mentally refreshed. It's a good reminder that it's not always about the potential untouched powder on the way down"
Don Smith: Ski Genes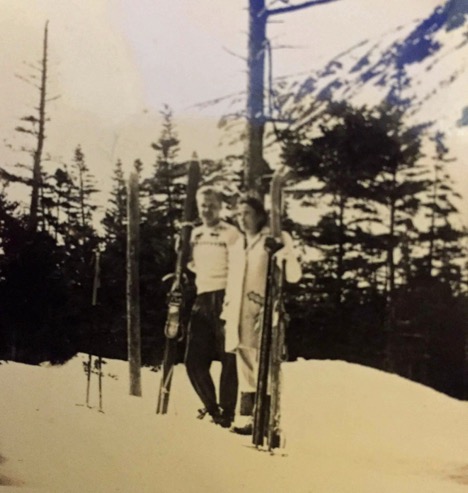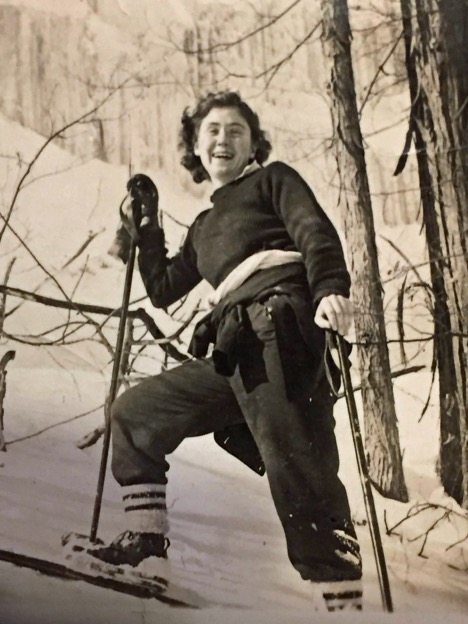 "My parents, Vic and Gracie Smith were some of the pioneers of downhill skiing in the Northeast, before base lodges and chair lifts. They spent many weekends prior to WW II climbing Gore Mountain in the Adirondacks on skins to ski down the old logging roads. They skied most of the classic New England ski areas, including Tuckerman Ravine. They had a love for skiing and love for each other, which led them to elope and were married at Wildcat Mountain in New Hampshire. Their skiing was interrupted for a few years during the war, but after the war, they passed along ski genes to three kids who they started skiing at a young age. Gracie established a learn to ski program for kids in their community where hundreds of families joined the growing sport in the Northeast. Vic continued skiing well into his 70's with two artificial knees. I still ski at Mt Rose Ski Tahoe and hope to be able to continue being able to Slide on the Snow into my 80's. My 16-year-old Grandson is real proud of his ski genes, and works at Mt Snow in Vermont, doing front and backflips."
Zac Davis: Keystone Standard Basin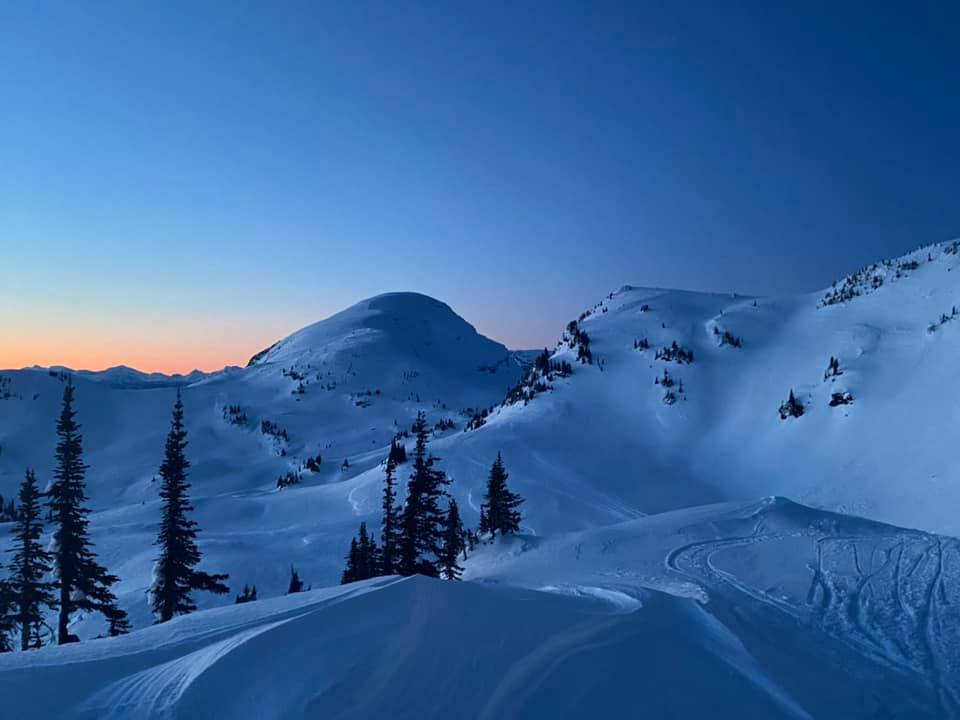 "Keystone Standard Basin is a little north of Revelstoke BC. This was the view of our exit at the end of our day. It was day three of a level 2 avalanche safety training with instructor Jeremy Hanke. The lighting was surreal. Sunsets in British Columbia from the top of a mountain are one of a kind. I feel very fortunate to have witnessed several beautiful day end views and look forward to many more."
Susan Harsell: Bryce Resort Pond Skimming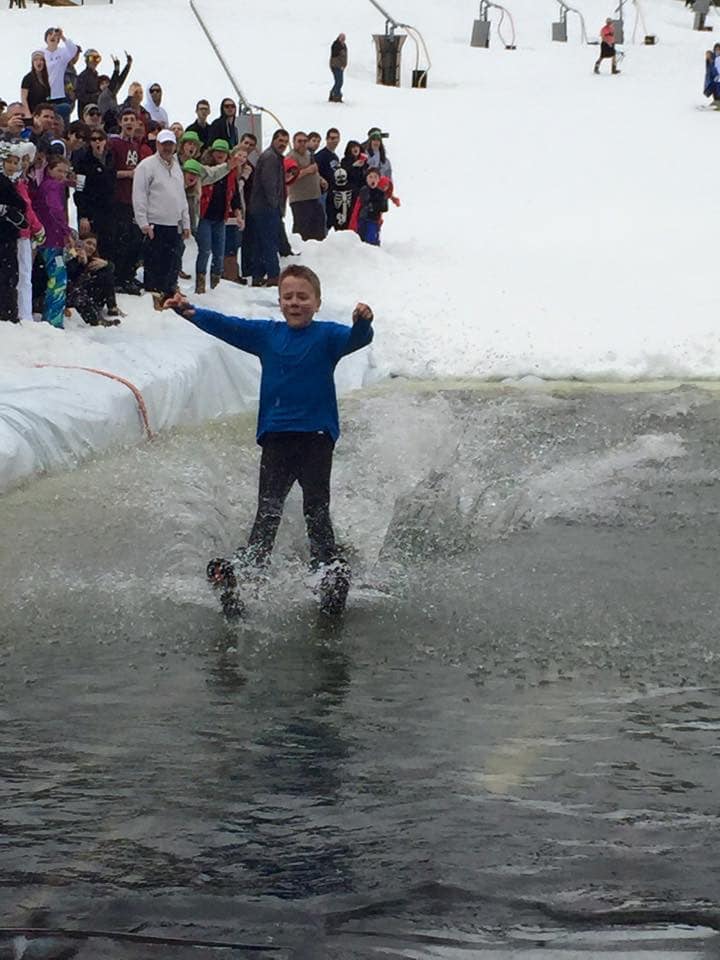 "We are members and season's pass holders at Bryce Resort, in Basye VA. It is a small little resort about 2 hours from Washington DC. Very family-oriented… everyone knows everyone. At the end of the season, we always have Winterfest with lots of food and festivities, and pond skimming for anyone brave enough. My son, Nicholas was 11 when he pond skimmed for the first time at this event. At first, he was a bit nervous, since he knew how cold the water was. He was up at the top waiting for his turn, talking to another kid who'd done it before who was giving him pointers, such as "make sure you lean BACK". When it was his turn he came down like a pro and nailed it. He made it all the way across and was SO proud of himself. Especially considering he weighed probably a whopping 80 pounds!"
Andrew Sills: Retro '84 Senior Year trip to Mount Saint Anne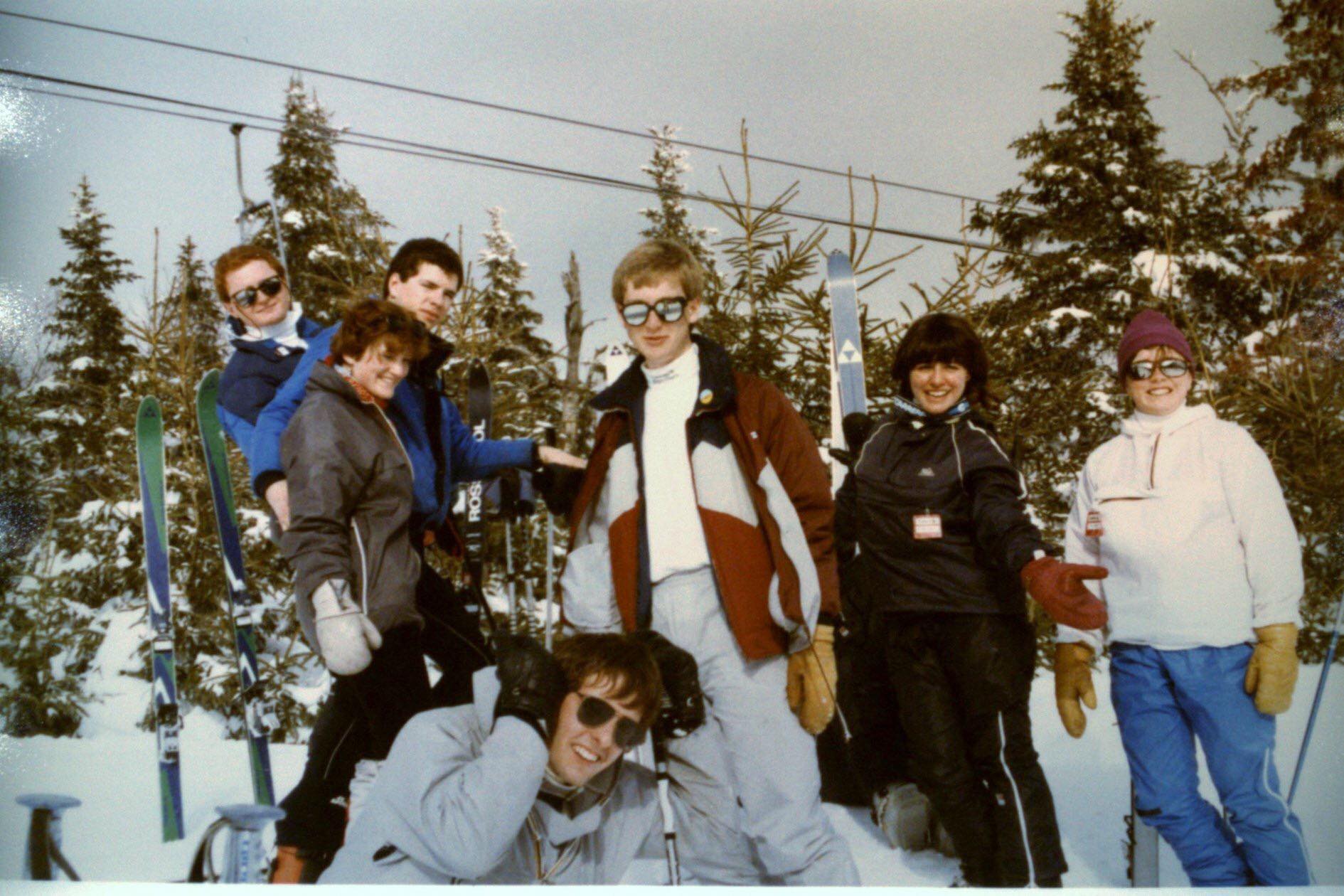 "I'm the one in the front, sunglasses and grey jacket. My girlfriend was the redhead behind me on my left. This was in 1985 during a High School Senior Year trip to Quebec City to Ski Mount Saint Anne, and ski and party as much as possible since the legal age is 18 there. We stayed at the Auberge du Governors. So much happened, unchaperoned teenagers in Quebec. We booked through Breakaway Ski Tours and it was Jell-O shots on the way there from Ontario on the bus, aprés-ski every night, and getting on the slopes at Saint Anne every day. It really is an eastern Canadian skiers right of passage, senior year with your best friends in Quebec at spring break."
Aaron Loewen: Annual Naked Ski Near Beartooth Basin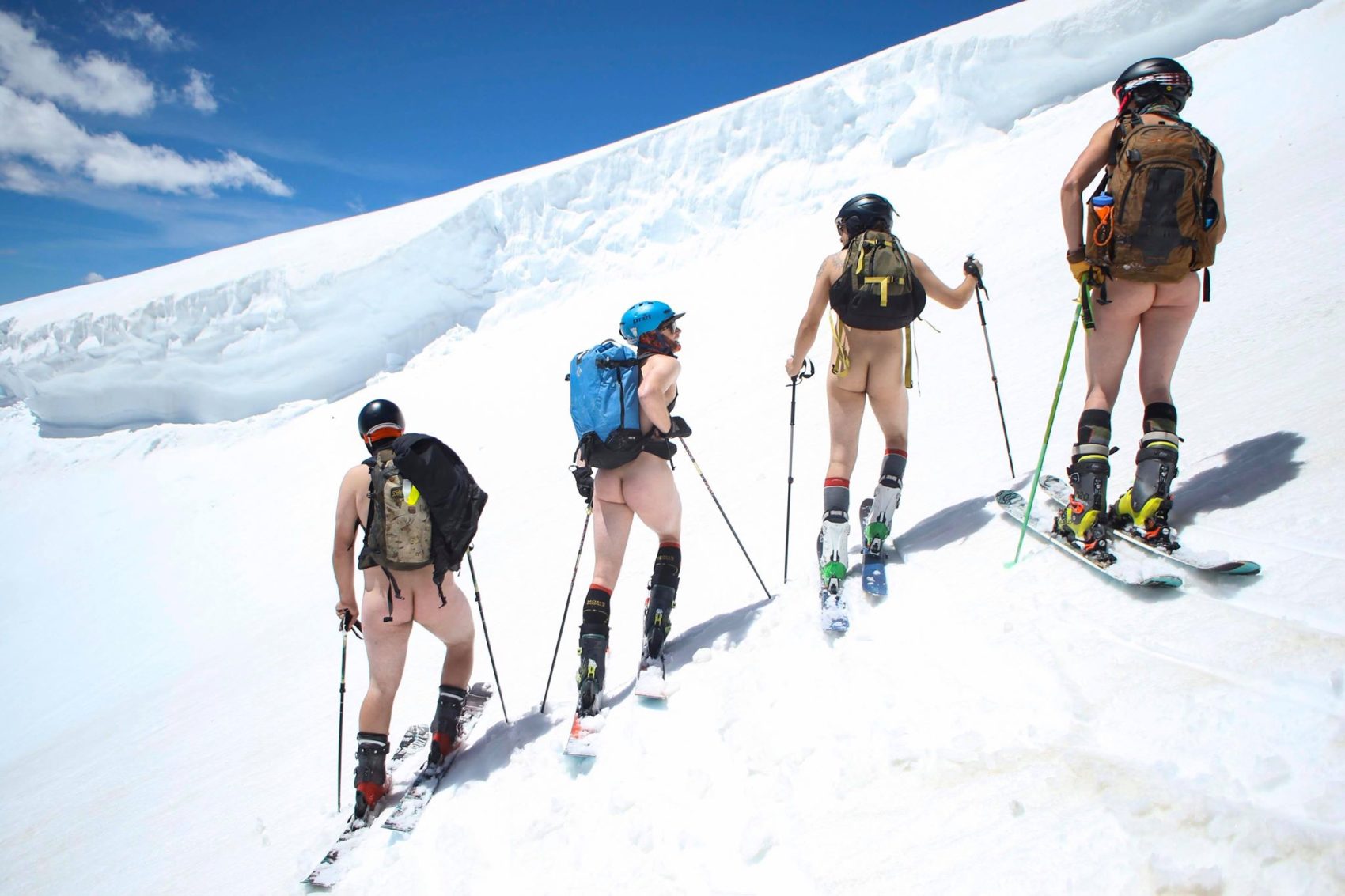 "My buddy, "Gaddy man," standing in the middle of the photo, is the brain of this operation. He started this big Facebook group called "Naked Ski Day" with like 80 local skiers and snowboarders. I had no idea what to expect that day. So I and my friend Shannon jumped in the car at 11 AM and started up the pass. When we got to the pull-off it was just Gaddy's car loaded with some of my other buddies. We hung out making mix drinks and getting our gear ready. Then, we walked over to the cornice, ripped off our clothes, and had lots of laughs. Shannon told us we needed to pose for a quick picture, took the photo, and then we went skiing down Big Face, down towards Christmas Lake. The feeling of wind in the butt crack definitely makes it feel like your skiing faster. We hung out at the bottom taking more naked photos and trying to tan. After a long winter in "Red Lodge" we were all really white. Then, we skinned out of the headwall and back to the car, all while going through a bottle of sunscreen. I love those days on top of the pass at 65 degrees."
Seth Frank: "Points North Heli bonfire nights"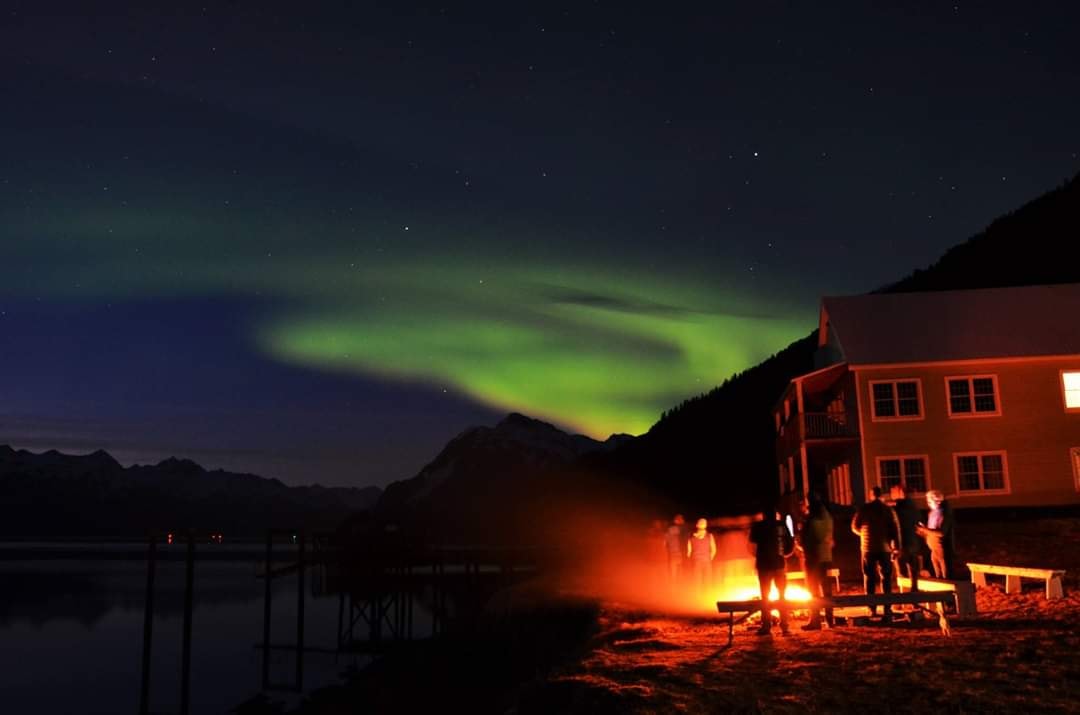 "I worked for Points North Heli Adventures for 4 years as a chef. We got our time skiing but my favorite memories of my time there were the guests. It was like every week I got 50 new friends to hang out with. Strangers from all over the world would suddenly become lifelong friends. This shot was from 2017 during our last week of operation. The sunsets last for hours and the spring weather starts to return to Alaska. I was fortunate enough to capture not only the natural beauty of an Alaskan aurora but also the camaraderie of our snowsport community. There's nothing like bonfires, whiskey, and the northern lights."
We're all in this together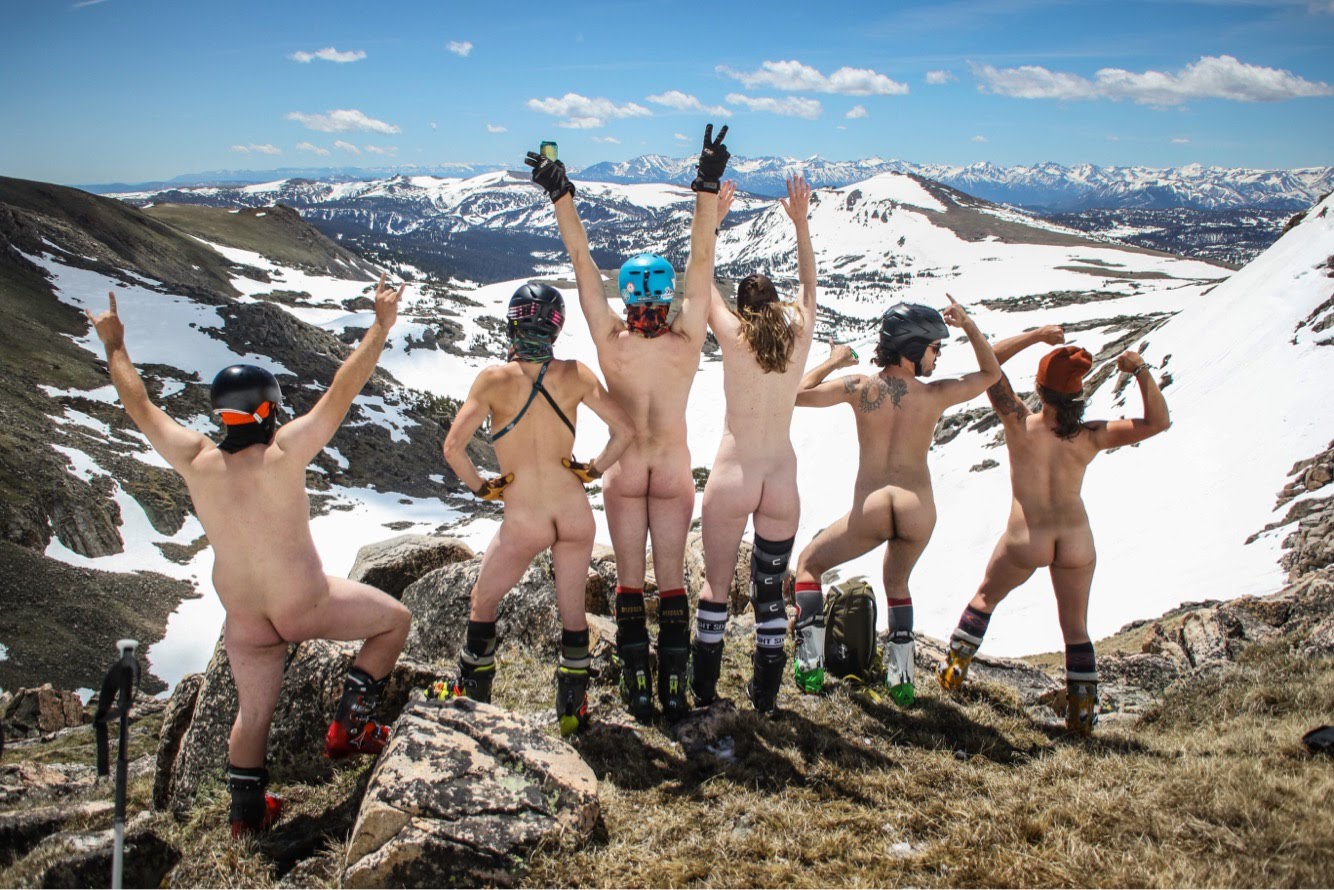 Hopefully, these stories reminded you of your very own favorite days and seasons, and get you inspired for the many more to come. We are all one big mountain-loving family, and will be skiing together again soon <3