Report from January 12th, 2019
What a day spent in the Revelstoke, BC Backcountry exploring our vast backyard!
Splitboarder-extraordinaire Laurent, legendary photographer Phil and I went out on a quest to find steep couloirs, deep powder and good times.
To our benefit, the forecast held true and the weather was near perfect. The sun was filtering through a thin veil of clouds. Temperatures were hovering around the -5C mark. Our jackets were gently fluttering in the light winter breeze.
The snow on lee aspects was untouched and powdery. However, the southern and western slopes, where all of our uptrack would be, were wind-battered with large overhanging cornices at their apex, begging for a catastrophic break.
Starting at 9:00 AM, we approached Goat Peak through our usual traverse beginning south of the Stoke Chair's top station. We then scrutinized a mighty couloir, scanning the rocky face for potential cornices as well as avalanche dangers.
Laurent's eagle eyes spotted several avalanche debris in the shadowy bowl below. It was a matter of seconds before we followed the teardrop-shaped field to several slab fractures along the face, signs of a dangerous snowpack. This chute was a definite no-go.
With hopes that the next row of couloirs would present acceptable conditions, we summited Goat Peak for a better view. Dazed by the jaw-dropping scenery that unfolded before our eyes, we took a long break at the top. In the distance, we saw a steep face scarred by two magnificent couloirs. Our planned objective.
We noticed more signs of avalanche activity. Not surprising considering the couloirs were facing the same direction as the previous one. It was best to avoid northwest aspects for now. We changed our plans yet again.
Such is the nature of backcountry skiing in hazardous terrain.
We hopped off the peak, popping off wind lips on our way down, hooting and hollering until we ran out of breath. The wind-compacted snow provided a solid platform for super-G turns down the wide-open bowl, a long trail of sun-baked snow puffing up in our wake.
Satisfied by our first lap, we completed the 30-minute tour up Montana Peak, then skied its sunny south aspect. The snow was getting heavy, making our turns awkward at best, but Laurent skillfully handled his descent through a crescent of skinny trees.
Once at the base of the bowl, we accessed the far reaches of the seldom-traveled Kokanee North Bowl. We tip-toed up its east ridge. Laurent and I watched anxiously as Phil trailblazed up the wind-loaded north face, passing above tight trees and hair-raising cliffs.
Ghost Peak was standing tall behind us the whole way up. Snow was blowing off its summit. What a sight!
After reaching Kokanee Peak, Laurent and I dropped along the southwest ridge to our chosen line. In the meantime, Phil got in position for the shot.
As I entered the gully, my gut told me something was wrong, but I couldn't quite put my finger on it. As a precaution, I ski-cut the top of the funnel attempting to wash off the slough. My instincts were right.
A 20cm slab released just above my tracks. To my relief, I manage to traverse out of the ensuing size 1.5 avalanche, unscathed.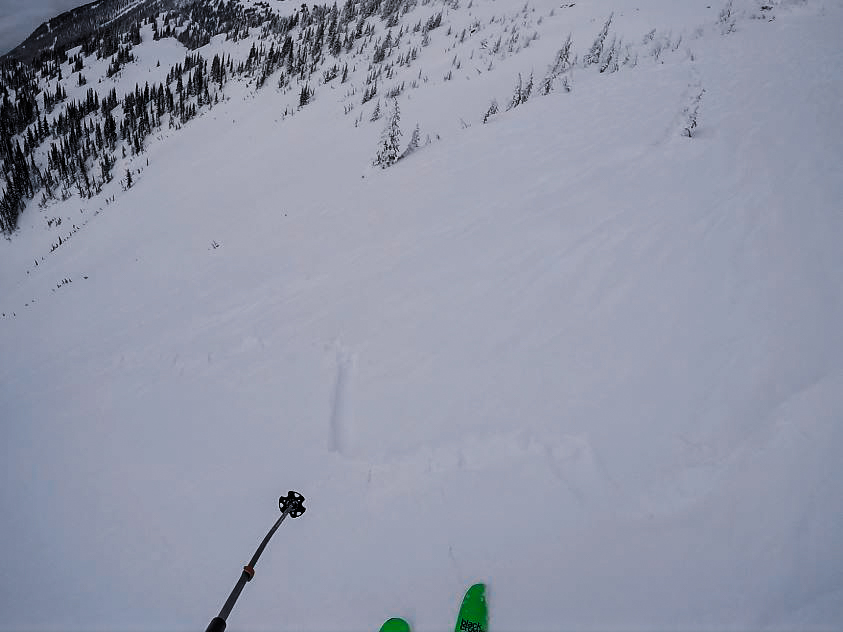 Looking up, I could see a 15m wide slab fracture, crowning the Kokanee Valley. Glad we avoided the couloirs that day!
Laurent wasn't quite exhausted from our tiring day exploring the Selkirks. He launched off a small cornice into the valley below, sneaking in a little grab.
After five touring transitions, four runs, 9km of touring and 1000m of elevation gain, we got back to our car at 4:00 PM. The sun was drifting behind the Monashee range.
A fitting end to our exciting stroll through the mountains.
SNOW NUMBERS
SNOW FORECAST
AVALANCHE FORECAST
PHOTOS