In just a few days the 3rd stop of the Freeride World Tour (FWT) will begin in Fieberbrunn, Austria between February 22nd-28th. It has been 20 days since the last competition in Kicking Horse, BC. If you missed the event check out the results and recap at Kicking Horse Results
The Fieberbrunn FWT stop is staged on the legendary face of the Wildseeloder, adjacent to the Fieberbrunn Ski Area. With a technical style variety of high alpine exposure and big features, the face always makes for dramatic big mountain skiing. After a large snow year in the Alps, the face should be in good condition.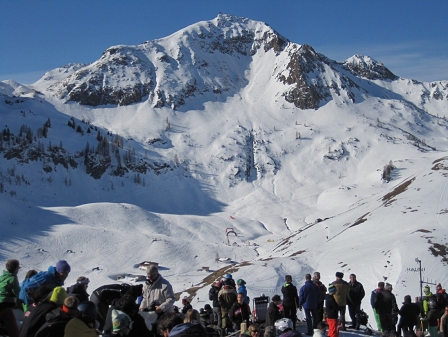 Although the Wildseeloder has been an FWT venue for several years, competitors always find new and creative lines. Last year's highlight was Mickael Bimboes transfer over the canyon in the middle of the face. With the potential for massive airs as well as creative hits and transfers, the face is the ideal canvas for a big mountain competition. As usual, competitors will be judged on their fluidity, control, jumps, technique, and the difficulty of their line (more information at FWT-about-judging).
Riders to keep an eye on at Fieberbrunn 2019:
Ski Men:  
Markus Eder (FWT18 2nd)
Tanner Hall (Wildcard)
Craig Murray (Kicking Horse 2019 Winner)
Reine Barkered (FWT17 2nd)
Kristofer Turdell (FWT18 Winner)
Ski Women: 
Arianna Tricomi (FWT18 Winner)
Jacqueline Pollard (Kicking Horse 2019 Winner)
Eva Walkner (FWT18 2nd Place)
Hazel Birnbaum (FWT18 4th)
Snowboard Men: 
Victor De Le Rue (FWT19 Kicking Horse Winner)
Gigi Rüf (FWT17 Fieberbrunn Winner)
Thomas Feuerstein (FWT18 2nd)
Sammy Luebke (FWT18 Winner)
Snowboard Women:
Marion Haerty (FWT19 Kicking Horse Winner)
Manuela Mandl (FWT18 Winner)
Anna Orlova (FWT19 Hakuba Winner)