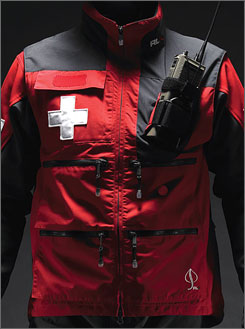 It happens to ski patrollers at every resort. A guest gets on the chairlift, sees the crosses on the jacket, and asks: 'So…do you guys just ski around all day? Do they pay you for that?' I usually don't dissuade them. On most days, I do just ski around, and yes, they pay me for it. Occasionally though, I am tempted to give the guest a true sense of what it is we do with our day.
Wake up. It's 4:30 am. My god, it's early. Who wakes up at this hour? Make coffee, eat breakfast. Drive to work. Coach my feet into my boots. They're not happy about spending the day in a pair of plastic prisons. Drive a snowmobile up the mountain. Get it stuck in a snowdrift. Start digging. Pray the avalanche forecaster doesn't get on the radio and ask me what's taking so long. Dig faster. Patrolling is digging: fences, snowmobiles, toboggans, it never ends. A shovel is a ski patroller's best friend. So is coffee. I make it up the hill. Build bombs. Boot pack in waist-deep snow with bombs. What sane person carries live explosive charges for a living? At least no one is shooting at us. Make avalanches with bombs and skis. Hopefully, no one gets buried. Time to ski. It's blower, over the head, deep. I love snow. More coffee. I love coffee. Tea is for telemarkers.
Second breakfast. Check the ski runs. More Digging. Buried and broken fence lines. I curse every snowboarder that sees a fence as a park feature. Sneak in a couple of quick laps; face shots this time, skiing where the public doesn't. Rest. Coffee. Respond to an accident. Oh look, he weighs three hundred pounds. Humping him down the hill in a toboggan will be fun. Make it to the valley, discover the guest isn't really hurt at all and is just tired. I'm tired. I just pulled your sorry ass down the hill in a toboggan designed for half that weight. Back up the chair. Chat to a guest about how we make the moguls in the summertime. Drink more coffee. Respond to another guest, this time the guest is stuck on a cliff. Perform a rope rescue. Rest. More coffee. Remind my feet there are only a few more hours to go. Outside again. More digging. Always digging. They don't pay us enough to sweat when it's this cold. Back up the chair. Take an earful from a crusty local about how ski patrol tracks out the best lines before they do. That's right buddy, otherwise, I wouldn't do this job. Last coffee. Sunset turns on the sweep. Most insane views I've ever seen. Locker room. Boots off, beer open. I love beer. So do my feet. Best job ever.
Explain signage to guest: DANGER: CLIFF AREA does not mean: THIS IS A BLUE RUN.
Ski patrolling is tough to define. Part first responder, part ski bum and part mountain rescue specialist, it's about as varied and challenging a job as any. And make no mistake, it's a real job; one which many hardy souls have made a career of. While the pay is meager, the perks are unrivaled. Yes we have to ski on days when no sane person would contemplate leaving the house, but on other days the snow is waist-deep, the hill is empty and we get to see and do things most people only dream of.
Do we ski around all day? Sure we do, and it's better for all of us if you just keep thinking that way.
Be safe, ski hard.
For most posts by D'Arcy McLeish, @thesurlycitizen, visit the Last Frontier Heliskiing Blog