COVID-19 vaccination numbers continue to go up, but healthcare providers are hoping that statistics will not plateau. To vaccinate more of the population, officials have had to get creative. At Arapahoe Basin, Colorado, the Summit County Public Health Department hosted a ski-through vaccine clinic on Sunday, May 16.
The ski resort and the Summit County Public Health Department partnered to host the event and administered over 200 doses of the Johnson & Johnson vaccine. The idea came as a spin-off from a successful flu shot clinic that Arapahoe Basin hosted last fall. The vaccination site was set up at the base of the mountain for skiers to get their shots in between runs. Along with their single-dose vaccination, patients received a voucher for a free Bloody Mary or beer at the mountain bar.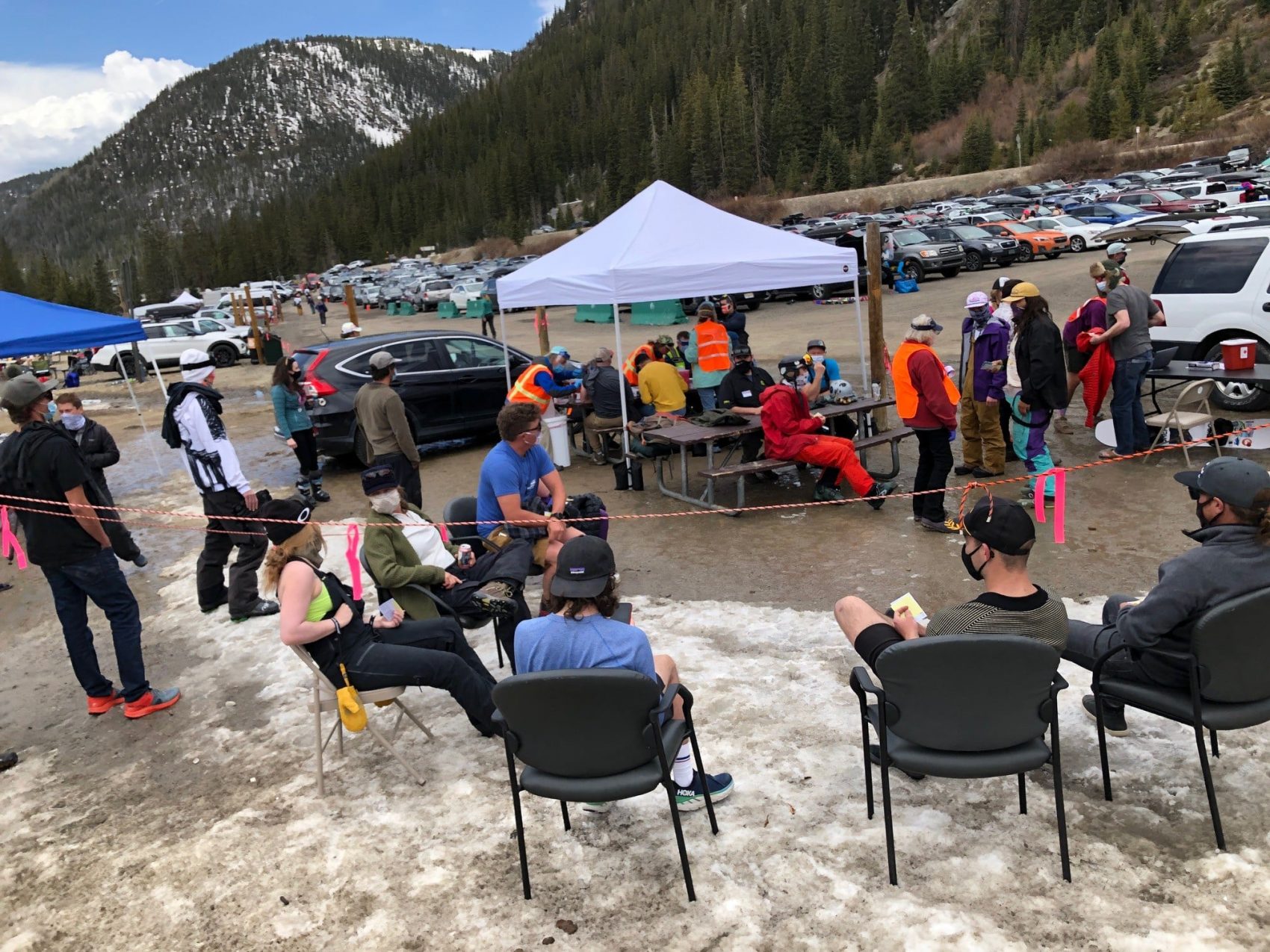 Incentivizing people to get their COVID vaccine doses isn't a new tactic. In New York, fully vaccinated people can get a free order of fries at Shake Shack, and the mayor of Long Beach has proposed free aquarium tickets for vaccinations. When I received my second dose in Washington state, I was given a 20% off coupon for Safeway. Incentives haven't just been small-scale. In Ohio, Governor Mike DeWine said that vaccinated residents are eligible to win a $1 million prize or college scholarships. Free drinks seem like a lot more fun, however.
The clinic held at Arapahoe Basin was one part of a larger effort to reach a part of the population that has put off getting their vaccination. One Summit County native voiced that he had been skeptical because of the misinformation being spread but decided to get his dose after seeing others in his ski community line up at A-Basin. Another local said he hadn't had time for his shot between work and skiing, but Sunday's clinic was the most convenient way for him to get vaccinated.
"Ski resort, dude. You can have fun before, have fun afterwards. It needs to be normalized, you know. We need a more normal setting where people can feel comfortable."

– Dylan Berwyn, Summit County native
The event was ultimately a success for the Summit County Public Health Department. For Arapahoe Basin, it was one way for them to thank the skiers and snowboarders who have shown support despite changes and restrictions to their experience this winter. The resort plans to host another vaccine clinic before they close for the season on June 6th.