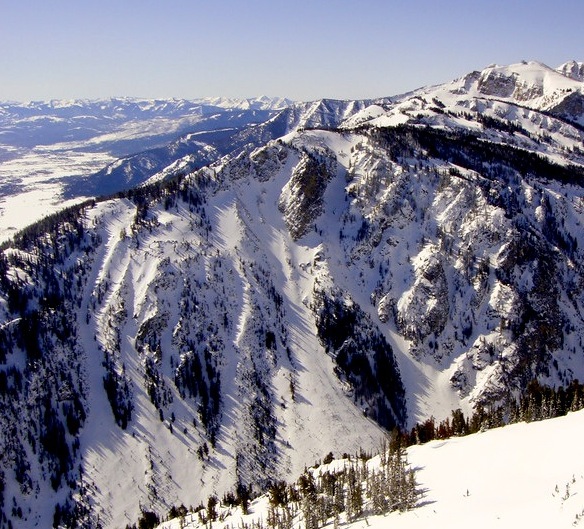 Press Release:
Jackson Hole Mountain Resort, WY
Skier Rescued from Backcountry Adjacent to Jackson Hole Mountain Resort

(Teton Village, WY March 7, 2019) – Jackson Hole Mountain Resort (JHMR) Ski Patrol rescued a disoriented backcountry skier in the Granite Canyon area of Grand Teton National Park early this morning. The skier, of Jackson, Wyoming, exited the Jackson Hole Mountain Resort ski area boundary alone through Backcountry Gate 2 Wednesday afternoon, he became lost, and when he did not pick up his children from ski school authorities were notified.  

The skier left the resort a little after 2 pm intending to ski the Rock Springs drainage. Due to limited visibility, he mistakenly ended up in the upper reaches of Granite Canyon. Authorities were made aware of the missing person at approximately 4:21 pm when he did not show up to pick up his children from ski school.  

Teton County Search and Rescue assisted in the search by sending a signal to locate the skier's cell phone.  A weak signal proved that the skier was somewhere in Grand Teton National Park. The vague location provided clues that the skier may be in Granite Canyon, but as a precaution JH Ski Patrol conducted on additional search of the inbounds areas. National Park Service rangers were ready to respond as needed, however at approximately 5:30 pm, two JHMR Ski Patrollers initiated a search from the ground from the top of the Aerial Tram in search of the skier.  The ground-based team reached the skier, who was uninjured, at approximately 9:40 pm. The rescue team and lost skier together skied their way out of the Granite Canyon drainage and made it safely back to Teton Village at approximately 1:13 am. 

Authorities remind those who consider exiting the JHMR ski area and entering backcountry areas within Grand Teton National Park and Bridger-Teton National Forest to ensure they have appropriate knowledge, equipment, partner, and a plan. The ridgeline near Backcountry Gate 2 can be deceiving during low visibility conditions and backcountry skiers sometimes do end up in areas they did not intend to visit. Backcountry skiers and snowboarders should be prepared to spend unexpected nights in the backcountry and carry food, water, emergency shelter, a way to start a fire, and other emergency essentials. This skier was carrying an avalanche beacon, shovel, and probe.