Report from Sunday, April 23, 2023
All good things must come to an end.
Before the winter of 2022-23, Snowbasin's all-time season snowfall record was 475″.
On closing day Sunday, the resort finished the season with 613″ of total snowfall and a 188″ deep base.
If there was ever a way to end a winter season, Sunday was it.
Rage, rage against the dying of the light.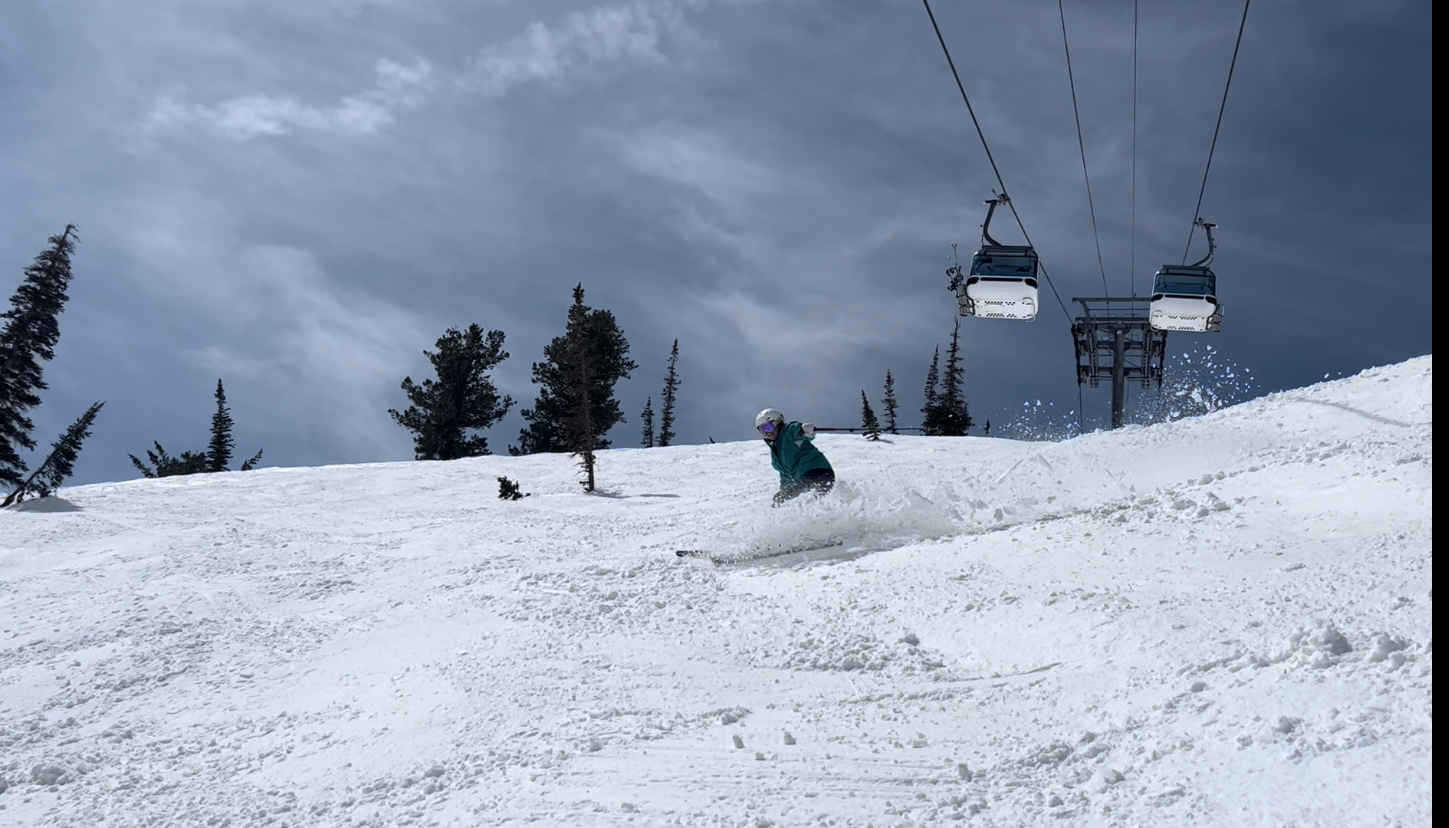 We got to Snowbasin on Closing Day around 10 am and went straight to the Needles Gondola.
Terrain was limited to the Needles Gondola, Middle Bowl, and Wildcat chairs, but the stoke was boundless.
Everyone was dressed to the T in funky spring flar with costumes, t-shirts, swimwear, and beaded necklaces in high-fashion.
It was the perfect day to dress lightly and drink heavily.
Sunshine, warm temperatures, short liftlines, and a DJ at the base right next to the Uinta Brewing beer tent with $5 pints made for perfect party conditions.
Do not go gentle into that good night.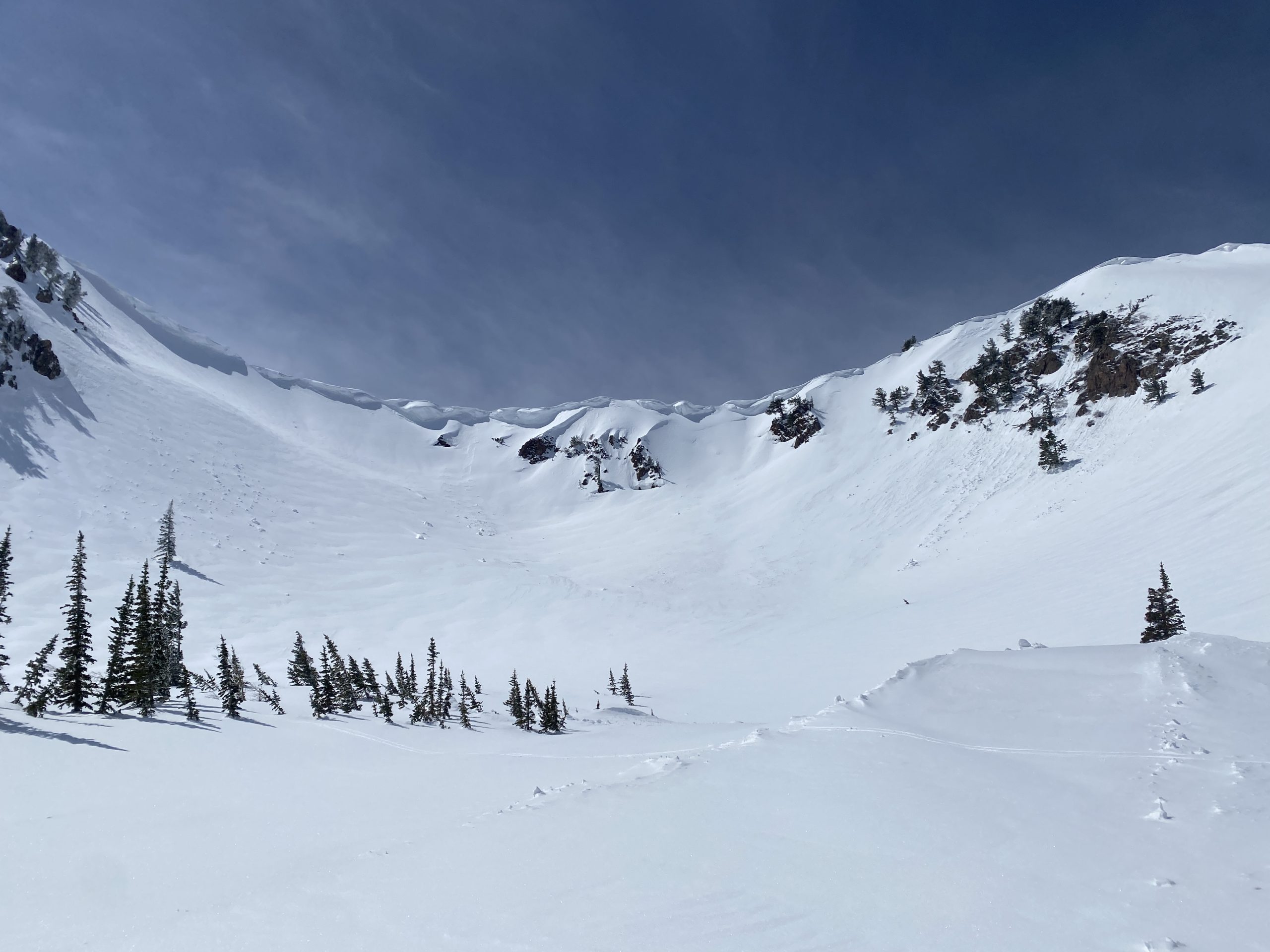 At the top of Needles, we checked in with Ski Patrol and discussed a tour plan.
Although Snowbasin's terrain was limited to a select few lifts, the rest of the mountain was open to uphill access at your own risk.
Porky Cirque looked excellent.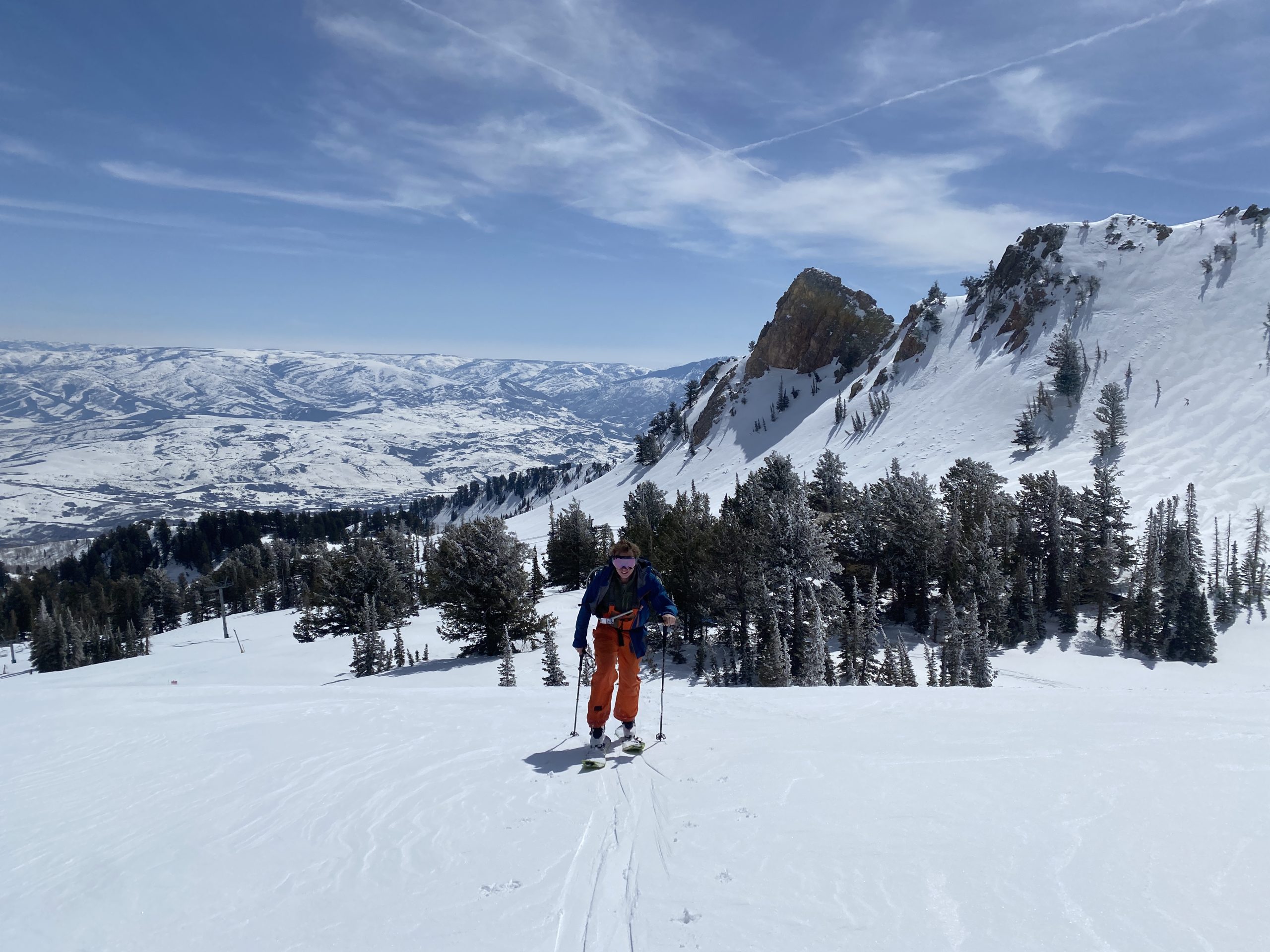 We traversed skier's left from Needles, transitioned,  dapped up with sunscreen, and began the walk up to Porky.
At 10:30 am the east-facing snow was just starting to soften up.
The corn was tempting but we had our sights set on Banana Chute, an Ogden Classic couloir on the backside of Allen Peak on the resort's boundary.
It's a 40-degree, 3,000'+ perfect fall line chute that lets you ski all the way down to Ogden in the right conditions.
With Closing Day being the last chance for us to take the lifts up and make the short hike over to Banana Chute, we figured there was no better day to go for it than today.
Rage, rage against the dying of the light.
At the top of Porky Cirque, we had immaculate views of the northern Wasatch, Ogden, and the Great Salt Lake—where Desert met Mountain and Metropolis.
We booted up to the top of Mt. Ogden and noticed a couple of recent avalanches: a human-triggered wet slide on a south aspect back into Porky and then a large natural avy that broke several hundred feet wide and ran for nearly a thousand feet.
Red flags.
Do not go gentle into that good night.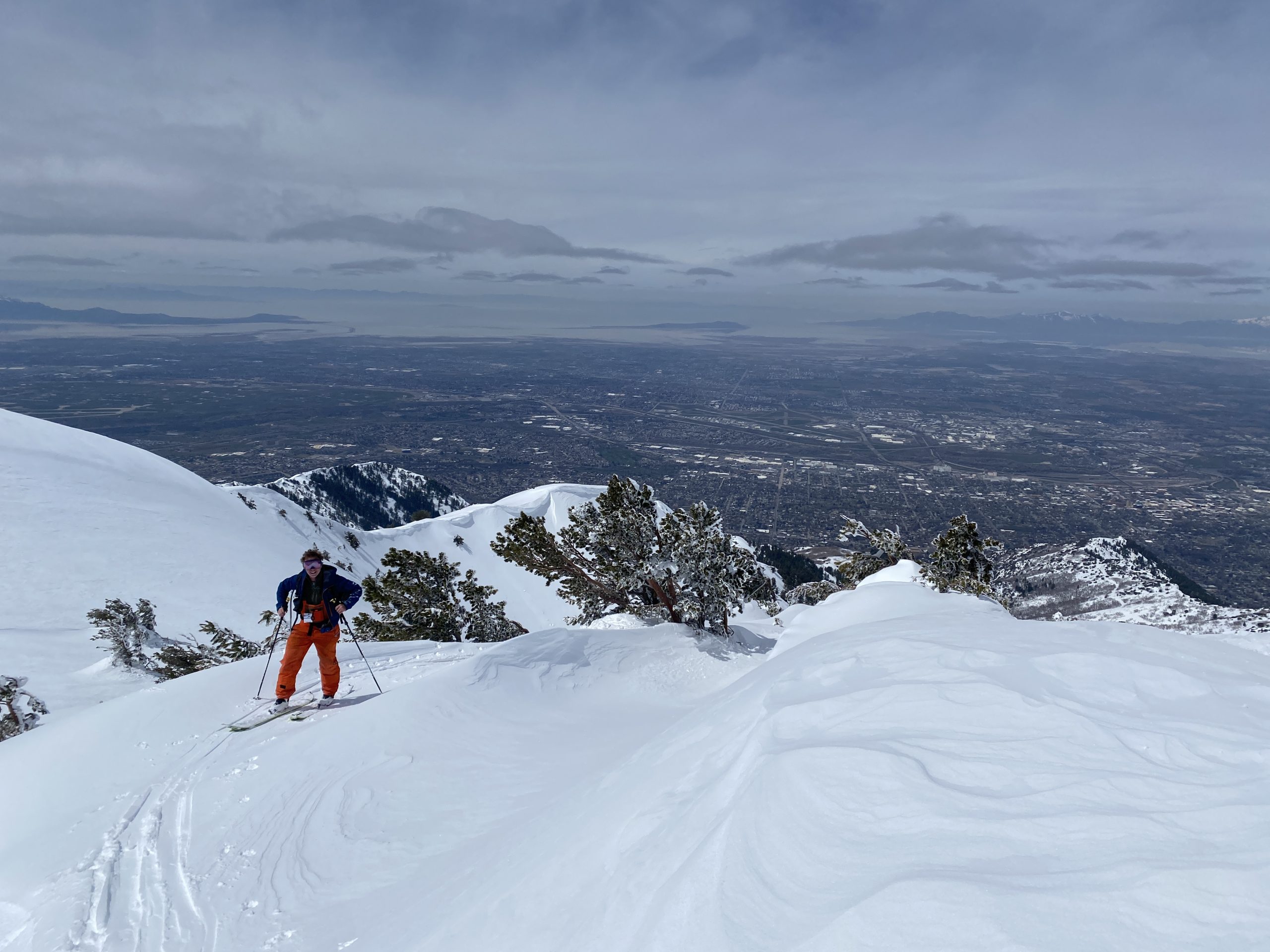 By the time we had made it to the saddle between Mt. Ogden and Allen Peak, it was 1 pm and the snow surface was warm.
We still had a ways to go.
It was time to make a tough decision: carry on and race against the clock, chancing  wet, unfavorable, almost dangerous snow in the chute, or go back from whence we came and ski something mellow back into the resort.
We chose to bail on Banana Chute.
But we were not sad about it.
Our friends and family were skiing in the resort and having a damn good time doing it, so we went and rendezvoused with them.
Rage, rage against the dying of the light.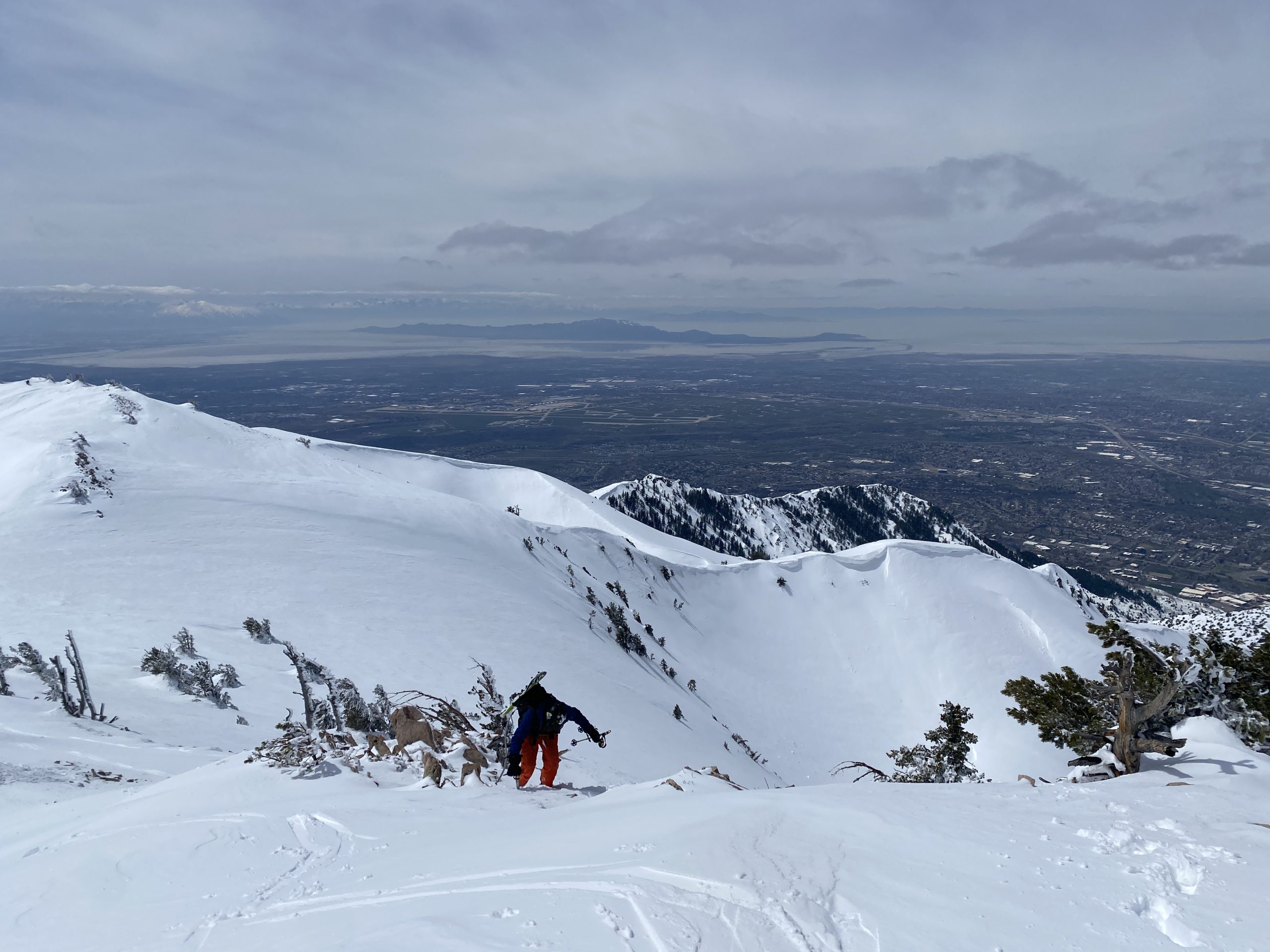 I took a sweet, steep, north-facing shot in Porky Cirque back into Snowbasin that held cold, smooth powder.
For Closing Day in late April, I was quite surprised at how good the snow was.
It was powder, slightly spring-like, but still suave as any winter snow I've ever known.
Rage, rage against the dying of the light.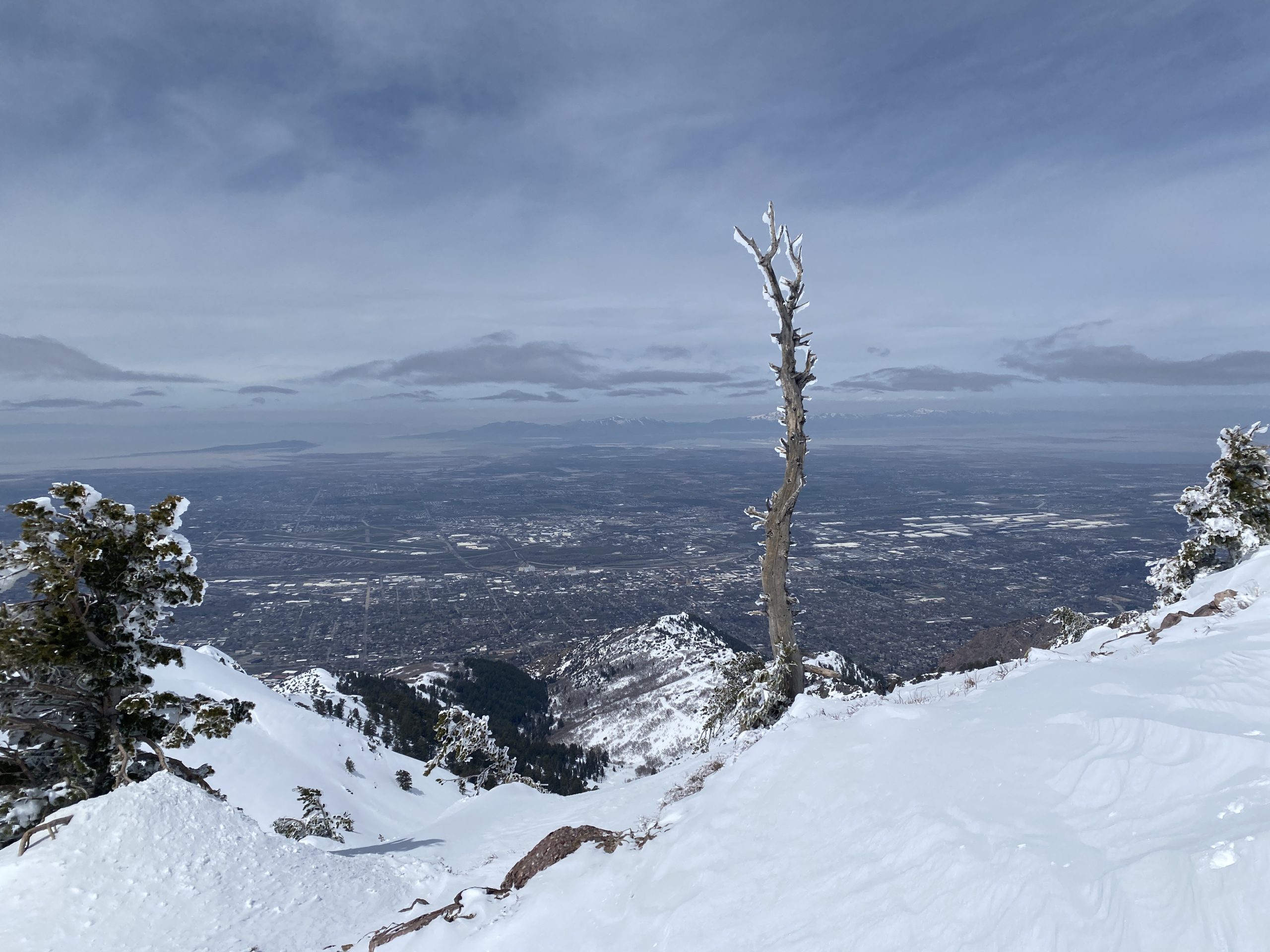 We skied back down to the parking lot, stashed our heavy backcountry packs, and met up with our friends and family at Needles, where we had parted ways with them in the morning. 
That felt like a lifetime ago even though it was all still the same day.
At the top of Needles, the stoke was high everywhere; Closing Day had its effect on Snowbasin's skiers and snowboarders and I couldn't find a single person who didn't have a smile on their face, myself included.
We followed our friends, lapping lap after lap of sporty slush.
We skied Middle Bowl and Needles until Close, bantering lightheartedly with strangers and charging the groomers at full speed.
It felt like we were all one big family, maching down the run at 50 mph.
We savored the last lap like a rare wine, knowing that many moons would pass before we'd come back here again.
A sense of nostalgia filled our chests as threw our sloppy wet skis and boards into the back of my girlfriend's car and drove out of Snowbasin's parking lot.
The snowbanks were still 20 feet high on the way out. 
Rage, rage against the dying of the light.
Do not go gentle into that good night,
Old age should burn and rave at close of day;
Rage, rage against the dying of the light.

Though wise men at their end know dark is right,
Because their words had forked no lightning they
Do not go gentle into that good night.

Good men, the last wave by, crying how bright
Their frail deeds might have danced in a green bay,
Rage, rage against the dying of the light.

Wild men who caught and sang the sun in flight,
And learn, too late, they grieved it on its way,
Do not go gentle into that good night.

Grave men, near death, who see with blinding sight
Blind eyes could blaze like meteors and be gay,
Rage, rage against the dying of the light.

And you, my father, there on the sad height,
Curse, bless, me now with your fierce tears, I pray.
Do not go gentle into that good night.
Rage, rage against the dying of the light.

–Dylan Thomas – 1914-1953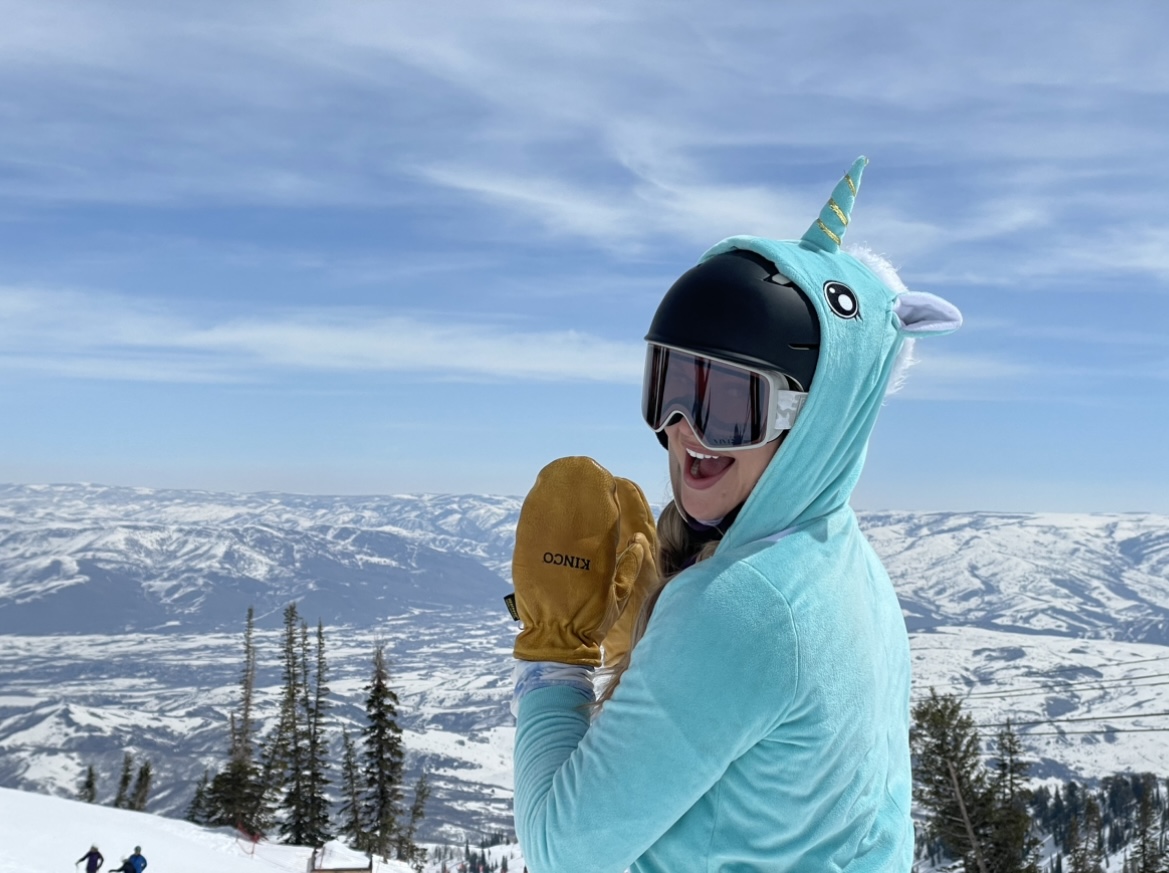 Snow Numbers
Photos
Photo SnowBrains

Photo SnowBrains

Photo SnowBrains

Photo SnowBrains

Photo SnowBrains

Photo SnowBrains

Photo SnowBrains

Photo SnowBrains

Photo SnowBrains

Photo SnowBrains

Thanks, Snowbasin. | Photo SnowBrains